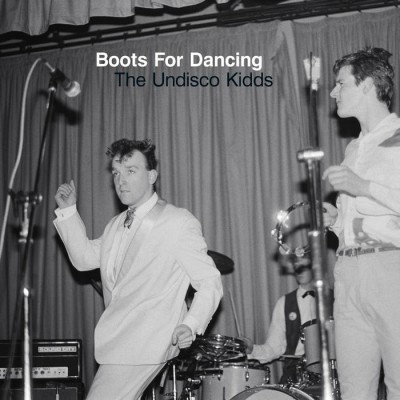 "It's like it's not me," says Dave Carson after listening to the Boots For Dancing recordings contained on this album for the first time in more than thirty years. "It's like something that happened years ago that I was really passionate about and involved with, so to hear it now it's very strange. We maybe didn't appreciate at the time what we were doing because we were in the thick of it, but we always tried to work as a collective, and there was a tension to that, because we were all listening to different things. The original band, we all had different ideas. Graham the guitarist wanted to be Captain Beefheart. Douglas sang and I sang, and I stopped playing bass and Douglas was brilliant at it." It was a tension that worked, with Boots For Dancing on record a taut, edgy and urgent display of each band member tugging in umpteen different ways, sometimes in the same song.
"In my head I always thought it sounded like Chic," Carson says of the Boots sound, "so that's why I kept the lyrics simple, but I wanted them to have meaning as well. Chic used simple phrases and repetition. One of our biggest influences at the time was Spacer by Sheila B. Devotion. If you listen to Nile Rodgers' guitar on it what he's doing sounds really simple, and we wanted that, but in a way that was relevant to a Post-Punk audience. The whole thing about Punk music was to have some kind of meaning behind it, so that made things more complex."
In this way, there was clearly something in the air. Since Punk, and unless you were the Buzzcocks, silly love songs were off limits, and even Devoto and Shelly's pop miniatures were loaded more with abrasive sarcasm and hormonal disappointment than moon-in-June schmaltz. Disco meanwhile, as appropriated by the Bee Gees, had become a soundtrack of smoothed-out bubblegum for attendees of neon-lit high street meat markets in search of escapism through booze, sex or both.
By co-opting other musics outside such worlds, Boots For Dancing and others showed that dance music, however scratchily played, could be something more urgent and less anodyne than mere posing. By adopting an intelligently oppositional stance, Boots For Dancing's musical and lyrical stew was taut, sinewy and stripped back to basics. Agitational as well as agitated, and with muscle and guts in abundance, here was a glorious evocation of the politics of dancing, a place where pleasure and danger co-existed in (im)perfect harmony.
"Punk was played out," says Carson. "Everything was played out. The thing that always got me was the bit about Punk being about three chords, when Funk was just about playing one chord. I remember saying at the time, this is going to be easier than Punk, but actually the opposite was true, because it's all about timing and playing together."
"So part of the concept wasn't about being minimal, but about doing things in a different way that's got all these parts to it and has a certain energy. At that time I hadn't really heard Northern Soul, but had seen grainy TV footage of James Brown, though the sound was more based on what I'd read than anything. Where I read that Funk was just one chord I don't know, but that was the concept."
Another driving force behind Boots For Dancing was a conscious decision to play youth clubs as well as regular venues. "The kids who came to see us were only used to chart acts," says Carson, "and then we came along full of this different kind of live energy that they weren't used to. Part of the plan was to explore alternative routes to the music business. There were lots of opportunities then, but even though there were shifting sands the gate keepers were the same, but really I wanted to capture the youth market. My view was that if you could play youth clubs and get away with it, then you really would corner that market."
Such a mix of calculated subversion fitted in famously with Fast Product and Pop Aural's entryist ethos. "The comfortable part of the relationship with Pop Aural," says Carson, "was that they had this response too that you could be subversive with pop. That was there in the Human League as well. So you can see why we fitted quite nicely with what Bob was doing at the time."
The Undisco Kidds by Boots For Dancing is available on Athens of the North Records now: http://www.aotn.co/
The record can be heard here: https://soundcloud.com/djfryer/sets/boots-for-dancing-the-undisco-kidds-november-27th-athens-of-the-north-records
Comments
Comments