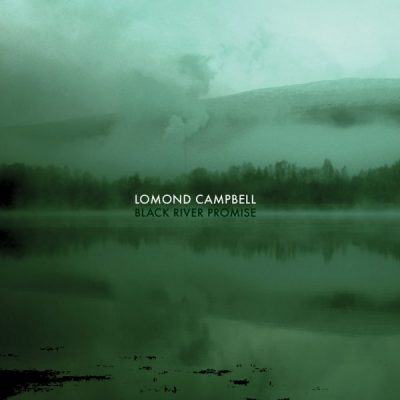 A brooding melancholy hangs heavy from the opening chord of FOUND vocalist Ziggy Campbell's debut full-length release, a world apart from the electronic abstractions of his Edinburgh-sired band. Having fled the not-so-big city to hole up in a dilapidated Highland school-house, Campbell's self-imposed exile has seen Ziggy morph into Lomond. The isolation has given him space to breathe in a way that's clearly affected this set of seven starkly beautiful songs and two instrumentals. Like a home-grown musical reflection of Henry Thoreau's novel, Walden, and Big Sur by Jack Kerouac, this second release on the Triassic Tusk label (which Campbell co-owns) is very much the sound of one man getting his head together in the country. This isn't Campbell off on some hippyish retreat, but more in bewildered and world-weary confrontation with himself.
As a scene-setter, Fallen Stag's low strum and mournful fiddle comes blinking into the light of a panoramic chamber instrumental. Driven by a lush orchestral sweep, it's as if wide-open spaces are being witnessed for the first time. This is the first taste too of the Pumpkinseeds, the ten-piece string ensemble led by cellist, composer and Edinburgh scene Zelig, Pete Harvey. His arrangements embellish Campbell's stark confessionals with a breadth and depth that brings them sensitively to life with a roaring empathy.
Campbell's first words come on the album's title track, a cracked downbeat epic which sees Campbell communing with nature. The strings wrapped around his delivery personify the river as the words meld into the landscape, becoming a part of it much as Campbell's hand-claps and bass drum kicks become an extension of his musical soul.
The wild west showdown slide guitar that opens Every Florist in Every Town reveals Campbell as the proverbial stranger, a lonesome cowboy moseying about his business while contemplating the meaning of life, finding salvation and companionship en route. The plaintive harmonica and whining dog at its close suggest a knowing reinvention of old-time back-woods porch songs.
The plucked metallic guitar and doleful faraway yearning on The Misery Bell sound like a Highland cousin to former Shack vocalist Michael Head's sublime, strung-out and criminally neglected 1997 album, The Magical World of The Strands. Brutes in Life is jauntier, as Campbell reflects on shared intimacies over a skittery backbeat. The Lengths may be spritely, but its call for renewed commitment continues the domestic fallout. Acharacle, the second instrumental on the album, recorded – like Fallen Stag – in a five-hundred year old castle, features a moody slide guitar that ducks in and out of view before giving way to wide-screen baroque medievalism.
A cover of singer/songwriter Nuala Kennedy's Coal Daughter is possibly the most traditional song here in terms of structure, and Campbell's delivery is raw with vocal grit. It's in the final seven bittersweet minutes of Hurl Them Further, however, where Campbell seems to find closure. With Harvey's mournful arrangements to accompany him, this is Campbell tying himself up in emotional knots one last time. As he pleas for understanding from his sparring partner, the song's end is the musical equivalent of wandering off into the sunset, as if a weight has been lifted. Black River Promise is part purging, part revelation of the most quietly euphoric kind.
Comments
Comments