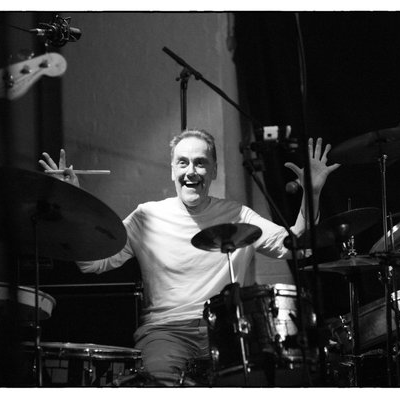 "It was forty years ago today, eh, Charles?," Charles Hayward beams from behind his giant drum-kit to guitarist Charles Bullen mid-way through the second night of this most extraordinary resurrection of the work of This Heat, one of the key conglomerations of England's musical avant-garde over the last half-century. With Gareth Williams completing the line-up, This Heat existed between 1976 and 1982, a crucial period when anything seemed possible in music. Over two albums, their eponymous 1979 debut and 1981's Deceit, with the Health and Efficiency 12" EP inbetween, This Heat can now be regarded as an all but missing link between prog and post-punk. In response to Hayward's reverie, Bullen merely nods gnomically from behind his beard on the other side of Cafe Oto's packed playing area, in a room brim-full of several generations of London's leftfield musical underground, many veterans of a time when that word still meant something.
Hayward, meanwhile, goes into the nearest thing to an anecdote there is all weekend as he introduces Paper Hats, which appeared on Deceit. He points out that the lyrics to the song, which opens with a party-pooping "What Did You Expect?", had been written largely by Williams, who wasn't a musician but who "had big ears."
It is Williams' absence following his passing in 2001, shortly after all three members had talked about reconvening this most dynamic of power trios that is the reason this is not This Heat. That and the thirteen other musicians involved, a supergroup of Cafe Oto irregulars that includes ex Henry Cow drummer Chris Cutler, former Sonic Youth guitarist Thurston Moore and Hot Chip's Alexis Taylor. Also on board is Grumbling Fur's Daniel O'Sullivan, bassist John Edwards and clarinettist and guitarist Alex Ward.
The thinking behind the event was two-fold. As Hayward said, Saturday night was forty years to the day since the trio first played together prior to moving into the Brixton-based meat storage room that became Cold Storage, the laboratory and studio space that formed This Heat's base and spiritual home. The date also marked the re-release of the This Heat back catalogue by Light in The Attic Records on limited edition heavyweight vinyl.
Arriving a decade after the Out of Cold Storage 6-CD box set, these new releases add even further weight to their legacy. As the weekend proved, history matters, but the ensemble Bullen and Hayward convened played what's effectively a parallel universe greatest hits set which sounded startlingly current. It's as if the rest of music just caught up with them even as the This Heat survivors have their eye somewhat quizzically on the future.
Hayward seems to recognise the cyclic nature of all this on the Friday night during his opening solo set of piano-led songs that includes work by his post This Heat outfit, Camberwell Now. Introducing "a song from the 1980s", Hayward talks about how the same socio-political conditions that existed then are back with us once again. In truth, heard stripped back like this, his stark vignettes sound like alternative torch ballads that could have been sired in any decade over the last hundred years.
Bullen's own solo set that follows taps into something even more ancient, as he wanders between tapping out rhythms on a table-top guitar and a hammer and dulcimer arrangement, pausing only for a split second guitar strum that's absorbed into the layered framework he's built up.
When Hayward finally sits behind his drum kit and Bullen straps on his guitar for keeps, it's initially hard to gauge just how many sidemen and women are standing in the shadows. Once they kick in to the furious stop-start thrash of Horizontal Hold, however, the orchestrated clusters of guitars alone is enough to knock you off-balance. But this is no freeform freak-out. With a combination of three drummers and two bassists playing together at one point, the propulsive power generated gives a martial discipline to the clatter.
As they work their way through the bulk of both This Heat albums, what might sound on record at times like sketches are here segued into each other in such a fashion as to build up a pulverisingly-infectious momentum. Sung parts evolve into mantra-like folk chorales that chart the here and now of life in broken Britain.
Following a brief cameo by former Flying Lizard and fellow traveller David Cunningham, a vocal frontline of Luisa Gerstein of Bella Union signed band Landshapes and Laura Groves, who performs and records as Blue Roses, dip in and out of the action. With Bullen fully letting rip on his guitar, Hayward leads from the back, a grinning Prospero in eternal motion, his voice a joyous amalgam of Eno, Coyne, Wyatt and Haines, only rawer and more arcane.
The second night, while much the same again, is palpably less tense now the band have broken their duck, unconcerned that every moment is filmed in a way that suggests some kind of documentary release may be forthcoming. With John Edwards presumably otherwise engaged, tuba player Oren Marshall steps in to add understated ballast. The chorales sound more pronounced, with vocal artist and performer Merlin Nova, who has appeared on Glasgow-based Sub City Radio and at the city's Paraphernalia night at the city's Poetry Club venue, taking swooping lead vocals on Cenotaph.
As the set builds in power, Marshall somewhat appositely comes into his own during a relentless 24 Track Loop. Without a laptop in sight, the latter is laid bare as a a proto-Techno analogue monster. Given the right climate, it could also pack a dancefloor as the ultimate avant-garde floor-filler. As could too the closing Health and Efficiency, which Hayward announced the night before as "a song about sunshine."
What this means in practice is an epic locked groove that allows Moore, Ward and co to fully wig-out to spellbinding effect. Whether This Heat or not, it suggests an infinity of possibilities ahead. As Hayward sang earlier in his solo set, Don't You Just Love It When it All Comes Together?
Photo by Fabio Lugaro
See more at https://www.flickr.com/photos/fabiolug/
Comments
Comments