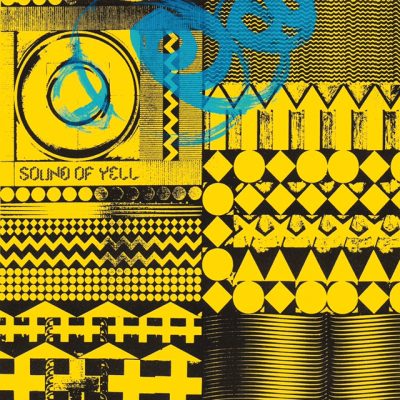 Sound of Yell – Light the Currents (Infinite Greyscale)
Music and art are hardly strange bed-fellows, and indeed the liaison has been an ever-fertile breeding ground for cross-artform collaborations. As releasing records has become a more bespoke affair, editionising what's effectively several works of art in one has made for creations of rare beauty. So it goes with the Glasgow/Berlin-based Infinite Greyscale label. This new release ticks all the above boxes as part of their exquisitely realised 10" singles club, which has previously hosted work by German electronic duo Mouse on Mars and composer Holly Herndon. This latest opus from Glasgow's Sound of Yell compounds and emboldens the label's aesthetic at every level. It's released in a numbered edition of 300 on single-sided aqua blue vinyl with a screen-printed B-side visualised by Ulrich Schmidt-Novak, and handmade artwork by label bosses/ curators Paul McDevitt and Cornelius Quabeck.
Sound of Yell is the chameleon-like project of Stevie Jones, whose peripatetic musical adventure began in the 1990s with recently reignited post-rock instrumentalists El Hombre Trajeado, before playing with the likes of Arab Strap and Alasdair Roberts. As Sound of Yell, Jones' ever-expanding ensemble has at various points included former Nalle viola player Aby Vulliamy and vocalist and electronicist Kim Moore, aka WOLF. Jones joins the musical dots with this low-key musical community as and when required.
Following the full length Brocken Spectre in 2014 and the Fortunate Fumesingle the year after, both on Chemikal Underground, a second collection remains pending. This two-part composition is a fully rounded entity in its own right.
Part 1 of Light the Currents was written for a performance at Dundee Contemporary Arts in October 2016 as part of an event to coincide with the major exhibition of work by the late Katy Dove. For the occasion, Jones enlisted flautist Georgie McGeown, Trembling Bells drummer Alex Neilson and vocalist, artist (and Dove's bandmate in Muscles of Joy) Vikki Morton.
The result is a bright and jaunty affair, which buzzes in as Jones' busy picked guitar lays down its rhythmic steps driven by Neilson, over which McGeown's flute melodies waft in and out. Morton's vocal, augmented by McGeown's harmonies, serves up a pastoral meditation which, all wrapped up in pitter-patting skitters, blossoms into a creation cluttered with an intense sense of life which off-sets the circumstances surrounding its origin.
There's nothing whimsical at play here. A muscularity is at the heart of the song's concentrated insularity, giving it confidence to burst into the open and flower into a fleet-footed dancing bird. At the end, the little flourish that finishes the song seems to take a bow.
Part 2 was written in immediate response to both the exhibition and the experience of playing at it. Wordless, it sounds more reflective, instruments tip-toe around each other, circling woozily until flute, recorder and guitar find common ground on a record produced and presented with every ounce of love it deserves.
Comments
Comments