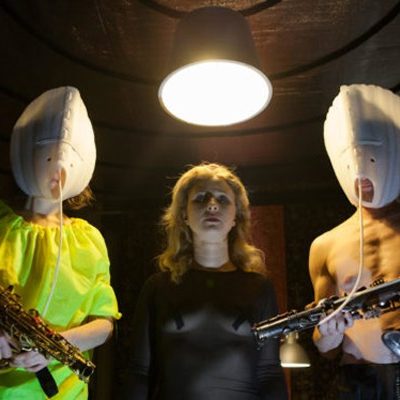 "Be as punk as you like," says music promoter and producer Alexander Cheparukhin, introducing this live rendering of Riot Days, Pussy Riot leading light Maria Alyokhina's explosive counter-cultural memoir, which was published in September. Alyokhina, of course, was one of three members of the Russian all-female anti-establishment live art troupe imprisoned in full glare of the global media in 2012. This followed their arrest after a forty-second guerilla performance inside Moscow's Orthodox Cathedral of Christ the Saviour caught the public imagination. The publicity also highlighted an intolerance of dissent by Vladimir Putin's puritanical regime. Alongside fellow Pussy Rioters Nadezhda Tolokonnikova and Yekaterina Samutsevich, Alyokhina,received a two year sentence for 'hooliganism motivated by religious hatred'. Having remained in custody throughout the trial, she ended up serving twenty-one months.
Almost four years since her release, Alyokhina appears as defiant as ever when she walks onstage following Cheparukhin's introduction for the Glasgow leg of an ongoing global tour. She is joined by the trio of actor/performer Kyril Masheka and two members of co-conspirators in Moscow's artistic underground, Asian Women on the Telephone, Max and original Pussy Riot member, Nastya. As the quartet line up in front of a large screen, Alyokhina stands at the centre of the regimented row looking out.
Max strikes up an industrial electronic pulse that drives the show, and the screen flashes into life with a dizzying collage of captions, images and sub-titles. Alyokhina launches into a relentless barrage of real life experience drawn from before, during and after the Pussy Riot cathedral action like her life depended on it. Speaking in Russian with the vigour of a performance poet and dressed in funereal black velvet with an Orthodox cross hanging from her neck, Alyokhina stands stock static, heightening the power she projects even more.
'ANYONE CAN BE PUSSY RIOT' flashes one caption on the screen during the the first of seven sections, 'Red'. Alyokhina, Masheka and Nastya exchange angry-sounding declarations as the story moves from the build-up to the intervention in the cathedral and what is here called '40 seconds of crime' to the subsequent trial and Alyokhina's ongoing protests in prison and beyond. This is illustrated on-screen by footage of Pussy Riot in the cathedral sporting the array of brightly coloured balaclavas that became such an icon of the new wave of protest Pussy Riot came to define. With verite video footage by Taosa Krugovych and video art by Katya Sheglova, there is film of military police detaining members of the group as well as court-room cartoon sketches.
Onstage, the group themselves don masks at various points. Masheka strips to his waist, busts some dance moves and looks every inch the executioner. As sound and vision crank up, he hurls water out at the audience in some fierce kind of baptism. Nastya plays a skronky saxophone over the electronics, both given an extra kick by Max's ferocious intense drumming. If the rapid-fire collage of captions look to Brecht, the English sub-titles add a further level of making strange. 'In Russia there are no women priests', says one translation. 'In Russia there is Pussy Riot'.
Riot Days, aka Revolution, shouldn't be confused with Inside Pussy Riot, an 'immersive theatrical punk production' presented by Les Enfants Terribles theatre company and currently running at the Saatchi Gallery in London. Interestingly, Alyokhina's comrade, Tolokonnikova, is billed as an associate writer on Les Enfants Terribles' show.
Alyokhina's version of events is overseen by theatre director Yury Muravitsky, whose previous work includes a 2011 production of a play called Light My Fire, an exploration of rock mythology using the figures of Jimi Hendrix, Janis Joplin and Jim Morrison. This fascination with pop iconography has been channelled here into a fearless call to arms.
The martial percussion and provocative stance of Alyokhina and co in Riot Days can't help but make one think of Thatcher-era agitators Test Department, whose own multi-media mash-ups of agit-prop proclamations and industrial thunder included a live show on the same Glasgow School of Art stage in 1989. There are similarities here too with Blow Off, Glasgow-based writer and performer AJ Taudevin's recent piece of explosive gig theatre. This was toured by Taudevin with musicians Susan Bear and Julie Eisenstein, aka Tuff Love, plus Kim Moore, as a series of one-nighters. Taudevin previously wrote and performed a piece of Pussy Riot inspired guerilla theatre in the bar of Edinburgh arts centre Summerhall shortly after the Pussy Riot trial went global.
The difference with Riot Days is that it comes from first-hand experience, which Alyokhina has transformed, as with her book, into a work of art. Having served her time and remained true to the Orthodox faith that denounced her as much as the punk aesthetic she espouses, she's created a fast and furious ritual of defiance.
Comments
Comments