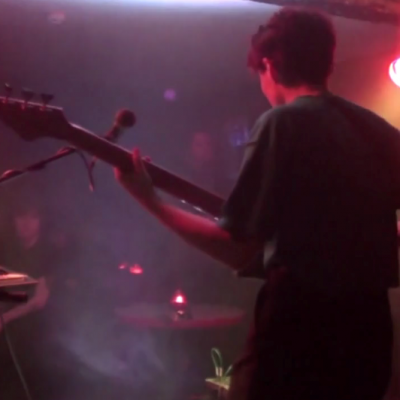 Here's a wheeze and a half: Guinness are/were a wonky pop duo with tentacles in various Edinburgh College of Art-sired bands, including Commie Cars and Edinburgh Leisure. Armed with John Shuttleworth-style toybox keyboards and wilfully rudimentary bass and de(con) structive guitar, throughout 2016 they produced deadpan absurdist vignettes, some of which were possessed with a tragicomic intent worthy of Tony Hancock. After seven months they decided to split up, figuring that was quite long enough for them to have done their bit, thank you very much. Their last gift to the world is this twelve-track album, released solely on YouTube, although there's a download link if you want one, and it really is pure genius. The opening instrumental title track somewhat appositely bumps and grinds its way across the dancefloor like very early Cabaret Voltaire, its primitive drum machine, motorik funk bass and wailing banshee guitar giving few clues to what follows. I'm A Zookeeper (Not A Goalkeeper) takes a reggaefied suburban stroll to the careers fair before settling down with a cuppa and some daytime telly in Trish, a sardonic soundtrack for the self-help age as our world collapses around us.
Kinderpunsch opens with a painfully cheery sample from a 1970s TV ad before shuffling grumpily into a withering litany of Christmas-time torpor punctuated with a drunken saxophone that farts its way through the grimmest of seasons. Bowling Green is a thumbnail sketch of pan-generational leisure pursuits, Readymade a sarky dig at art school dilettantism.
For all the bleak humour on show, the insistent delivery of the male/female vocals and little explosions of guitar suggest a more subversive intent. Practical Song reinvents Supertramp's earnest piece of 1970s self-absorbtion as a morbid Mogodon dirge that segues into Coolio's Gangsta's Paradise without batting an eyelid. The manic screech of a viola buried beneath shows just how scary the grown-up world has become. Signs of Life in the Computer confirms it with a plummy-voiced SatNav guide to an existential crisis played out on social media by a chorus of internet trolls.
The Comedian begins with what sounds like someone falling down the stairs before a grim tale of a self-loathing stand-up's rise to the dizzy heights of the London Palladium begins with the line "Do You Ever Feel Like You're Laughing At The Wrong Jokes?" The monologue's sparse backdrop hisses with discordant menace before the punch line comes with the deadly "I Find it all Hilarious But I Never Laugh At All."
If the band's name hints at drink-fuelled obsessions, it continues with Schweppes Bitter Lemon, an electro-pop Cossack bop of a song which manages to reference Lenin, Putin and an unspecified Czar. In its desire to quench its thirst, a sample of what sounds like a TV shopping channel is followed by a list of all the things on the label that gives the pop its fizz. Scottish Water is an oddly touching off-kilter plea for self-determination through the medium of fresh drinking water north of the border. Finally, Doberman is the shaggiest of dog stories concerning what happens when the song's protagonist walks into a bar. Like the rest of The Drink, what happens next is no joke.
https://www.youtube.com/playlist?list=PLNM4W5HbcOQjWLB5NTvyorSSfE3Ic4Y-l
Comments
Comments