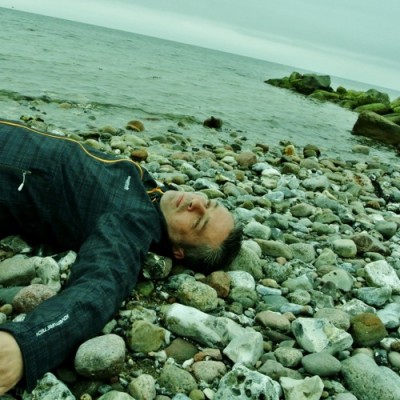 Medbøe/Eriksen/Halle – The Space Between (Losen Records)
Norwegian guitarist Haftor Medbøe has been a low-key fixture of Edinburgh's jazz scene for some years now, having released seven albums in various guises and with different collaborators over the last decade. These include Places and Spaces, recorded in 2012 with a quartet including Anneke Kampman, vocalist with spectral electronicists, Conquering Animal Sound. This latest outing sees Medbøe lead a trio with pianist Espen Eriksen and trumpeter Gunnar Halle. Both of Medbøe's countrymen come with an impressive international pedigree as band-leaders and side-men on a host of recordings. This makes for a crisp and starkly melodic alliance in a set of seven original pieces. Composed by Medbøe with the distance exile brings, each one taps into his Nordic roots with an ornate chamber jazz that leaves plenty of space to contemplate the view.
Recorded the day after the trio's live appearance at the 2015 Edinburgh Jazz Festival, the album ebbs and flows from the woozy melancholy of the opening East Pier, onwards to the outer reaches of Bell Rock and beyond. Each instrument treads softly, sketching in the impressionistic colours of a desolate but never barren landscape as they go.
For the final track, the tellingly named More Viking Than You, Eriksen adds a moody harmonium to a work that sees Halle's trumpet augmented by his keening, high-pitched voice. In its final flourishes, The Space Between seems to reach out across the waves to lost ancient frontiers that harken the music bravely back from the ether.
http://www.losenrecords.no/release/sommeren-der-ute-once-upon-a-summer-2
Comments
Comments