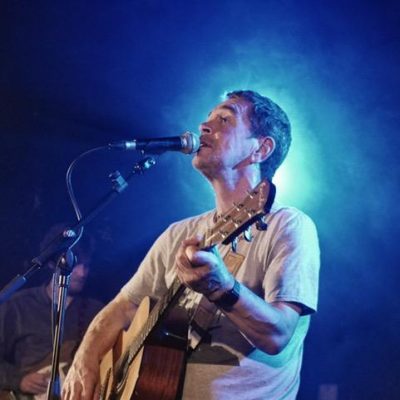 The last time Michael Head graced Oran Mor's doors in February 2016, his forever changing Red Elastic Band featured just a trumpet player and a cellist. There are no such baroque flourishes this time out, as Head gets back to basics with a classic guitar/bass/drums line-up which more resembles a second generation version of Shack, the Scallydelic nouveau Merseybeat combo he led with his guitar hero younger brother John across five studio albums. There are echoes of that era from the off, as Head enters sporting a Modern Lovers t-shirt alongside guitarist Danny Murphy, and opens with an elaborately plucked acoustic version of Byrds Turn to Stone. The song, taken from Shack's fourth album, Here's Tom With the Weather, documents the Head brothers' back room epiphanies as they attempted to learn the chords for all the mind-expanding1960s anthems they'd discovered.
Hearing something so personal without one of its key architects present may be initially disarming, but Head and Murphy refresh it enough so it ceases to matter. Following this with another Here's Tom With the Weather song, As Long As I've Got You, heightens the campfire troubadour feel, as the pair are joined by bassist Tom Powell on backing vocals and drummer Phil Murphy.
Strapping on electric guitar and bass, the Red Elastic Band rewind even further for waltz-tinged reverie Stranger, the first of three songs from Shack's second album, Waterpistol. With the four year gap between recording and release littered with an array of catastrophes, from the recording studio burning down to a lost DAT rediscovered in producer Chris Allison's American hire car, Waterpistol was arguably the great lost record of the Brit-pop era. By the time anyone heard it, alas, it was all over bar the re-hab.
For such a trio of young players, getting to play Mr Appointment, which Head begins with a hollered "I Read The News Today, Oh Boy!", and Sergeant Major, must be fantasy wish-fulfilment. They're a crack unit too, introducing a fresh urgency that powers Head onwards, rocking out with as much focus and commitment as muscle and guts.
The crowd more resembles a family party than a bunch of strangers, and Head's matey asides are punch-lined with a cheeky grin. Musically, this isn't an exercise in nostalgic revivalism. This is a determined reclaiming of a back catalogue which almost disappeared down a narcotic rabbit hole, and which only now has the space that allows it to breathe.
If there are any surprises, it's a lack of material from Adiós Señor Pussycat, the exquisite new album by Head and the Red Elastic Band due out in a couple of weeks. Head's first full length release for a decade has already been receiving universal plaudits, and the two digital singles taken from the album, Josephine and Rumer, illustrate why. Neither are played tonight.
Instead, we get one of the most recent recent songs, Cadiz, which appeared in 2013 on the Artorious Revisited EP. The song opens a more downbeat section of the show, with Murphy's guitar filling in the gaps left by the absence of the recorded version's trumpet. Murphy straps on his acoustic to accompany Head on the equally gorgeous Something Like You while the rhythm section take a back seat.
Head is then joined by his younger sister Joanne, who's previously appeared with him alongside a choir. Here she sings lead vocal on the heart-rending Danielle, giving it the air of a new kind of Liverpool lullaby.
The band return for a startling take on Streets of Kenny, with Head's inner city grimoir ushered in by Murphy's tripped-out guitar. This evolves into a more propulsive and less strung-out version of a song that is the Thatcher dole queue generation's equivalent of I'm Waiting For My Man. A joyous Newby Street that follows sounds redemptive, bouncing along as the crowd fill in the song's trumpet part, before I Know You Well rewinds to turn of the century psych-pop euphoria. Meant to Be, another song from Here's Tom With The Weather, is arguably Head's most dramatic kitchen-sink epic, and again leaves the crowd to fill in the mariachi style trumpet break before the set ends with HMS Fable's should've-been hit single, Comedy.
Head returns on his own for a jaunty solo take on Hockens Hay, from his Magical World of The Strands album, before the band join him for a closing Black and White. Minus strings, the only song of the night from Shack's final album (so far?), The Corner of Miles and Gil finishes with some magnificently wigged-out guitar riffage that seems to straddle the decades of everything that went before it. Adiós Señor Pussycat will be with us any second. For the moment, this was a glorious display of unfinished business that takes stock of Head's past, reinvigorating it for future triumphs to come.
See more photos by Trevor Pake here: http://trevorpake.myportfolio.com
Comments
Comments