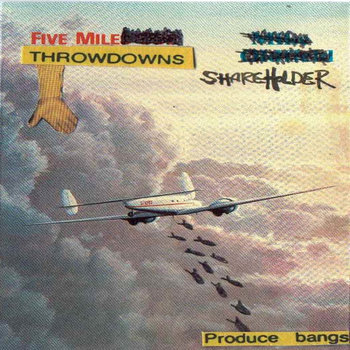 "Who doesn't/Emotionally Connect/To Music?" declaims Sandy Milroy in his observations of Daisy, a young woman who downloads the latest Adele album, midway through the nine minute epic that is It is Morning, the finger-jabbing slow-core centrepiece of Five Mile Throwdowns, the second cassette release by Milroy's Shareholder project as a full band. This follows on from Shareholder's previous band-based cassette, Jimmy Shan, that followed a slew of long out of print releases by Milroy in his solo Shareholder guise. As a member of sludge-noise auteurs Muscletusk, as well as siring Shareholder, Milroy has long been a key figure of Edinburgh's cross-pollinating avant-noise underground. In the last couple of years, however, by introducing vocals to the power trio that Shareholder has become, there's a more focused intent to the guitar, bass and drum clatter that lets rip over seven tracks like the bombs released from the war plane on the cassette's front cover collage.
With fellow travellers Grant Smith, also of Muscletusk, and Graham Stewart, aka King Rib, providing battering ram-style ballast, Milroy's caustic poetics lash out with sarcastic barbs, including those aimed at the aforementioned Daisy. With the lyric "Something Falls Out Of The Back of Her Head/She'll Have to See to it Later", what initially sounds like frustration at the disposability of commercial pap takes a more menacing turn. This is compounded on the instrumental insistence of Theme from Hashtaggart.
While the template for such urban grimoires aren't hard to spot – Dragnet and Room to Live-era Fall immediately spring to mind – Milroy and Shareholder's brand of wilfully opaque and relentless belligerence is at times even more pummelling. This is especially so on a version of Our House, which takes Graham Nash's 'ode to countercultural domestic bliss', as the piece of Me Generation bubblegum was once described, and invests it with a withering disdain in a bittersweet but thrilling assault course of refreshingly uneasy listening.

http://www.shareholder.bandcamp.com
Comments
Comments