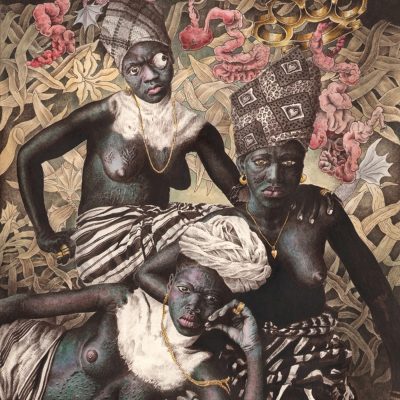 Album review: A Drink With Bishop Berkeley by Daniel Patrick Quinn & One More Grain
To suggest that the musical output of Daniel Patrick Quinn has existed under the radar is putting it mildly. Over the best part of fifteen years, the Lancaster-sired nomad has moved from releasing a stream of albums on his own Suilven Recordings label during a period when he also worked at the National Gallery of Scotland. With his band The Rough Ensemble, he performed what sounded like extracts from an ordnance survey log in a very Mark E Smith address over Wicker Man style psych folk drones. At a time when he could have easily hopped aboard the then burgeoning nouveau trad wagon, Quinn decamped to London, where he formed One True Grain, combining fourth world funk with anthropological excavations over two albums. Leaving a final gift to the world of an expectation-confounding cover of Scarborough Fair, Quinn announced his retirement from music in 2008, and upped sticks to Indonesia, where he studied Gamelan and climbed volcanoes for five years. On returning, Quinn reconvened One More Grain for the 2015 Grain Fever album, and in 2016, having found himself in Stornoway, released two genre-melding mini albums I, Sun and Signal Posts. With Quinn now seemingly resident in Kendal, Cumbria, his prodigal return has prompted him to give away this twelve-track sampler of solo work and One More Grain material to anyone with curious ears and a download code.
The result is a gloriously-wayward set of postcards from uncharted territories that sound culled from a melting pot both arcane and exploratory. The opening Put on the Grass Skirt from I, Sun sets the tone with a drone-led incantatory shuffle which finds Quinn issuing instructions like some colonial mill owner attempting to build paradise in his living room.
Two tracks from Grain Fever follow, with the treated guitar, funky bass and multi-tracked voices of Dolittle Jig coming on like Eno at his most ethno-delic. Leg Stomper is a furious whirligig of ancient dancefloor abandon, with Quinn a deadpan ceilidh caller over minimalist percussive flourishes. Look and Find, again from I, Sun, is darker, more frantic, Quinn's mantra full of foreboding as a mesmeric backdrop threatens to spiral out of control before after-dark cicadas bring the ceremony to a close.
These tensions between landscapes define Quinn's canon as his voice navigates its way through layer on layer of fractured soundscapes brought together from all points of the global village. Such counterpoints come home to roost on Scarborough Fair, in which echo-laden swirls of sound and village brass band horns inject Quinn's deadpan vocal with the menace of a rural Mayday march.
From One More Grain's Pigeon English album, released in 2007, Against King Moron is a full-on funkadelic stew of horn-driven primitivism over which Quinn gives full vent to his inner Mark E Smith like the ghost of free festivals past. I Followed My Imagination, from I, Sun, continues in a similar groove with a jittery internal travelogue of David Byrne-style self-analysis. By referencing George Berkeley, the eighteenth century philosopher who espoused the theory of immaterialism (everyday objects exist only in perceivers' minds), the song gives the album its title, sums up Quinn's questing spirit and debunks Aristotle's counter theories en route.
The album's oldest offering, Channnelkirk and the Surrounding Area, has been unearthed from 2005's Ridin' The Stang album released on Suilven. In its medieaval-sounding mapping of the Scottish Borders town of the title, it becomes a near neighbour of The Fall's similar geographical excavations on Iceland.
From here on in, Quinn's perambulations go ever further out there, not lost in a heart of darkness exactly, but decidedly off-piste. On Dream Hill, another cut from Grain Fever, is a kaleidoscope of twittering toytown synths. Riverbank, from 2014's Acting The Rubber Pig Redux album, is an impressionistic rhythmic collage of lapping water, whistling winds and noises from the deep overlain by an insistent guitar motif and attention-seeking horns. Walking off the Map from One More Grain's 2008 Isle of Grain release finds Quinn revelling in getting lost.
Goodbye for Now, taken from 2016's three-track EP, Signal Posts, is the most recent offering here. With Quinn's mix of intellect and soul-shaking becoming a kind of narrated ritual in search of its own destiny, this final track becomes a wordless epilogue that lets loose everything that has preceded it.
As far as musical life beyond A Drink with Bishop Berkeley goes, according to Quinn it's "a toss up between heading to East Java for more studying of Indonesian styles, or putting together an album using voice and primitive percussion only…Think tribal Papua New Guinea."
The world awaits.

Free download codes for A Drink With Bishop Berkeley can be obtained by emailing danpquinn@gmail.com
Daniel Patrick Quinn can be heard at http://danielpatrickquinn.bandcamp.com
Comments
Comments