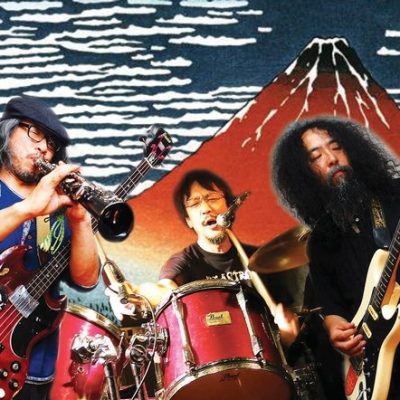 When three key members of Japan's musical underground fall to the floor in unison a few minutes into a pummelling slab of power trio mayhem, it's easy to fear the worst. This supergroup of Acid Mothers Temple guitarist and co-founder Makoto Kawabata, the group's recently departed bass player Atsushi Tsuyama and Ruins drummer Tatsuya Yoshida are playing it for laughs, however. They keep on playing even when they're down but clearly not out in a genre-hopping set broken up into eight 'projects' announced with a co-ordinated flourish. In what's essentially a carefully structured revue that forms the latest collaboration between Edinburgh's Braw Gigs and Summerhall's inhouse Nothing Ever Happens Here initiative, this sees the trio play solo, in duos and in full-on wig-out mode. Despite the latter, the set belies any notions of freeform freakouts in a meticulously organised virtuoso display. Humour is key to this, and the group set out their store from the start as a multi-voiced hydra announcing their presence. "Welcome to Japanese New Music Festival," they say in unison. "We're going to play eight projects by three people." They make similar announcements between each section, with the opening salvo followed by a short solo set by Kawabata. This comes after the pre-show music, which has been left running throughout the trio's initial assault which drowned it out, is belatedly turned off. This too adds a levity to proceedings, before Kawabata takes a bow to his guitar, building little orchestral flourishes that make for a twisted symphony. This is aided further by Tsuyama, who mock-conducts from the side of the stage. After a fleeting foray into pure noise, Kawabata ekes out a guitar melody which initially resembles Keith Levene's circular patterns on Poptones, one of first generation Public Image Limited's defining moments. Here things remain vocal free, with Tsuyama's busy bass runs and Yoshida's drums lending a dubby feel. As the volume seems to crank up several notches, the rhythm section lopes this way and that, while Kawabata's guitar seems to channel Like A Hurricane era Neil Young by way of Blue Oyster Cult.
Project Three takes a turn for the absurd, as a duo of Tsuyama and Yoshida take microphones to the zips on their trousers. As they pull the zips up and down, creating a little metallic call and response, they too jump up and down. Variations on this theme see the pair use scissors to create a piece of Steve Reich style percussive combat. The following miniature sees Tsuyama and Yoshida make egg slicers twang like the soundtrack to a discordant tea ceremony. Half filled water bottles are used as flutes. Yoshida mics up a camera so his snapshots can be heard as well as eventually seen.
Next there's a solo set by Tsuyama, who plays a solo guitar set which, accompanied by his own vocal, sound like mediaeval psych folk airs. Yoshida takes the helm for the fifth project, in which he constructs an aural battering ram of treated drums that morphs into an avant bump and grind routine. Tsuyama describes the sixth project as "the most stupid duo in the world," as he and Kawabata embark on covers of what Tsuyama describes as "new music and famous song". First up is a cover of Deep Purple's Frank Zappa referencing Smoke on the Water. The trick here is that it's done in the discordant style of Captain Beefheart. A similar affect is achieved with Led Zeppelin's Immigrant Song, before Japanese flutes prevail on something more traditional sounding.
The seventh project sees Kawabata and Tsuyama swap instruments, with Tsuyama taking the lead on the sort of psychedelic boogie that for more ordinary bands would be the climax of the show. Here, however, Kawabata, Tsuyama and Toshida follow up with the eighth and final project by getting up on their feet to seemingly pass words around in what becomes a game of vocal tig. Choral harmonies and silent movie madrigals gradually evolve into a piece of Kurt Schwitters style slapstick. The band put drum stools and Yoshida's floor tom on their heads – as they might with an elaborate hat – then perform a ridiculous march that weaves its way through the audience and back again, where they mime playing cards with the piled up CDs on their merch table. They encore, as they must, with a full on heavy garage thrash that marks out a ringing end to a festival that covered all bases.
Comments
Comments