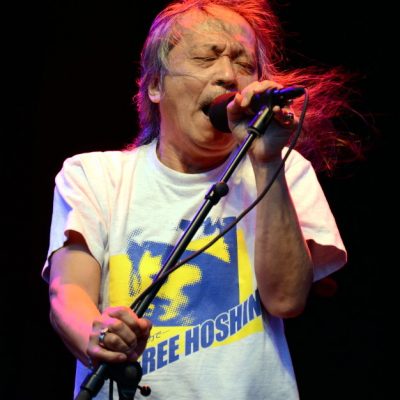 An old Japanese man in a blue t-shirt stands on a dimly lit stage clutching a microphone stand as if his life depended on it. Diminutive in stature and ascetic in appearance, the man babbles into the microphone with transcendent intent. Damo Suzuki's done this a million times before, and over the next fifty minutes loses himself inside his performance once more. As his straggly silver hair snakes across his face, his voice rises and falls, one minute a high-pitched mantra, the next wordless gurgle. In the gloom behind him, an ad hoc band carve out a slow-burning backdrop. It begins with bowed guitar, adding percussive flourishes and bass and keyboard patterns that flesh out to become a complementary pulsebeat to the incantations they accompany. Suzuki first carved out his niche with Can, the German kosmische hippy classicists he joined after being spotted busking on the streets of Munich in 1970 by the band's bass player Holger Czukay and drummer Jaki Liebezeit. This was after their original vocalist Malcolm Mooney quit after one album, following doctor's advice. Suzuki's first recordings with Can appeared on the band's Soundtracks album, and stayed for three full releases, the holy trinity of Tago Mago, Ege Bamyasi and Future Days, before he took a decade out from 1973 to give himself to religion. Since returning to music, for the last two decades Suzuki has embarked on a never-ending tour that sees him hook up with locally sourced 'sound carriers' wherever he goes. Despite this, and judging by his hypnotic, relentlessly intense delivery, even after all these years it's as if this mercurial poet-ruffian is attempting to break on through to a higher plane.
Last month marked fifty years since the formation of Can, whose free-form pre-punk avant-disco-rock workouts opened the doors of perception for several generations of musical explorers. With a new box set of singles pending, to commemorate, keyboardist and founding member Irmin Schmidt took part in The Can Project, a curated extravaganza at the Barbican in London that saw him conduct the 78-piece London playing the world premiere of Can Dialog, a self-referencing piece written with composer Gregor Schwellenbach. Following a screening of Can's 1972 performance in Cologne, this, am eight-piece supergroup led by Thurston Moore and featuring ex Sonic Youth drummer Steve Shelley and My Bloody Valentine bassist Deb Googe among others, including a presumably revitalised Mooney, performed a should-have-been greatest hits set.
While Leibezeit had been scheduled to appear prior to his death earlier this year, whether Suzuki was asked to take part isn't on record. Judging by his nomadic restlessness over the last two decades, such backwards-looking formalities probably wouldn't have been this sixty-something's style. What was very much on the agenda for his first Edinburgh show in fifteen years was an attempt to make something that was both spontaneous in execution and timeless in delivery. This is always a tall order for whoever the sound carriers might be, who, whether by accident or design, and as past showings have demonstrated, just can't help sounding a little bit like Can.
Tonight, however, a six-piece band culled from Edinburgh's underground scenes rise above both imitation and homage. Guitarists Sarah and Simon Cuthbert-Kerr and drummer John Sinclair play in Wozniak. Saint Judes Infirmary bass player Grant Campbell is also half of Optic Nerve with Cosima Cobley Carr, who on keyboards tonight. Playing alongside percussionist E-da, formerly of Japanese band Boredoms, they add moody little textures to a controlled set of on the spot arrangements that never give way to easy wig-outs. With Suzuki at the music's centre, metallic rhythmic shards of sound drive each other onwards over one continuous piece, before a euphoric Suzuki points his fingers to the skies, for the moment at least, sated, before the trip continues anew
Comments
Comments