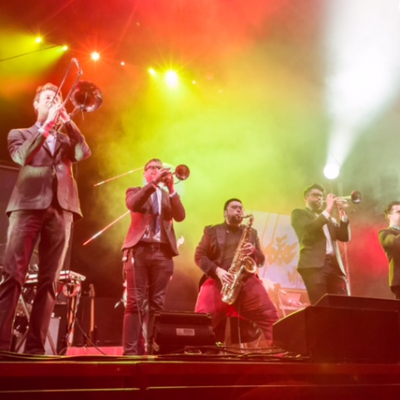 "This will always be for Yuri," says a disembodied laptop-generated voice, sounding like a cross between a more pukka Stephen Hawking and a badly spliced old-school Pearl & Dean cinema ad for a local steakhouse, "but especially tonight." Fifty-six years to the day since Russian cosmonaut Yuri Gagarin became the first human to journey to outer space when his craft orbited the earth on April 12th 1961, Public Service Broadcasting's musical tribute that follows, simply named Gagarin, is suitably epic. As is too the whole of PSB's The Race for Space album, performed in full at the end of a two-year voyage since the record's release, as part of Edinburgh International Science Festival. As with their debut EP The War Room and follow-up album Inform-Educate-Entertain, PSB's mix of vintage newsreel samples and warm instrumental infusions on The Race for Space tap into nostalgia for a lost age of heroes and explorers. These either saved the world or pushed boundaries towards new ones. This has been the case whether for sonic evocations of life during wartime, climbing Everest or, as is the case here, the Cold War space race between America and Russia from 1957 to 1972.
It was an era that chimed with a less visible but arguably more incendiary time of mind expansion, when science-fiction, rock' n' roll and hallucinogenic narcotics were seen as radical tools of a counter-cultural revolution. Space has always been the place in this respect, from Sun Ra to Splendor & Misery, the recent science-fiction concept album by hip hop duo Clipping, taking in all psych-fused shades of space rock and electronica en route. While The Race for Space isn't as out there as any of these, it's somehow fitting that the album is being played on the same stage that astronaut Tim Peake appeared on last year at a another sold out EISF event.
Set against a backdrop of two small retro-looking screens beaming out black and white images of all the key players of assorted rocket launches, voyages and eventual moon landings, everyone in PSB's four-piece onstage entourage dresses like they might well have worked as stunt doubles for Matt Smith era Dr Who. This is the case, too, for the dapper dressed five-piece horn section prone to throwing a few funky shapes, though the National Youth Choir of Scotland and the string section of Mr McFall's Chamber who accompany them don't appear to indulge in such sartorial japery.
Musically, PSB's mix of turbo-charged post-rock lite and nods to Steve Reich are akin to what might have happened if Enid Blyton had dreamt up a suburban English version of Neu! or Kraftwerk. Five Play Kosmiche, if you will. The opening chorale that ushers in a recording of John F Kennedy is a telling pointer to how things used to be, with JFK's plea for peaceful explorations a far cry from the gung ho triumphalism of those who followed in his wake.
The brooding electronics of Sputnik are punctuated by dots of light that seem to be shot from a silver replica of the Russian spacecraft which hangs above the band. Gagarin is a funked-up bounce through a contrarily American-sounding dance-floor groove in which the horns steal the show. The stage is all but blacked out for Fire in the Cockpit, a mournful evocation of the tragedy of Apollo I, which exploded on its launch-pad before it could become airborne.
The effect of all this is akin to an impressionistic multi-media documentary playing to a mass audience just as it might have done to its original viewers watching on TV through shop windows and in bars. It's that universal significance of those now iconic images of space travel being beamed down onto tiny screens that the live experience of The Race for Space conjurs so evocatively. It also taps into a sense of wonder that fired the imaginations of a generation of wide-eyed infants who aspired to become astronauts so they could explore other worlds themselves.
As the voices of Ground Control relay every forensic detail of one trip or another, the recordings become a kind of Greek chorus, the epoch-changing events they're describing onscreen pulsed by the band's own ebbs and flows. Nowhere is this more dramatic than on The Other Side, when Apollo 8 briefly lost contact with Earth, and an entire planet seemed to hold its breath.
Sadly there's no appearance by Smoke Fairies, the spectral duo of Katherine Blamire and Jessica Davis, to sing on Valentina as they do on the recorded homage to Valentina Tereshkova, the first woman to have flown in space, in 1963. Even with Blamire and Davis' recorded voices, there remains a tenderness to the song's illustration of the images of Tereshkova beamed out from twin screens.
Each brief piece is skittered through with a briskness heightened by the strings and choir, but punctuated with wit throughout. Things fully fly on the rocket-fuelled Go, a motivational gym accompaniment in waiting. As men are seen finally walking on the moon during Tomorrow, the layers of percussive repetitions and accompanying chorus become a euphoric gateway into other worlds, and suddenly it doesn't matter who got there first. By the end of the night, even the Sputnik is smiling.
Comments
Comments