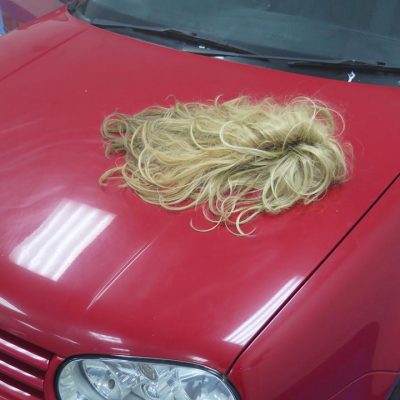 Karate Priest are here somewhere. The freeform skronk of debut release Mixtape 1 commands the room like some handsome bastard (de)generation of Can and Edgard Varese but the crack improv-commandos themselves are well camouflaged. The whole event is difficult to pin down, like a rare butterfly struggling to escape a drunken collector's net. For starters, this is a playback. Rather than attempt to reproduce the tape-only release's multi-layered complexity live they have opted to present it as a sound installation, part of the Open Shutter exhibition opening at Leith's Rhubaba studios. Karate Priest's Peter Boggon, Dylan Mitchell, Dougal Marwick and Chris Walker are unconfirmed figures looming amongst the crowd in the near-opaque liquid nitro fug swamping a neighbouring Citroen garage. "SOAPY", a 2006 Volkswagen Golf, stands in for the band, with the only light and the group's obsessively calibrated jam seeping from an inspection pit underneath.
The music is equally elusive: moments of quicksilver beauty coalescing in a swirl of Boggon's spectral vocals and the fluid arrangement of guitars, drums, synth and I-Phone wibble, only to be erased with the flick of a handbrake as they skid into another abrupt sonic 180. In what could serve as a mini-manifesto for Karate Priest and fellow musical vanguardians Mitchell advises, "when patterns emerge, we try to destroy them." A neat slogan perhaps and baldly descriptive, it's also a violent trope for the risks inherent to their latest project. Structure is reassuring. Even the most discordant thrash or extended symphonic spree is rendered accessible for the casual listener as it probes familiar boundaries. Mix Tape 1 is simply billed as Side A and Side B, an accident of the medium. Improvisation is fraught with danger for the uninitiated but entirely in keeping with the band's musical pedigree. Boggon and Mitchell were core members of late-zeros heros Action Group and latterly post-pop stars PET while Marwick is an alumnus of retro-synth scientists 7VWWVW (read it upside down to reveal mammal). Experts all. There's a dues-paid, song-sourced confidence to their experimentation. Where other improv can come off as masturbatory self-indulgence or elitist muso sterility, Karate Priest's robust sense of rhythm and playful musicality hint at their – and Boggon's in particular – ear for a catchy tune. It's quite some trick.
Finally, the smoke clears to reveal a blonde wig draped on SOAPY's bonnet and a pair of rubber washing-up gloves folded on the steering wheel. Karate Priest are now manifest, or at least partially so, the occasional disembodied hand passing up gear from the inspection pit. A bemused mechanic looks on. No-one is going to explain what just happened. Best we do it all again, as soon as possible.
Mixtape One can be found at
https://www.karatepriest.bandcamp.com
Hugo Fluendy blogs at the very fine
https://ambassadorswife.wordpress.com/
Comments
Comments