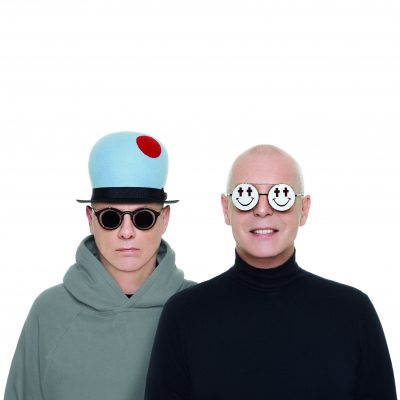 The atmosphere is already doing a fairly good impression of a 1980s gay super-club before Neil Tennant and Chris Lowe enter the stage for the Edinburgh leg of Pet Shop Boys' stadium-sized Super tour on the back of last year's day-glo inclined album of the same name. The CC Blooms friendly techno is playing and projections are throwing Mod-u-like shapes onto what looks like a pair of upended and oversize circular Formica tables that sit either side of theatre designer Es Devlin's space age stage design. When Tennant and Lowe are seen, it is strapped to the other side of the tables as they're wheeled around in a big reveal that makes for the grandest of entrances. A suited and be-shaded Tennant appears to be crowned with metallic garlands that give him the appearance of a science-fiction Caesar, while Lowe's entire head is encased in what looks like a small alien planet. The effect is imperious, abstract and wonderfully ridiculous.
The point of the Pet Shop Boys audio-visual extravaganza being performed in an all-seated old-school theatre – the natural habitat for such arch showmen extraordinaire – is lost within seconds of the opening Inner Sanctum, as the over-riding cascade of beats and bleeps inspires the audience to rise en masse to their feet. Like the most devoted of lovers, they'll stay upstanding for what's effectively a two hour megamix of knowing euphoria of a kind that Tennant and Lowe have been honing for the last three and a half decades. The deceptively-contrarian and still staggering ironic bravura of Opportunities (Let's Make lots of Money) raises the stakes even higher in a dazzling curtain-raiser.
Few artists understand the potency of cheap music more than Pet Shop Boys. Their unholy and at times sentimental marriage of Tennant's Wildean epigrams to Lowe's four-to-the-floor electronics remains an inspired and contrary late twentieth and early twenty-first century mash-up of popular classicism. This is clear from The Pop Kids, one of Super's stand-out songs that drips with deadpan languor and the sort of middle-aged ennui felt by veteran party animals who came of age with friends for life to the Pet Shop Boys canon. The fact that it's accompanied here by images of animated Rubik's Cube type structures flying about makes it even better.
The duo let their masks slip as they're joined by a low-key trio who are similarly hooded like a 1930s' Flash Gordon serial. Christina Hizon joins Tennant upfront to provide vocals on the disco-tastic Burn and a smattering of violin on Love is a Bourgeois Concept, on which Tennant also plays the keyboard melody. Crucially, it's the artfully-executed martial drum-beats provided by Afrika Green and former house drummer with uber-production team Xenomania, Simon Tellier, that both add a human pulse to the synthesised rhythms as well as recalling the sort of syncopated reveille that moved between protest march and 1990s' rave.
After this initial amyl nitrate-inspired flourish of dancefloor nuggets, the mood shifts somewhere between melodrama and melancholy. For the synthesised stentorian tones of The Dictator Decides, Tennant appears in a Russian hat, great-coat and shades, as if he's just stepped out of a John Le Carre novel to sing of how 'My Facts Are Invented'. For all the industrial stylings and cloak-and-dagger discretion, we probably know who he means.
West End Girls is a now classic snapshot of its own past seen through the filter of a detached outsider. The song's deadpan observations of aspiration, class division and the allure of London's big city bright lights are as much a social document of its era as a Channel 4 documentary. Winner, from 2012,'s Elysium album, is a heroic and really rather lovely piece of triumphalist self-affirmation, and Home and Dry a sun-kissed postcard from parted lovers.
Things crank back up to second-wind larging-it mode for Vocal, which dissects the experience of a night out with an earnestness that borders on poignant. Not that anyone in the moment of their own night out lost in the accompanying maze of lasers and neon catherine wheel rush cares overly much. Things move into a hit factory home stretch of It's A Sin, Left to My Own Devices and a Go West played against a back-drop of giant primary-coloured lamp-shades that appear from the sky.
Tennant conducts the audience for a singalong – a maestro's move he continues for the encores of Domino Dancing and a joyous Always on My Mind, with the band returning with day-glo football globe-type constructions covering their heads.
Pet Shop Boys songs at their best are fly-on-the-wall social-realist vignettes awash with intimate intrigues and possibly true confessions. Heard live, they're also the ultimate party soundtrack for yesterday's hedonists who, as the show's final reprise of The Pop Kids suggests, have still got it, and will have for a long time to come yet.
Comments
Comments