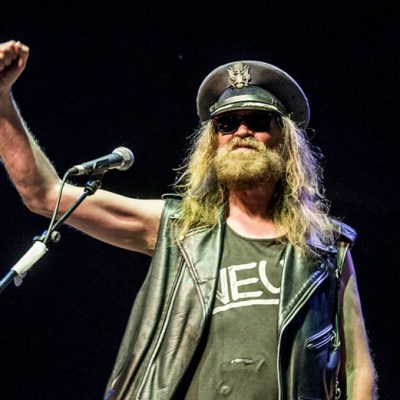 Julian Cope doesn't do things by halves. This is clear from the moment he opens the Edinburgh leg of his current tour to promote his latest opus, Drunken Songs, dressed in his long-standing mix and match uniform of army cap, cut-off khaki kecks and leather jerkin. His once-boyish face is permanently hidden by a wild-man's long hair and beard ensemble topped off by rock star shades designed to hide eyes that are what he later describes as "piss-holes in the snow." He looks both ridiculous and heroic, and in the execution of his appearance he is fearless. "I know I'm dressed as an invader," Cope says in a plummy burr of middle England and acquired Scouse, "but it's the closest it's been to 1933 in our time." Ever since the self-styled arch-drude embarked on a wayward anti-career that saw him elevate himself from the Liverpool post-punk underground to briefly become a wide-eyed teeny-bopper idol with the Teardrop Explodes in 1981, Cope has embraced each new passion with the child-like zeal of the eternal convert. From new-age acid tripper to fantastical novelist with his 2014 epic, One Three One, Cope has flitted with relish from antiquarian to eco-activist, auto-biographer, myth-maker and unbridled champion of previously largely-undocumented strains of out-there German and Japanese music.
His Head Heritage website is an essential treasure trove of obscure cult sounds which has arguably fed the heads of a new generation of musical seekers. Now, it seems, after twenty years off the sauce, Cope has embraced booze with the evangelical fervour of a born-again dipsomaniac greeting an old friend, and he wants the world to know about it. Crucially, despite all the mind-expansion, Cope has remained an extraordinary song-writer, and despite Drunken Songs being trailed as 'forty minutes of gnostic drunkenness', appears to have come full pop circle.
What Cope admits to being an accidentally politically-tinged set begins with Autogedden Blues, the lead track from his Heathcote Williams-inspired 1991 anti-car album, Autogedden. Cope's solo version exposes it even more as an increasingly-frantic cousin to Horses-era Patti Smith before he rewinds even more to Double Vegetation from 1991's Peggy Suicide album and Fear Loves This Place from 1992's Jehovakill.
The songs may be stripped back, but the same plummy mix of innocence and depravity courses through Cope's voice. His open mic style troubadour shtick resembles a free-wheeling back-packer in a way that undoubtedly allows him more mobility as well as being more economically-viable. Yet for all the prevailing sense of wonder, ego and anarchy, there are moments crying out for a brass fanfare, or even just the everyday sumptuousness of a four-piece flourish. Even so, Cope's canon comes at the contrary and deliciously commercial end of weird.
He gets back to his roots with a take on The Culture Bunker, which first appeared on the second Teardrops' album, Wilder. Even back then Cope understood the powers of self-mythology in this self-reflective paean to the late '70s Liverpool that spawned his awfully big adventures alongside other Matthew Street irregulars including Messrs Drummond, McCulloch and Wylie.
As if to demonstrate just how Cope was shaped by and is still steeped in that time, he follows it with Liver as Big as Hartlepool. This cut from Drunken Songs may have started off as a jokey riposte to the sentimental bombast of Pete Wylie's Heart as Big as Liverpool, and to hear the one-time band-mates turned sparring partners still sniping after all these years is priceless. But Cope's willingness to leave himself vulnerable and admit his outsider status while living in the city is as moving and significant a document as Bill Drummond's recent writings on the period prompted by the untimely death of fellow-traveller Pete Burns.
There's more of this later on a version of The Great Dominions. Arguably Wilder's most ambitious stab at immortality, here Cope enlists the services of an ancient mellotron to provide even more melodrama to the song through a series of drones that give it an archaic feel.
Such musical excavations are curiously at odds with Cope's pronouncements during his lengthy but incident-packed between-song monologues regarding a loathing of folk music. Also potentially being honed for what may well end up as a spoken-word show with occasional songs are shaggy dog stories set on Shetland, how he came to exchange his old Luftwaffe hat for an RAF cap and the different attitudes towards swear-words between America and Britain.
This prompts further thoughts on how Billy Joel might reinvent a folk song, which somehow leads to a brief debate with the audience on whether Thomas Edison or Nikola Tesla was more important in relation to electrical invention. While one suspects such ramblings may have caused one or two musical missives to be dropped due to time restraints, over ninety minutes Cope nevertheless manages to get through fourteen songs old and new.
Following a brooding run through Peggy Suicide era's Pristeen, Cope returns for "one of those Ba-ba songs" as he puts it, presumably referring to his series of early 1980s confections that might include the Teardrops' single, Passionate Friend. As it is we're treated to early solo track The Greatness and Perfection of Love, effectively Passionate Friend part two in all but name. More than thirty years after it burst out of Cope's filter-free imagination like a grown-up nursery rhyme with libidinous intent, it sounds as chock-full of wisdom and experience as any other folk song.
Comments
Comments