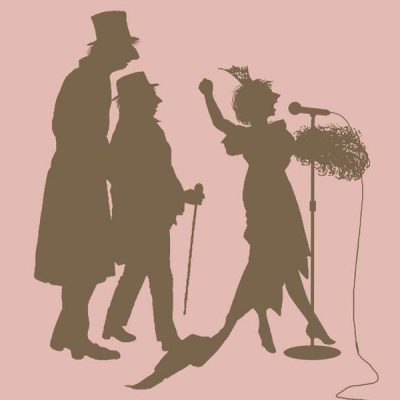 The birds are singing on the pre-show recorded soundtrack to the first night of a rare and exquisite weekend London residency by Dagmar Krause, Peter Blegvad and Anthony Moore's international trio of 1970s sired avant-pop maestros. Following dates in Cologne at the end of 2016, these sold out reunion shows also saw the band reunited with bassist Jean-Herve Peron and drummer Werner 'Zappi' Diermaier, aka fellow travellers and doyens of the German underground, Faust. This meant that one of the post hippy/pre-punk era's pivotal underground alliances was playing together for the first time in forty-five years. Slapp Happy's early history saw them wend their way through unlikely collaborations, not only with Faust, but with then label-mates Henry Cow. The trio's understated brand of soft-focus swing-time baroque has always been a laid-back counterpoint to the more militant bombast of their peers. Four decades on, you can still overhear earnest bar-room exchanges during the break between sets about how someone, possibly Blegvad, was 'uncritical of Marxism' when he and Moore ended Slapp Happy's two album dalliance with the more dialectically-inclined Henry Cow.
It's perfectly understandable, then, that Slapp Happy's oddly now-sounding twenty-two song set drew largely from the two albums recorded with Faust in 1972 and 1973, Sort Of and the original version of Casablanca Moon that was rejected by their label. The latter only saw the light of day in 1980 as Acnalbasac Noom, seven years after a smoothed-out re-recorded version was released. Six songs from the 1998 album, Ca Va – Slapp Happy's first full length release under their own name since their adventures with Henry Cow (there was a single in 1982 and a TV opera under their own names in 1991) – make for a seamless blend ushered in by the aforementioned recordings of bird song. This soundtracks the arrival of several generations of Slapp Happy aficionados squeezing into what effectively becomes the band's living room for this most intimate set of shows.
Blegvad acts as both master of ceremonies and nominal musical director as he counts in each song inbetween dry as a bone asides that pepper every intro. The opening A Little Something, the first of a salvo of five Casablanca Moon/Acnalbasac Noom songs, sets an informal and slightly hesitant vibe as the sixty-something quintet ease their way into things.
Krause's nerves aren't helped by a reverb-heavy mix which she reckons makes her voice sound not like her. Peron's bass is too low, says someone. As is Moore's electric piano, it seems, not that it matters any for those watching. The pin-drop volume makes for a rapt audience who lap up every soft focus shimmy through the Slapp Happy back catalogue.
Krause's cut-glass diction may be a tad lower than the early days, but it's delivered with a clarity borne of the precision translation brings, and which was tailor-made for musical theatre. But these are very different kinds of show-tunes. As Blegvad and Moore pluck out low-key tangos and waltzes, Peron and Diermaier remain passive in the background, pulsing things gently along. One of the many joys of the weekend is seeing the pair forsaking Faust's more incendiary excursions and happy to take a back seat as a low-key rhythm section that's always playful without ever being intrusive.
On one level all this is as polite as a palm court cabaret troupe who produce chansons for slow dancing at the avant-gardists Valentine's Ball. But despite Blegvad's way with a rhyming couplet, such a particular brand of eccentricity on homages to Michaelangelo, Rimbaud and Byron are more knowingly-fantastical than mere whimsy.
Curiously, given that the music is being made by an American, an Englishman and three Germans, a lightly toasted English sensibility sways into view that's as of its time as a Cadbury's Flake advert. The breathy romance of The Secret and Slow Moon's Romance seem to have set a template of sorts for the likes of Noosha Fox's post-Fox 1977 solo single, Georgina Bailey, as well as Julie Covington's more strident 1978 hit version of Alice Cooper's Only Women Bleed. Only when Moore plugs in his electric guitar for the Velvet Underground stylings of Blue Flower – a song covered by both Mazzy Star and the Pale Saints – do things crank up a bit.
In the second, Ca Va dominated set, King of Straw sounds utterly modern(e), and Anthony Moore's kazoo solo on the swoonsome Let's Travel Light captures the essence of a counter culture that could be both sensual and irreverent inbetween all the Verfremdungseffeckt going on elsewhere.
On the second night, and following the late addition of a Saturday afternoon matinee, things nearly don't happen at all when Moore's keyboard won't work. Assorted monitors are either too loud or inaudible to those onstage. Moore can't find his kazoo for Let's Travel Light, and Krause is plagued by feedback which works oddly well for Blue Flower, but which is clearly affecting everyone else onstage. Moore, possibly wanting to let off steam after his assorted travails with keyboards and kazoos, gets to his feet and gives one of the amps a good old-fashioned thump which seems to do the trick.
If such a plague of gremlins suggests a form of controlled chaos, it in fact reveals the butterfly-winged fragility of Slapp Happy songs. Yes, all three members of the group are perfectionists by various degrees, but they also swing with delicate and meticulous airs that recognises the nuances required to translate each song's deceptively simple intricacies into something precious. This they proceed to do, as they did the night before, with warmth, charm and a palpable if occasionally fractious fondness for each other that embraces the audience into the fold with brief excursions into anecdotage.
Krause tells of how Blue Flower stems from her own experiences with a Warhol-associated film collective. Blegvad notes the accidental political resonance of King of Straw. Before Heading for Kyoto, Krause slips on a hand-crafted Japanese cardigan. As with the previous night, the band don't go off for the encores, but instead remain where they are for the upbeat raptures of Dawn and a final beat of The Drum proving that sometimes the only revolutions that matter are the ones that come quietly.
Comments
Comments