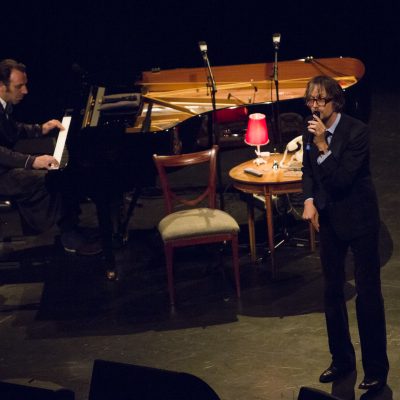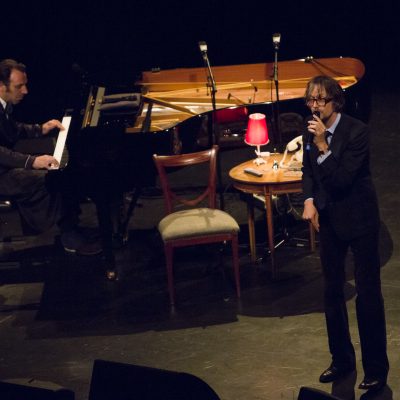 You took an actual key from a bowl on the way into the final night of Jarvis Cocker and Chilly Gonzales' musical and dramatic peek into the lives and times of Hollywood's iconic Chateau Marmont Hotel. Everyone was welcome. There were plenty to go round. Already immortalised on record in 2016, Room 29's doors were opened up once more for this Edinburgh International Festival three night stand of a stripped down song-cycle, upgraded here to a stage with a double bed on one side, a baby grand piano on the other. A screen behind showed footage of some of Chateau Marmont's most famous residents to have passed through its portals, including Cocker himself. Over two hours, Cocker, Gonzales and assorted guests transformed a solitary experience into the sort of floor-show cabaret one might more readily expect to find in the ballroom of an establishment as grand as the Marmont. Both our hosts' natural penchant for showmanship make them a worthily contrary double act. While Gonzales seats himself at the piano sporting a bathrobe, Cocker offers the audience pretzels and access to the mini bar as he mournfully recounts the loneliness of the long distance rock star in the suite's solitary title number.
"Is there anything sadder than a hotel room that hasn't been fucked in?" asks Cocker in the same song. In a live setting, what sounds like self-reflexive diary entries set to Gonzales' lounge bar flourishes become throwaway one-liners. They're dodging the suicidal bullet of self pity hinted at by the following Tearjerker. Video footage of both inside and outside of the Marmont by the Auge Altona trio sees the live Cocker engage with his bathroom-bound self onscreen.
Cocker's 1970s sociology lecturer stylings have rarely appeared more appropriate as he gives a impressionistic history of the room and its' distinguished former residents. Things get starry with melancholy homages to big screen sex goddess Jean Harlow in Bombshell and iconic recluse Howard Hughes in Howard Hughes Under the Microscope. Both are accompanied by slow motion images and recorded monologues by 'the Voice of Room 29′, film critic and historian David Thomson.
Room service brings up a bell boy, a round of drinks and, most importantly, the strings of the Hamburg-based Kaiser Quartett to accompany Gonzales' wide-screen sweep and Cocker's deadpan hamminess.
Two thirds of the way in, things take a lurch left-wards, as if the show has run out of straightforward narrative. Rather than indulging in clichéd rock star behaviour and throwing TVs off the balcony, Cocker contrives to end up inside the TV itself. His static laden visage is squeezed into black and white for Daddy, You're Not Watching Me. With this and the following The Other Side, Cocker is exposing the shallow absurdity of his hotel-dwelling muse. He and Gonzales 'screen-test' an audience member they invite onstage, a moment that feels more Sheffield variety show than Hollywood.
Glamour comes rushing in through the form of dancer Maya Orchin, and suddenly we're in Busby Berkeley dreamland, before an encore of Leonard Cohen's Paper Thin Hotel takes us back inside the four walls of a hotel room where legends are born.
Comments
Comments