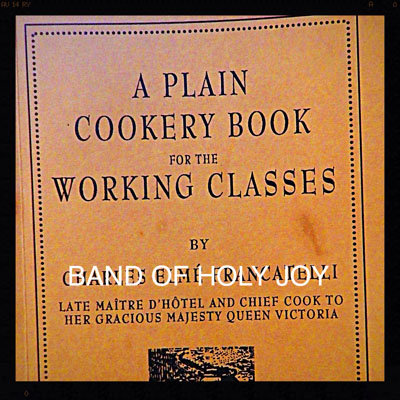 For more than thirty years now, Johny Brown's Band of Holy Joy have been the conscience of a divided nation. Hailing from North Shields in Tyneside but having formed his original troupe of street-punk vaudevillians in New Cross in London, Brown's heart-on-sleeve social-realist vignettes have been infrequent dispatches from the frontline of broken Britain. Combined with his more hauntologically-inclined sonic experiments on art radio station Resonance FM, Brown's ongoing canon is a righteous address from the margins. With the most recent Band of Holy Joy album, The Land of Holy Joy, released in 2015 on the Edinburgh-based Stereogram label, this self-released two-CDr set is the third of four aural scrapbooks published in a limited edition of just seventy, and, following on from the previous two, An Atlas of Spatial Perceptions and Custom and Crime in Savage Society, is probably already pretty hard to come by. A fourth collection, Fruits and Flowers for Particular People, is due shortly.
Packaged in a hand-made plain brown sleeve, the record's co-opted cover sticker references the book by chef Charles Elme Francatelli, a kind of nineteenth century Jamie Oliver, from where Brown and co filched the record's title. The recordings themselves are loosely connected suites of songs that become an extended musical lover letter to Brown's home town.
The first CD, All God's Splendour Lies Somewhere Later, dates from 1991, and is effectively a drum-programmed dry run for what would become Band of Holy Joy's Tracksuit Vendetta album, released the next year. As recorded here, the title track of that album, is a reggae noir portrait of low rent inner city living on the run, punctuated by trombone and fiddle in a way that sounds like a sequel to The Specials' Ghost Town.
In an eerie piece of Mark E Smith-style psychic pre-cognition, as Brown and the band were recording the song, reports were filtering through of the riots that flared up in 1991 on Newcastle's Meadow Well estate, and the album is linked with recordings lifted from a TV documentary on the uprising. These lend atmosphere and colour to an already-evocative collection of red-brick anthems which, inbetween paeans to Marvin Gaye's visit to Belgium, documents the aftermath of life in northern Britain after Thatcher had left her mark. Brown invests all this with a soulful urgency that yearns for something better, closing song Claudia Dreams morphing into 1960s bubblegum smash hit Everlasting Love with joyous abandon.
The second CD, A Town Where No Town Ought To Be, is an even more conceptual grab-bag of largely brand new material recorded on the hoof and pieced together beside instrumental avant-chamber miniatures scored by James Stephen Finn and field recordings of ships about to set sail. Poetic elegies of wartime casualties, atmospheric soundscapes and plain old Geordie folk laments lend a poignant air to a series of impressionistic snapshots of a town that's been blitzed, battered and sold down the Tyne, but has never lost heart. All of this is beautifully-illustrated by an ever-evolving tumblr link chock-full of lyrics, fragments of text and archive photographs of the lost streets of North Shields that completes a multi-media patchwork paying homage to a wondrous place.
http://bandofholyjoy.tumblr.com/
Comments
Comments