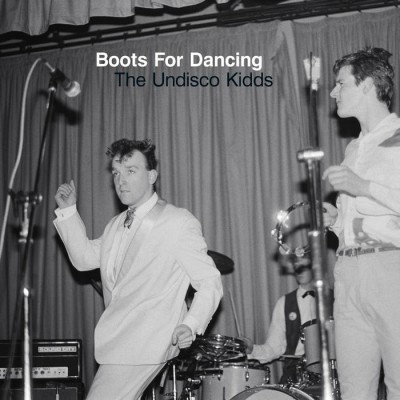 Boots For Dancing were born out of an incestuous network of Edinburgh conceptualists  that included The Rezillos, Dirty Reds, The Flowers, Josef K, Thursdays, the aforementioned Scars, Fire Engines and others. Ideas Over Ability, a manifesto which appeared in a music paper small ad at the time, held the key to all this. After punk, everyone who got the new musical revolution had ideas. This in turn sired a hot-bed of artistic invention that didn't concern itself with rule-breaking, largely because no-one knew what the rules were. Like so many of their peers, from The Pop Group in Bristol to the Gang of Four in Leeds and Manicured Noise in Manchester, Boots For Dancing looked beyond rock's rich platitudes for inspiration. In the midst of Auld Reekie's late 1970s Presbyterian gloom, the low-slung sophisticated euphoria of Chic, Funkadelic and James Brown were as big an influence as the Velvet Underground and Captain Beefheart on this nascent non-scene. Jazz, Funk, Soul and Reggae were all thrown into an increasingly eclectic mix. Of course, no-one knew how to tap into the complexities of all this stuff, so everything came out wrong. Which is where things became interesting.
Where today's conveyor belt of flush-cheeked indie pirates can simply download a pick and mix of influences, press the Post-Punk-Funk button and howl their way to cultdom, back then nobody had a clue what they were doing. Accidents happen when you can't play.
In their short life, Boots For Dancing would feature members or have connections with most of their Edinburgh peers named above as they developed into a post-punk-funk unit of ever increasing eclecticism, but with one foot remaining firmly on the dance-floor.
Over two and a bit years and through a multitude of line-ups, they released three singles. The first, a 12", was, like it's 7" follow-up, released on Pop Aural, while a third came out on the band's own Re-Bop-X imprint. Boots For Dancing also recorded a trio of increasingly ambitious John Peel sessions before imploding. These shards of long lost brilliance are at last recaptured on this compilation disc.
Here then is a tale of pop entryism and Smash Hits conceptualism; of gold sequinned jackets, everyday arson and the politics of dancing. It's a tale of dancing fools, showbiz with substance and a band which fanzine writer and future music documentary producer Mark Hagen described as "a youth
club James Brown." By the time Brian Hogg's comprehensive paperback history of Scottish pop,  All That Ever Mattered, was published in 1993, however, Bob Last was quoted declaring his former charges as "totally self-destructive." Ultimately, the story of Boots For Dancing is one of such inherent contradictions subverting the system, of being uptight, alright and, for far too long, out of sight.
The Undisco Kidds by Boots For Dancing is available on Athens of the North Records now: http://www.aotn.co/
The record can be heard here:
https://soundcloud.com/djfryer/sets/boots-for-dancing-the-undisco-kidds-november-27th-athens-of-the-north-records
Comments
Comments