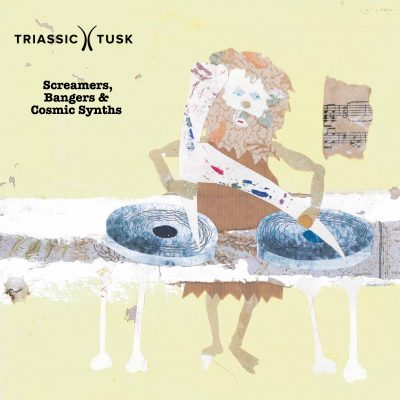 Anyone who ever chanced upon Moon Hop, the occasional club co-run by members of Edinburgh-sired band FOUND, which ran at Henry's Cellar Bar in Edinburgh throughout 2014 and '15 will have stumbled into a late-night multi-cultural wonderland of musical riches. With the evening introduced by low-key live shows from the likes of The Sexual Objects, Withered Hand and Aidan Moffat and Malcolm Middleton playing separately, FOUND themselves could be seen in various solo guises and together. As wonderful as such uniquely styled outings were, Moon Hop's heart was pulsed by the records spun before, inbetween and after the live shows. This came in the form of some of the wildest array of records you'd never heard, a euphoric melting pot of retro-futuristic psych soul funk disco eclectica spread out across the decades and culled from all four corners of the world. Here was a compilation album in waiting, something which could exist on a par with meticulously sourced musical joys released by other crate-digging ethnographic obsessives. Labels such as Soul Jazz, the African and Latin-based Soundway and Edinburgh-based soul specialists Athens of the North spring to mind.
For those who miss hearing such a euphoric back to back array of obscure treasures, the fifteen cuts compiled across the four sides of this debut compilation by the freshly constituted Triassic Tusk label is about as close as you're likely to get to recapturing the Moon Hop experience. This is mainly because those behind Triassic Tusk – based with glorious impracticality in both Crail and Achaphubuil – are Stephen Marshall and FOUND's Ziggy Campbell, who were also the prime movers behind Moon Hop.
With the clue to the riches on offer coming in the title, Screamers, Bangers & Cosmic Synths spreads out its store roughly between 1966 and 1984 over two slices of 12" vinyl, the first disc pressed in delicious lime green and the second on electric blue/turquoise. As is the way of such club-based compilations, there's a loose-knit, ahem, 'journey' that moves across the record's four sides with an increased focus on the dancefloor as it goes. As a bonus, for the benefit of budding grandmasters and mistresses on the wheels of steel, the sleeve notes give friendly hints of what each track might work best alongside to keep swinging cellar bars jumping til the early hours.
Side one begins with a twitter of sci-fi synths, which, along with rubber bass, funky drums and little horn fanfares transforms the Bosnian folk of Safet Isovic's Mujo Kuje Konja Po Mjesecu into a groovetastic floor-filler. From late 1960s Bangkok, Monrat Kwanphothai's Ya Ma Kid Sa Ngne Sa Ngae opens with a wayward flute that eases into a vocal that sounds at moments like its plaintive stuttering repetitions have been dubbed over the song's slow-mo rhythm section. From Brazil, The Jones make Hey Mina (foul) sound like the Monkees' (I'm Not Your) Stepping Stone, and Keije Nagaan by Het finds a Dutch fuzz-beat combo co-opting rhythm and blues for the mod set with added spoken-word interludes.
The tempo increases on the second side, which opens with some wild west female yodelling on Born to Wander, a panoramic gallop out of town by Jack Wood with The I Can't Say. Drum Talk by the Al Rose Trio is a pounding car chase instrumental that zigzags its jazz-fuelled way into the night, possibly passing Jack Wood along the way. Be My Side by Francis Guillon starts off in a similar getaway mood that belies the song's title before Guillon sings over the frantic rhythms like a classic chicken-in-a-basket showman.
Saving the best to last, on Mon Histoire, an unhinged John Malick declaims with gusto over an African-psych melody that sounds a dead ringer for the Stones' 1968 anthem, Sympathy For the Devil. Malick then spends the instrumental break laughing like a drain while the band get wiggy in a way that Keith Richards might similarly have copped his moves from. One scream later, Malick is back into the verse, enjoying every second of an ultra-rare masterpiece barely heard beyond Malick's living room, let alone the Ivory Coast where it was sired.
Things jump a couple of decades at the start of side three, when long lost Aberdeen punk-funk band APB crank things up a notch on the dance floor with Shoot You Down . Originally released on their home city's Oily Records as the band's second single, its over-excited dance-floor stew is led by a busy bass sound that slaps away with abandon before giving way to a brief and impressive flourish of Scots-accented rap(ture).
Don't be fooled by the classically-styled title of Nocturne Op. 1 that follows it. Juan Pablo Torres' Cuban delight zaps its way onto the floor with a heavily percussive groove and wordless female backing vocals to party hard alongside. Moving on up into the 1980s, Last Chance to Dance is a still timely anti-nuclear skank by Afrikan Dreamland. Darkly polemical in intent and driven by a gulping bass sound, it also has one of the most impressive pauses in pop. Aleksandr Zatsepin's Tanets Shamana lightens the mood with a big epic kitchen-sink production that throws in what sounds like mad scratching but – given that it dates from 1974 – is probably some kind of wobble board. There's even madder piano and a welter of horns, voices and effects to force the listener to grab out every which way before it vanishes with a collective sigh.
The final side finally gives way to some full-on disco dancers, with the glossy synth-led squelch and pure 1980s soul of the Chocolate Buttermilk Band's Can't Let Go conjuring up images of neon-lit nitespots designed to bust some moves inside. Clifton Dyson's She's A Playgirl continues the mood, combining a crashingly-relentless electronic rhythm and little guitar and piano flicks and flourishes with a high-pitched vocal that has its partner's flirtatious card marked from the start.
Finally, to end the evening, Steve Monite's Only You (disco jam) is a jaunty late night romance described on the sleeve notes as 'THE Moon Hop Classic', 'Utterly indispensable'  and 'The loveliest song ever'. This mix of the vocal-based original soundtracks a breathy courtship that dips in and out of view before skipping off into the night.
While it might have been tempting to bung all the cuts collected here and a whole lot more on a budget price CD compilation that could have been twice the length, releasing them in this way gives them a weight and respect they deserve. The first – and possibly last – pressing has already been snapped up and has doubled in price on Discogs. Rumour has it a second volume might be on the way. In the meantime, check out the Moon Hop mixes on the Triassic Tusk site to get you in the mood, and make a Moon Hop party of your own.
Comments
Comments