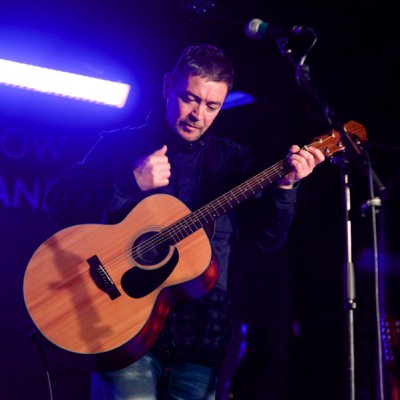 Michael Head is full of stories. This is something the audience at Oran Mor in Glasgow found out last week when Head brought a trio version of his latest venture as Michael Head and the Red Elastic Band to town. It's something that should become clear as well to those attending Head's London show this weekend. There's the one, for instance, about how this prodigiously talented songwriter first fell in love with music beyond his mum and dad's country and western records when he saw Julian Cope's band, The Teardrop Explodes, on a TV show hosted by Factory Records boss, Tony Wilson. "There was a lot of Johnny Cash and Hank Williams in the house," Head remembers. "I think I was about twenty-five before I heard Revolver, but in 1978, there was this programme Tony Wilson did, and the theme tune got me straight away, 'cos it was Shot By Both Sides by Magazine, and I remember bombing down the stairs, and I was standing there in the living room, watching the Teardrop Explodes transfixed, and my dad said, you like that, don't you? I said, yeah, it's the future."
The next day Head spotted the Teardrops hanging round Liverpool city centre record shop, Probe. "I was working in this camera place quite close by," Head says, "and bumped into them. It sounds like kismet, but you saw all the bands there." Head spoke to the Teardrop Explodes' keyboard player, Paul Simpson, who put him on to Yorkie, a young scenester whose family basement was where both the Teardrops and Echo and the Bunnymen rehearsed.
"It was like Norman Bates' house in Psycho. Paul said the Teardrops rehearsed there in the daytime and the Bunnymen were in at night, but at weekends it was free."
As well as teaming up with Yorkie in early musical ventures such as Ho Ho Bacteria, The Dance Party and Egypt For Now, it was here Head's musical education began in earnest.
"Julian used to brainwash Yorkie," says Head, "and Yorkie used to try and brainwash me, forcing me to listen to all these records by Henry Cow and The Residents, and I was like, who's Dagmar Krause? He kept on trying to make me listen to all this weird stuff, and I was just, no, put Forever Changes on." The orchestral masterpiece by Arthur Lee's psych-folk subversives, Love, has been Head's defining influence ever since.
"You wouldn't necessarily equate Arthur, a six foot black man from Memphis, with Forever Changes," Head says of his guru, "but he did it." Head went on to play with Lee in 1992, when Shack backed him on a Liverpool date that was put out as a low-key live release.
While Yorkie went on to lead his own band, The Balcony, before later joining Space, Love's influence was there with Head in inner-city pastoralists The Pale Fountains, whose first gig in 1981 saw them supporting Orange Juice alongside Paul Simpson's post Teardrop Explodes band, The Wild Swans. Love's influence was there too with the harder-edged Shack, formed with Head's brother John on lead guitar.
"We were quite into orchestration in the early Paleys days," Head says, possibly thinking of Thank You, the Pale Fountains debut single on Virgin Records, which was transformed into an epic by its arrangement scored by MOR band leader Geoff Love. Following the release of Just A Girl/ Something On My Mind on the independent Operation Twilight label, Virgin had signed the band for a cool £150,000. The debut Pale Fountains album, Pacific Street, took two years and a slew of producers to emerge in 1984.
"That album had lots of orchestration," says Head, "but we couldn't play it live. So when John came in and we did the second album, we made it so we could play it live. I think now when I'm writing a song, even if it does end up with orchestration I know I can still do it acoustically.
"With The Red Elastic Band, it can be just me, or it be a trio, or it can be seven or eight of us. The whole concept is to keep things simple, and take the stress out of things. I've been in bands far too long to get stressed. It's like when Andy Diagram [trumpet player with James and David Thomas and Two Pale Boys amongst others, who played with Head in the Pale Fountains] couldn't do a date, so instead of not having the trumpet we changed the date.
"We're playing at the moment with acoustic guitar, trumpet and cello, and we know that if all the electricity went down we'd still be able to play. And if you haven't got trumpet or cello, that's okay, because writing on an acoustic guitar is the way a song is born, so you should be able to play it that way as well."
How Head acquired a guitar in the first place is another funny story, and goes back to his days working in the Liverpool camera shop.
"I was like the tea boy," Head remembers, "and my boss said, do me a favour, can you go and get me this punk record. I said, what is it?, and he said, it's Sultans of Swing by Dire Straits. I said, I'm not buying that from Probe, and my boss said if I did it, I could have this battered one-string guitar in the corner. So I went out, swerving round all the shops so no-one saw me, and I went to the furthest Woolworth's there was, but I suppose I've got Mark Knopfler to thank for getting me that guitar."
Prior to last week's show, Head last played Glasgow in a low-key show at the Twisted Wheel on Queen Street back in 2008, the same year he briefly reformed The Pale Fountains for shows in Liverpool and London. With Shack, it's been more than a decade since Head played a sold out show at King Tut's, and almost fifteen since they joined the NME tour at QMU in Glasgow University. Inbetween, Shack played the SECC supporting Ocean Colour Scene, where Head lost his rag to a room full of Brit-Pop and Quadrophenia casualties chanting We Are The Mods. Shack's visit to King Tut's, on the other hand, was brim-full with an audience as devoted to Head as a home crowd in Liverpool.
"We used to go there every summer holidays when we were kids," Head remembers. "It's very similar to Liverpool. The people have this very dark sense of humour that can make funny out of dark."
Darkness is something Head has known well over the last thirty-five years. These are the stories we don't talk about, like the one about the commercial indifference to both The Pale Fountains and Shack, and the untimely death of Pale Fountains' bass player Chris 'Biffa' McCaffrey from a brain haemorrhage. Then there's the one about the burnt down studios and missing master tapes that left Shack's fistful of 1960s-swathed albums out of step with whatever wave Head was going down at the time.
The heroin probably didn't help much either, though even that made it into song in Streets of Kenny, a Waiting For The Man for the 1980s dole queue generation set in the rough and tumble of Liverpool's Kensington district where Head grew up. It's a past he remains philosophical about.
"I'm feeling good," he says. "I'm more focused than I was in the nineties and all that. Don't wanna' sound all hippy, but it's been quite a journey, and the penny's dropped on a few things. I'm enjoying the whole environment. I'm writing songs every day. I don't ever stop writing."
"People can go, oh, you should've done that, but life's life, and you just get on with it, don't you. I've never had a blueprint for want of a better word. I've never known where I've wanted to go. But it's my Ma's philosophy. If it happens, it happens, and you don't try and see the negatives, but deal with them accordingly. Getting my shit together, being alive and still writing, that's good, you know? I've been in situations where I've been thinking, what am I doing? But I'm feeling positive."
In truth, both in song and conversation, Head sounds like a man reborn, and only now seems to realise just how good a back catalogue he has. When he can remember it, that is. As disarming as it is hearing Head tell you that Shack only did two albums, the sense of wonder and surprise in his voice when you go through the titles of the five albums they did release – Zilch, Waterpistol, H.M.S. Fable, Here's Tom With The Weather, Between Miles and Gil – is a joy.
Head's current renaissance, which includes the recent re-release of his 1997 quasi solo album, Introducing The Magical World of the Strands, released after Shack split temporarily after Waterpistol appeared to have been lost forever, is down in part to the heroic support he's received from a devoted fanbase based around the Shacknet website. This led to the founding of Violette Records to release Head's work and promote low-key live events in special venues.
"I'd heard of Matt, who does Shacknet," says Head, "and I met him at one of the gigs. I hadn't played for a few years, and we had a conversation. I said I had all these songs, and I wouldn't mind doing an EP, and he said, I've got an idea."
The result of this was the six-track Artorious Revisited EP, a beautifully packaged limited edition 12" named in homage to Arthur Lee, and featuring an expanded Red Elastic Band accompanying Head. The record's key tracks, Lucinda Byre and Newby Street, are set in Head's mythologised Liverpool, a scallydelic psychogeographic universe peopled by characters who all seem to live on the same street.
Either that or else dying to get away from the kitchen-sink urban grimoirs to some beautiful place in the country a cycle ride away. Early Pale Fountains titles talked of southbound excursions, trips to Abergele in North Wales and going, somewhat dreamily, Beyond Friday's Field. More recently Head has found sanctuary in the more exotic Cadiz. It's if the fresh air and wide-open spaces offered an idyllic escape from the high-rises and housing estates depicted on the covers of Waterpistol and Here's Tom With The Weather.
"We were a field apart," Head says on hearing that I went to Anfield Comprehensive School in Liverpool. He went to Queen of All Saints, with the two institutions separated by a scrub of greenery which at the time felt like a vast swathe of football pitch sized grass that formed the field that Head remembers.
The Pale Fountains early famous Five-style image too was a reaction to a Liverpool hardman culture of footballer's perms and moustaches. Like Orange Juice's response to Glasgow's similarly inclined spit and sawdust no mean city image, the Pale Fountains' look was defiantly effete and unmacho. It also accentuated a desire in the songs to get out of the city. Or, as demonstrated in later, trippier and more narcotically inclined songs, just to get out of it.
Head's narrative-based mini Play For Today approach to songwriting dates back to Shack songs such as Finn, Sophie, Bobby and Lance or Natalie's Party. Then there's Oscar, Wanda and Walter. There's Glynis and Jaqui, Joe and Benny, Hazy and Sergeant Major. Like them, Poor Jill, a previously unreleased flute-laden vignette which has been unearthed from the Introducing The Strands sessions, is as lyrically alive with incident and colour as the baroque arrangements that soundtrack them.
"I think Ray Davies used to do that with The Kinks," Head says. "I can't sit down and say I'm gonna' write a song like this or that. Sometimes things come from fact, sometimes they're complete fiction, and sometimes they're a combination of the two, but a lot of the songs come from dreams. Dreams are like Polaroids in reverse, in that they start off really clear, and then fade and go blank. I've had dreams where I've had the title, the first verse and the chorus, and then it goes. I've got this new song that started like that about fifteen years ago, but it didn't have a second verse, because I can't force that. Well, I could've done, but it wouldn't have felt right. But it was worth the wait."
Given Head's penchant for character-driven narratives, it's perhaps no surprise to hear that he's started writing plays, screenplays and fiction.
"I've just done a short story for one of the lads out of The Farm," he says. "It's for something called the Ninety-Niners, which are stories that are no longer than ninety-nine words. I started getting my shit together at the start of New Year, and I'm working on something at the moment as well which is called Sunnydale. It's set in 1959, before Merseybeat, and it's about this band, and all they want to do is impress the local club owner so they can be the house band in Butlin's."
Since Artorious Revisited, Violette has released a 7", Velvets in The Dark/ Koala Bears. They have also put out an array of bespoke posters used to advertise Head's increasingly busy if singularly bespoke gigging itinerary. Live shows usually take place in off-beat venues, such as churches or a seaman's mission. A film of one of those shows, Michael Head and The Red Elastic Band – In A Wonderful Place, recorded at St George's Hall in October 2014, will premiere in a classic Liverpool cinema in April.
"I played this gig with my sister's choir at Christmas," Head says of a show at Liverpool's Philharmonic Hall, "It was another variation on the Red Elastic Band, but with me and ten girls. One of the girls pulled my sister aside and said there feels like there's a lot of love in the room, and she was right. You can just see that. Don't get me wrong, I know we're good and can write songs, but when you see that love in people's eyes, it blows you away, and it's mutual. I don't really go on social media, and I don't go out much, but I think if I saw what was being said I'd be blown away."
With plans afoot for a Red Elastic Band album on Violette, Head's work ethic seems to surprise himself. "I can't believe I'm talking like this," he says, "but you've got to know what you're doing rather than piss it up a wall, but you're young.
Beyond Red Elastic Band releases, there are plans too to start a series of Violette Socials in various cities, with nights in London and Paris already mooted. "There's lots of young bands coming up who are interested in Violette," Head says, "in how it works and the whole ethos behind it, and we had this idea to do the Violette Social and put bands like that on, maybe with bigger acts, and everybody gets £300 each. It doesn't matter how big you are. We've asked Richard Hawley to play, and he's only getting £300 the same as everybody else, but we just want to keep up a momentum."
One band who might end on a Violette Social bill with Hawley is much touted Inverness-sired sextet, Neon Waltz. "They've done a version of Something Like You," Head says of one of the most sublime songs from The Magical World of The Strands. "It would be great to see them play."
Outwith Neon Waltz and Forever Changes, Head's listening habits lean towards the tastefully classic. "A bit of John Coltrane to get me up in the morning," he says, "a bit of Gershwin, a bit of Miles Davis. I went out on a bike ride to the beach the other day listening to Tim Hardin, and all there is is acoustic guitar, voice and strings, and sometimes that's all that's needed."
That's certainly the case at Oran Mor, where the synergies between Glasgow and Liverpool's musical tapestry were confirmed by way of an introduction from BMX Bandits mainstay and Glasgow musical sage, Duglas T Stewart. Stewart speaks emotionally of Head's influence on his generation of Glasgow musicians, and the pair hug following Stewart's reverie.
By that time Head has already received a hero's welcome from a partisan crowd who over the next hour and a half display a devotion that's echoed in the figure of Head's grown-up daughter Alice, who stands at the side of the stage silently worshipping her old man throughout. This despite the welter of f-bombs that pepper Head's numerous good-natured asides, bringing the poetry of the songs back down to earth with a very Scouse crash.
Once he's in-deep with the songs themselves, however, it's a sublime experience that begins with a slightly hesitant Walter's Song, which dates all the way back to the almost lost Waterpistol album, recorded in 1991. Accompanied by Rod Skipp on cello, with Head strumming a chunky acoustic guitar, the song's fragile refrain concentrates Head's mind, and he's away, lost inside himself in some imaginary idyll where such songs spring from.
He's there even more on the more recent Cadiz, where Head and Skipp are joined by trumpet and flugel horn player Martin Smith. Pace and tone shift up a gear for Newby Street, which takes the mariachi horn-led jauntiness of Loves Between Clark and Hilldale and invests it with a common touch that has the entire room singing along. The following Lucinda Byre is woozier and more reflective, while Velvets in the Dark is "for anyone who's been dumped."
Over eighteen songs, Head lays bare a soul sired in the melting pot of Liverpool's ever morphing music scenes, but which transcends them all to become something fragile and unique. Despite constant between-song interjections which he parries like a stand-up pro, Head flits between material from all of Shack's albums save the first and the last. Meant To Be sounds suitably epic, while a startling take of Streets of Kenny becomes a gritty realist anthem for doomed youth that never was.
There's nothing contrived here. If Head feels like changing the words of Undecided with the name of a woman from the audience, then he will. His performance is instinctive, raw, bruised around the edges and at times teetering on the edge of falling apart, but laced with un-self-conscious hilarity as he goes. On one song he messes up the guitar part no less than three times mid-way through, just so he can hear Skipp play the jazzy bass notes on his cello one more time. And it's this vulnerability that makes every song Head touches so very, very beautiful, and makes the night such a special one that's ended with a joyous reprise of Newby Street.
Now in his early fifties, Head's new lease of life is vindication for what once looked like terminal under-achievement. "I'm quite a positive person," he says, laughing at his own observation. "Listen to me, I've gone from hippy to New Age lunatic, but having kids has been a great leveller. My ex partner can testify to that, but the one thing that still blows me away is what happens when you write a song."
While clearly on a roll, Head's resilience in the face of adversity dates back the very early days of The Pale Fountains, when they rehearsed in a local pub: "We'd got grants to buy instruments, and we had a keyboardist, but we couldn't play. Then one night we did this melody, and we all said we'd do some lyrics.
"I got something together, and going back the next night I'd never been so scared in my life. At that time grown men winced at the idea of writing a poem, and it felt like I was putting my soul on the line. Then somebody asked if anybody had any lyrics, and nobody had done any except me. I was so nervous singing them. I was sweating and everything. When we'd got through it the keyboard player just looked at me and said, what does that mean, and I went, I dunno…Then Biffa came over to me, he leans in and really quietly, he says, I like it. In that moment this zoom of inspiration went through me, and I thought, I'm a songwriter, that'll do me."
Michael Head and The Red Elastic Band, Assembly Hall, Islington, London, Friday March 4th. Michael Head and The Red Elastic Band – In A Wonderful Place will premiere at The Plaza, Liverpool on April 25th.
Photograph by John Johnson
Comments
Comments