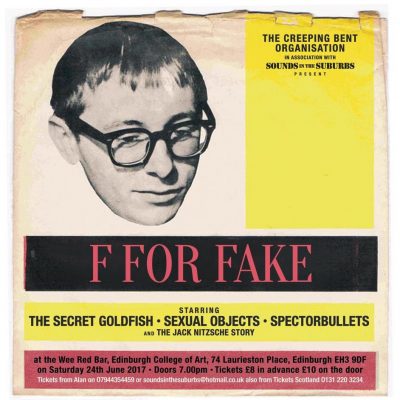 Orson Welles looms large over this art-pop triple bill brought east by the Creeping Bent Organisation, vintage purveyors of fine sounds and visions. The maverick auteur's 1973 documentary study of forgery and authenticity that gives the night its title beams out behind the acts on show. The soundtrack that results bursts forth from a set of conceptualists so rarely sighted as to out-do the late Howard Hughes, who also pops up in Welles' opus. In real life, a trio of groovy bucket chairs are set up for what might well be a mock-up of a Dick Cavettt chat show, but is in fact an opening acoustic set by The Sexual Objects, here a guitar-wielding trio of Davy Henderson, Simon Smeeton and Douglas MacIntyre. Opening with an instrumental sketch inspired by a dream Henderson had about legendary producer Jack Nitzsche, the super cool, super louche set that follows sees the SOBs lay bare their roots with a cover of Johnny Thunders and the Heartbreakers' It's Not Enough and play a couple of their own classics Feels With Me and Here Come the Rubber Cops.
The transatlantic alliance that is Spectorbullets last reconvened on these shores some seven years ago. Based around the songs of wandering poet minstral Gustav Heden, and with guitarist Gavin Fraser and drummer Russell Burn on board, Heden channels the spirit of Jim Carroll for some hyper-literate CBGBs-era rawk before morphing into a sub-Sugarhill rap.
Outdoing the long absence of Spectorbullets is The Secret Goldfish, Katy Lironi's bubblegum pop riot, who recently released their first album in eighteen years. They last played Edinburgh at the now- demolished Cas Rock venue a stone's throw away from the Wee Red as part of the mid '90s Planet Pop festival. If there are umbilical links between all three bands on tonight, this re-made and re-modelled incarnation of The Secret Goldfish is a family affair, with MacIntyre on guitar, while his and Lironi's daughter Amelia joins in on vocals. With Leopards' guitarist Mick Slaven adding lead guitar, this mini supergroup sounds even brighter than they did two decades ago.
Opening with O. Pioneers,, co-written with Sexual Objects Henderson and Smeeton, the six-piece line-up rattle through a nine song set drawn largely from the new Petal Split album, stopping off for the euphoric Four Excited People from 1999's Mink Riots LP. The night ends with sublime covers of James Kirk's Get on Board and a final Holiday Hymn, the Vic Godard song recorded by Orange Juice before Godard's own version could get a look in. Almost forty years on, in The Secret Goldfish's hands it sounds better than the real thing.
Comments
Comments