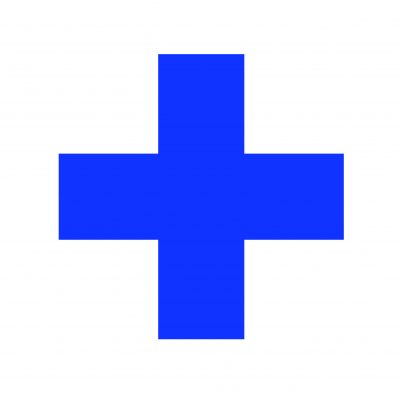 There was a time in the pre internet 1990s when some of Edinburgh city centre's darker Old Town thoroughfares were emblazoned with hastily-pasted posters heralding some of the capital's lesser sung future attractions. Around the Cowgate, one could occasionally spot samizdat crosses spray-painted onto walls in a way that suggested some kind of un-named insurgency was afoot even as it seemed to indicate an impending emergency. This graffiti tag was part of a subliminal insurrection that announced The Male Nurse were in the area. A couple of decades on, a similarly styled blue cross on a white background now forms the Keith Farquhar-designed cover of this long overdue vinyl only compilation of one of pop's most wayward missing links. The Male Nurse evolved from a band called Lucid, which featured vocalist Keith Farquhar, guitarists Alan Crichton and Andrew Hobson plus others who had been at Leith Academy with Farquhar. Having played ECA's annual Revel in 1993 as Farquhar graduated, The Male Nurse were by all accounts a band for whom the words insurgency and emergency were wilfully appropriate. Inbetween rehearsing in the old 369 Gallery on the Cowgate or hanging out at the Green Tree pub or the City Cafe, their legendary live events are said to have frequently teetered on the edge of substance-fuelled chaos. As this eponymous collection of thirteen largely unreleased tracks confirms, however, The Male Nurse still managed to produce a body of work shot through with fractured beauty.
Over their peripatetic seven year lifespan, the band recorded two John Peel sessions and released three singles on the Guided Missile label, plus a split with similarly off-kilter fellow travellers Gilded Lil on Stupid Cat records in 2000. Somewhere in the midst of all this they crashed, burned, played with fellow travellers The Yummy Fur and Lung Leg, and were banned from ECA's Wee Red Bar. They lost members, including Crichton, who died of drug-induced misadventure in 1999, and acquired others, before imploding in the early noughties.
The material rounded up on this 500-copy limited edition from painstakingly restored tapes dates from the post-Crichton period, and features Ben Wallers on guitar and keyboards. Wallers doubled up as the driving force behind The Country Teasers, of whom Crichton had also been a member. Wallers would eventually co-opt bass player Alastair McKinven and drummer Lawrence Worthington, who both play throughout this album, into the fold. Guitarist Andrew Hobson and keyboardist Alec King complete the Male Nurse line-up here.
The album is released on Decemberism, the record label founded by artist and former member of Glasgow-based instrumentalists, Ganger, Lucy McKenzie. McKenzie was a Male Nurse fan who Farquhar worked with when he invited her to exhibit at Deutsche Britische Freundschaft, a London art space Farquhar founded with German artist Thomas Helbig. Farquhar later took part in Flourish, McKenzie's Sunday night studio-based art-cabaret show-and-tell events in Glasgow. He also contributed to The Best Book About Pessimism I Ever Read, a group exhibition curated by McKenzie at the Braunschweig Kunstverein in 2002. Since then, he has exhibited widely in solo and group shows across the world.
Farquhar was already starting to make his mark as an artist while The Male Nurse were ongoing, and his pop cultural eclectica is all over the show here, whether through the references to Joseph Beuys in Road to Moscow, or to Martin Kippenberger in Parting With the Bonus of Youth. Both pointers are telling.
Like Farquhar, Beuys also had a fondness for using crosses in his work, even as the German aktionist revolutionised the international art world following his visit to Edinburgh in 1970 as part of the Strategy Get Arts exhibition at ECA initiated by mercurial impresario Richard Demarco. Kippenberger, meanwhile, was another German, who died in 1997, three years after his work was used on record covers for Holy Bible era Manic Street Preachers. Like Kipppenberger, The Male Nurse never fully settled on one particular style, picking and mixing from a scattershot set of influences that tugged the band in different directions, often in the same song.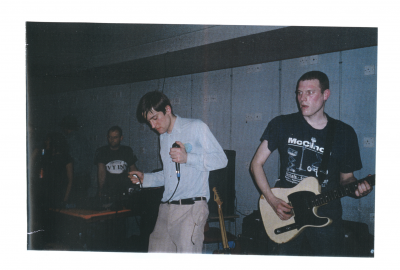 The opening Male Nurse Tower (Intro) is a woozy overture of ambitious intent that sets the scene with some babble about building thirty-five storey high towers. Road to Moscow follows with a darkly sardonic travelogue driven by a wheezy organ, and which contrasts driving a Skoda-load of marijuana across some bumpy Russian roads with Beuys' airborne ride across the same terrain in a Stuka. German Sleeps in My Bed is an inter-continental romance that shows off Farquhar's softer side, his faraway vocal offset by a spikily insistent guitar pattern. The Plight of the Remedial Child too starts off as sensitive as a social worker. After a couple of verses, however, its schoolday lament for a failed attempt at kindred spirithood with less academically gifted classmates gives way to primitive bombast worthy of Live at the Witch Trials era Fall, only smarter and more sarcastic.
Esoteric Bookshop is a brief organ-led jingle, the first of three instrumentals on the album. Somewhat contrarily, Channel 4 Theme is an electro-pop ditty that observes with gimlet-eyed fascination the noise made as Carol Vorderman's hands doled out the letters on Countdown. The first side ends with the Kippenberger homage/critique, Parting With the Bonus of Youth, a trippy organ-led hangover of a song that shows off an increasingly mature Male Nurse sound.
The second side's opener, Afraid & Jarring, however, is a wonky instrumental fairground waltz that lollops about as if soundtracking a wilfully ridiculous dance routine, even as it references playwright Alfred Jarry, as the sleevenotes winkingly explain. Male Midwife is the most accomplished thing on show so far, as loping bass and fizzing synths wrap themselves around Farquhar's drawling vocals in a piece of post Madchester indie-dance hedonism with a brain.
Back on the Pills is a jauntily absurdist glam racket, Ducks Over Dachau a scary instrumental march. The keyboard flourishes of Not Sentimental lend a subtle warmth to the song, even as it appears to fade off into the distance. The loose-limbed kosmiche of the final Horse Riding, Painting & Lovemaking, meanwhile, is a heartfelt paean to the simple things that mattered in life to Farquhar and The Male Nurse at that moment, its wiggy climax threatening to break into full-on freakout before juddering to a halt.
Almost two decades on, Farquhar has recently returned to music for the first time since The Male Nurse's demise, as one half of the wonderfully named Edinburgh Leisure alongside guitarist Tim Davies, formerly of Guinness and several other Edinburgh-based bands. The duo are several gigs into their existence and have already generated enough material for an album. In the meantime, The Male Nurse's nouveau Beuysian actions captured here remain a messily evocative and at times wistfully melancholy document of Edinburgh Cowgate's past.
The Male Nurse by The Male Nurse is available on Decemberism Records. Edinburgh Leisure play Embassy, Edinburgh on November 25th at the launch of Touch My Ego (please), a group exhibition in which they take part.
Comments
Comments