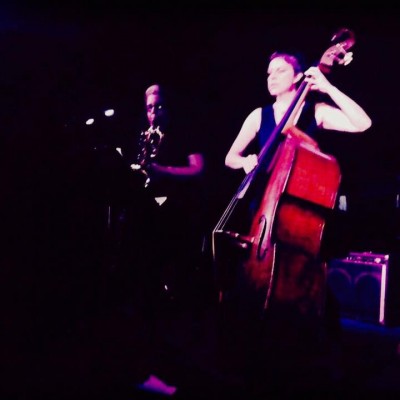 When iconic trumpeter Miles Davis released his Bitches Brew album in 1970, the record's use of electronic instruments and studio editing broke the mould for for many jazz aficionados even as it confounded others more used to the artform being primarily a live affair captured in the moment. Either way, it's notable that out of the dozen players that made up Davis' supergroup gathered for the recording, not one was a woman. Almost half a century on, a new night for female jazz and improv musicians has co-opted the title of Davis' of-its-time opus to correct such gender imbalance. Co-founded in the summer of 2015 by saxophonist Sue McKenzie and double bass player Emma Smith, Bitches Brew is a bi-monthly night that takes place at the small but perfectly formed Jazz Bar on Edinburgh's Chambers Street. The idea was to provide a platform for female players who, despite working in a more left-field free and improv scene, can sometimes be sidelined rather than recognised as composers and players in their own right.
Though McKenzie is a veteran of Salsa Celtica and Glasgow Improvisors Orchestra, and Smith has collaborated with Gorillaz and Eliza Carthy prior to the pair joining forces as Syntonic, some promoters have presumed them and other women players to be vocalists in otherwise all male bands. There have been elements of tokenism too,with festivals fulfilling their quotas by only booking one female band.
With Syntonic, who debuted at Ronnie Scott's club in London last year, acting as house band, each night features four acts playing short sets that cover most musical bases, from electronica and groove-based excursions to looped vocals, free improv and beyond. The third Bitches Brew takes place this Wednesday night, and sees sets from Japanese pianist and composer, Shiori Usui, Syntonic themselves, and the McKenzie/Bamford/Linson Trio. Alt folk singer and some time King Creosote backing vocalist, Amy MacDougall, was also scheduled to appear, though illness has forced her to withdraw. Stepping into the breach will be DJ, producer and founder of Schiehallion Records, Rebecca Vasmant.
While McKenzie's turn with the McKenzie/Bamford/Linson Trio sees her making her second appearance of the night, it also introduces a cross-gender intervention into proceedings by way of the fact that both bassist Adam Linson and drummer Rick Bamford are, well, men.
Having already been featured on BBC Radio 3's Jazz on 3 programme last summer, there are plans afoot for a Glasgow Bitches Brew night, with the long term aim to go UK-wide, with potential nights in Manchester, Newcastle and London already under discussion.
With a new Edinburgh club night, Miss World, featuring an all-woman DJ line-up playing funk, disco, post-punk and electronica at the nearby Mash House venue later the same night as Bitches Brew, such a show of strength speaks volumes about how female musical talent is miles ahead.
Bitches Brew #3, The Jazz Bar, Edinburgh, Wednesday  January 17th, 9pm-11.30pm. £7/£5.
Comments
Comments