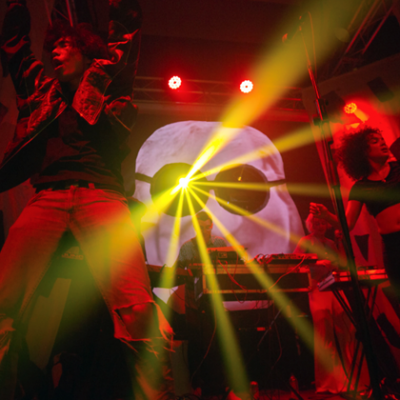 When Golden Teacher played an Edinburgh show on General Election night this year, it felt like the 1980s in more ways than one. While the big screen relaying live TV coverage in the bar area of the city's Mash House venue kept freezing, even technical gremlins couldn't hold off the Conservative Party's inexplicable majority which may have doomed us to austerity forever after. In stark contrast, the live room next door was awash to a darkly joyous stew of percussion-heavy psych voodoo club sounds, irresistible to dance-floor revellers seeking sanctuary from the gloom. As fractured as the times, Golden Teacher live seemed to be tugging in several directions at once. It was as if Giorgio Moroder and Brian Eno had moulded a back-drop of fourth world funk and deep-set techno libation into an increasingly euphoric mix that ushered in the rhythmic tease of Grace Jones circa 1981 and mid '80s Cabaret Voltaire. In light of the disaster that was being broadcast in the other room, this was blessed relief.
Which is why it is as equally as joyous to see the Glasgow-based sextet's first trio of limited edition 12" singles collated on to one glorious disc, even as the band made up of Cassie Ezeji, Charles Levonzac, Laurie Pitt, Ollie Pitt, Richard McMaster and Sam Bellacosa have already moved on to conjure up even more sublime slabs of delirium.
Golden Teacher were formed initially by an unholy alliance of punk trio, Ultimate Thrush, noise duo Blue Sabbath Black Fiji and analogue house duo, Silk Cut. Their coming together was sealed at Glasgow's Green Door Studios by way of a series of subsidised music production classes for unemployed musicians (and how 1980s is that?). Golden Teacher were duly picked up by kindred spirits, Optimo, who released their Bells From The Deep End EP in 2013. A second record, Do Not Go Gentle Into That Good Night, followed the same year, with Love/Party People appearing in 2014.
Released on the band's own label, eight tracks culled from those records make up the vinyl edition of First 3 EPs, while all twelve cuts feature on the accompanying CD. A double A side of remixes by veteran reggae producer Dennis Bovell and another 12", Sauchiehall Enthrall, may have already moved the party elsewhere, but, listened to in one relentless sitting, First 3 EPs makes for an hour-long ethno-delic trip designed to ignite all manner of primal urges.
http://www.monorailmusic.com/album/fb7d3269-9ce0-11e5-ba32-22000bb68fa6/First_3_E.P.s.html
Comments
Comments