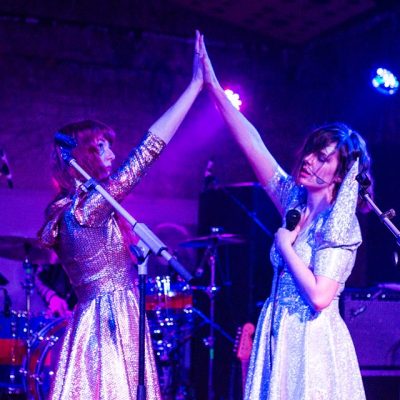 It should probably come as no surprise that professional dancers are in the audience for the Edinburgh leg of this mini tour by spectral performance art/pop auteurs BDY_PRTS on the back of the release of their sublime debut album, The Invisible Hero. Beyond the music, the raison d'etre of BDY_PRTS' dynamic duo of Jill O'Sullivan and Jenny Reeve, after all, is a flamboyantly costumed display of kinetic physical jerks and modernist shape-throwing to illustrate a set of fizzing machine-age chorales. In this sense, the BDY_PRTS live experience is several works of art for the price of one that's a long way from the pair's formative work fronting Sparrow and the Workshop (O'Sullivan) and Strike the Colours (Reeve). Part living sculptures, part Bloomsbury Group super-heroines, part widescreen pop fabulists, O'Sullivan and Reeve paint their faces with ancient symbols and sport customised shoulder pads that look both seasonally sparkly and robotically pointy on their bespoke gold coloured outfits. As they punctuate their pursuit of sci-fi classicist ritual with Steve Reich style hand-claps, their appearance heightens the music's glossy exotica.
This gift-wraps O'Sullivan and Reeve's twin vocal lines with an umbilical lineage that moves from AOR era Fleetwood Mac by way of Kate Bush all the way up to Bat for Lashes. So when O'Sullivan points out that the man responsible for choreographing the video for recent single, Take it to the Top, is in the house, it's a nod to the collaborative nature of BDY_PRTS' cross-artform canon.
There may not be enough space to re-create the nouveau surrealist images, but O'Sullivan and Reeve already set the tone from the moment they touch fingers in the opening IDLU, as if reinventing Michelangelo's Sistine Chapel frescos for the live art age. There's an accusatory snarl to the voices in this opening song. This is heightened by the stuttering guitars of Paul Mellon and Jonny Scott's percussive thunder that allows O'Sullivan and Reeve free rein to cut loose beyond their own guitar playing. Both women go walkabout at various points, breaking the fourth wall as they reach out to the audience.
A pounding cover of The Creatures' Mad Eyed Eyed Screamer lends a more primal edge. For all this may bewitch and beguile, beyond the sculptured stance that wouldn't look out of place in a film by artist Rachel Maclean, O'Sullivan and Reeve's true colours show through on the girl band electro-squelch sass of 45. It's a pop monster in waiting – as shiny as their shoulder-pads, and twice as dazzling.
Comments
Comments