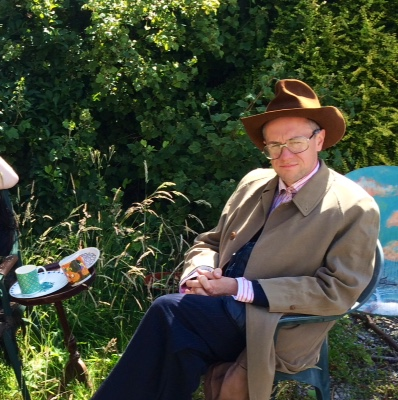 For twenty-odd years (some of them very odd) Benedict R Wallers, aka The Rebel, has been reeling out a deadpan, wilfully singular take on spindly DIY adult nursery rhymes for terminal nihilists. As if to illustrate, this twenty-one track cassette of 4-track recordings begins with a sneeze and a spoken word rendition of the second verse of Prince's Sign O The Times.
With roots in Edinburgh avant-provocateurs The Male Nurse before honing his stetson-headed schtick fronting the Country Teasers, Wallers' output as The Rebel has been prodigious, and this third part of his Poems With Water trilogy released on the Austin, Texas-based Monofonus Press label allows full vent to his polymathic tendencies. If reading Prince lyrics is a good way to start, the rest of Can I Pass?- the track it forms part of – is as straightforward as it gets over the next hour.
The brief reading from Flann O'Brien's experimental novel, At Swim Two Birds, in Pegasus, is a telling pointer to where Wallers' head might be at. There are kindergarten keyboard instrumentals, self-sabotaging double-tracked readings from his own novel, sampled dialogue from Blue Velvet and The Shining and a cover of the Carter Family's Country classic, I Found You Among The Roses. Tim Dides Arowand may begin with a subversion of Carly Simon's You're So Vain, but is in full possession of the sort of Robert Wyatt-esque English whimsy-with-a-twist that sent Syd Barrett over the edge. Meanwhile 242 references uber-cool '80s chanteuse Sade's suburban wine bar smoochathon, Smooth Operator.
All of which may initially rub the listener up the wrong way as a disarming and comically contrary experience. But beyond the rudimentary-sounding plinky-plonkyness and drum machine shuffle, something more serious is going on. Wallers' playfully-inclined experiments with multi-track recording are actually low attention-span music concrete collages. As they toy with their own absurdity, they become part of the low-rent musical detritus so destructively savoured here.
Comments
Comments