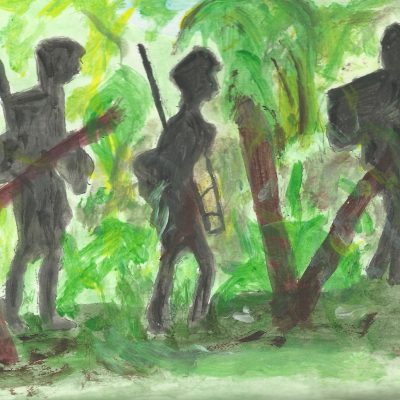 Usurper – The Big Five (Singing Knives)
In the jungle, the mighty jungle, something is stirring. Or at least it is in the world of Usurper, the Edinburgh-based duo of Malcy Duff and Ali Robertson, whose sonic missives over the last decade have become increasingly-expansive exercises in performance that go beyond notions of sound art. Through a series of sketches, routines and goof-offs, all punctuated by noises off made by a bucket-load of acquired junk, Usurper's modus operandi falls somewhere between Samuel Beckett, The Goons and Tex Avery by way of John Hurt's experimental sound designer in Jerzy Skolimowski's neglected 1978 film, The Shout. Following a busy year of monthly CDr releases on their own Giant Tank label, Usurper's cup runneth over, even more on this forty-five minute cassette released on the Sheffield-based Singing Knives label. A sequel of sorts to their 2012 Cdr, The Big Four, which referenced assorted quartets of personality traits, thrash metal bands and coincidence, this follow-up pieces together recordings made in various locations in Edinburgh's urban jungle during 2013 and 2014. The starting point was a Google search of the phrase 'big five' that threw up lists of the most hunted wild animals on the verge of extinction, psychological personality tests and pre-censorship American war comics.
The first side hisses cheerily into life with the word 'Snakes' exclaimed as if the opening of some undiscovered Ivor Cutler routine. As the word evolves into a little mantra of criss-crossing voices, the names of other animals are introduced. ' Mosquito'. 'Giraffe'. Monkey'. 'Elephant'. Except the way the words are spoken transcends their original meaning, so as the words are elongated, compressed and bent out of shape by all manner of inflections, they become a little symphony of pure form.
Accompanied by assorted low-key shakes, rattles and rolls, at moments it squawks. At others it grunts, exhales or else ponders a moment of silence. At others still, these primal utterings are overlaid with verite conversations between Duff and Robertson, cast as great white hunters on a mission. This is Usurper on safari, frustrated explorers in an absurd landscape where the wildlife announces itself with a signature verbal tic. Each word becomes a rumination, an accusation or a postulation, so in a series of ethnographic and anthropological eruptions and excavations, survival of the fittest is paramount.
The second side opens with colourful first-person story-book testimonies of life on the front-line before comic book speech bubbles are brought to life with a series of 'Blams' and 'rat-a-tats' spoken over what sounds like a regimented march over the back kitchen table. A toddler briefly joins in with his or her own sound effects before the two tribes move outside to spar among the traffic roar.
The pulp fictions become ever more fantastical, so the voices sound ridiculous, as if the miniature icons of Michael Bentine's Potty Time were rewriting history to make themselves appear more heroic. If at times this resembles a trashy and slightly grotesque take on Jackanory, the real collateral damage can be heard in the final on-location recordings. Like Still Game's Jack and Victor hanging out with the local Noise set, Duff and Robertson are in part strip cartoon brought comically to life. There's something deeply serious going on here too in these fragments that speak volumes about how everyone's an endangered species in a maladjusted world.
www.duffandrobertson.bandcamp.com
Comments
Comments