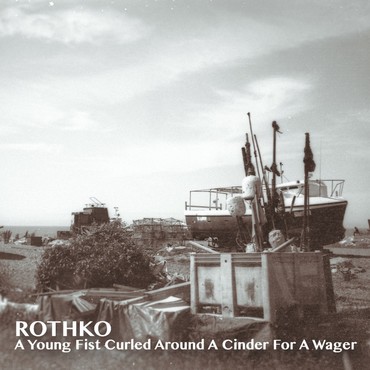 Since 1997, Mark Beazley has operated under the name of Rothko in a variety of incarnations, first as a group, then later in duo and solo form. Even as a trio, however, the bass guitar, or rather, several of them, have been at the heart of Beazley's instrumental canon. Having broken cover early in 2016 with Discover the Lost, the first Rothko release since 2007's Eleven Stages of Intervention album, Beazley follows up in double quick time with this stark and startling collaboration with Johny Brown, the restlessly prolific street poet, soothsayer and driving force behind The Band of Holy Joy. The result is A Young Fist Curled Around A Cinder For A Wager, a suite of first person monologues charting the rites of passage of an inner city kid as he searches for something better, finding it in a doomed romance before drinking his pain away until he can move on. Recorded live in one take in July 2016, Brown's social-realist narrative is delivered unadorned by any musical frills other than Beazley's bass, which moves from plucky jauntiness to an echo-laden death knell that sounds like it might explode.
The opening The Mainline Landscape of My Youth sets the scene through a series of spoken word sense memories of brutal youth. These are scab-deep in the unsentimental cruelty of urban urchins scrambling in the dirt inbetween blowing up frogs or putting foxes heads on sticks. The ickyness of summers long since past is at play both here and in the title track in a way that recalls the early fiction of Ian McEwan, only grittier and more pungent. Its nostalgic grit bring Keith Waterhouse's There is A Happy Land and Dennis Potter's Blue Remembered Hills to mind.
As old wounds are re-opened, One Day I Will Get There is a yearning for other worlds beyond the back streets. In We Have Great Fun, the bravura of kids games have given way to the macho bravado of running with gangs. The story's protagonist is painfully aware of 'that feeling that something is missing / I should be writing creating and kissing / When up the garage walls my life I am pissing.'
Salvation comes through a love affair with a flower girl in And Then A Silence For The Soul, which blossoms into something serious in The Rose Grows Tender in the Shade and the domestic bliss of Here I Am With Someone Who Cares. Things don't last, however, and Fabled Women, Transitory Disturbances gives way to the self-loathing and self pity of Because I Just Started Drinking Again. A final parting shot comes in I'll Be Gone Before You Leave before the restless quest out of the wilderness begins again in the closing The Boat Must Sail On.
While this sounds as kitchen-sink as it gets, Brown's first person confessionals become a litany of underclass aspiration delivered with an emotional rawness which, with only Beazley's bass to bolster it, sounds even more exposed. As the narrative darkens, the music clangs, echoes and simmers with portents of doom, yet leaves acres of space for Brown's voice to peal out, impassioned but still vulnerable from the effects of the short-lived joys and broken dreams he's purging.
In this respect, as the past catches up with him, and, accompanied by Beazley, Brown is like a Geordie Jacques Brel styling a set of twenty-first century post-punk chansons. These go beyond the drizzly sentiments of bedsit romances to lay bare a tortured maelstrom of words and music that eventually thunders to the raging calm of a story only a survivor can tell.
http://www.tracerecordings.com
http://www.cargocollective/rothko
Comments
Comments