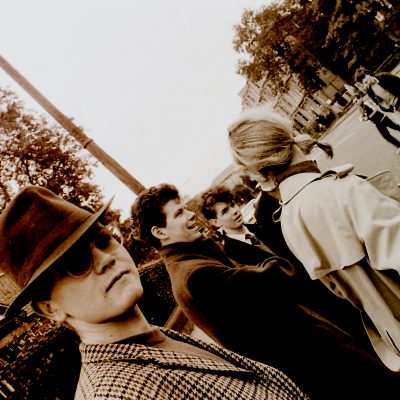 For a golden moment sometime around 1981, it seemed that pop music had been reborn as something primitive and pure. In a wilfully independent post-punk climate, anything and everything was up for grabs. Jazz, funk and all hybrids inbetween were de rigeur. At Alan Horne's Postcard Records in Glasgow, this took the form of a short-lived but world-changing musical response to the spit and sawdust, razor gang machismo of the city's unreconstructed pub life. It looked to the Velvets' more sensitive side, lounge bar jazz and Radio 2 for comfort. Orange Juice may have added extra camp, Josef K more funk and Aztec Camera more class to the template, but it was left to Postcard second-wavers Jazzateers to add an essence that fell somewhere between shambolic and chic. With a name that conjured up a one-for-all, all-for-one coffee bar gang mentality, the original Jazzateers oeuvre was fragile, fey and overwhelmingly pretty. Led by guitarist Ian Burgoyne and bass player Keith Band, the songwriting mainstays who would appear in every incarnation of the group, they played tastefully-plucked Gretsch guitars over Colin Auld's rim-shot sophisticated bossa nova drums. It was Alison Gourlay's dreamy faraway vocals, however, that made Jazzateers so sublime.
Postcard had shut up shop before its planned release by Jazzateers could happen. The band's eponymous album, issued by Rough Trade Records in 1983 with future Hipsway vocalist Graham Skinner replacing Gourlay, was an infinitely spikier piece of work. As Rough 46, also released by Creeping Bent in 2013, the record formed the first fully-formed chapter of a story that would see Jazzateers eventually morph into Bourgie Bourgie, with Paul Quinn on vocals, and attempt to ride the glossy New Pop train.
Don't Let Your Son Grow Up to Be A Cowboy, this Gourlay-fronted collection of unreleased gems from 1981 and 1982, can be seen as a prequel to all that jazz, with its low-key swoon tapping into a wave of artistes looking to the likes of Brazilian chanteuse Astrud Gilberto, retro-cool licks and classic song-writing for guidance. Think early Everything but the Girl doing Cole Porter and Vic Godard crooning Tony Bennet numbers. Think too of Mancunian cocktail poppers Dislocation Dance and Alison Statton's wispy vocals with post-Young Marble Giants trio, Weekend.
As pre-cursors to Sade and Carmel a few smooth years later, the Jazzateers compiled here occupied a place where naïve pop and nouvelle vague met for cappuccino in one of the Glasgow west end eateries they so studiedly plied their wares in, and where the album's gloopy cover paintings by the late David Band might well have adorned the walls.
The opening Natural Progression starts off as wallflower-shy as the duskier side of all-female '60s beat combo The Feminine Complex, before Gourlay's croon gives way to an extended Velveteen rifferama that wouldn't have sounded out of place on Live '69. Don't Worry About A Thing is a pouty cocktail shaker of a song, and Say Goodbye, I'm No Tarzan and When The Novelty Wears Off sound like jangly dress rehearsals for C'86 compilations to come.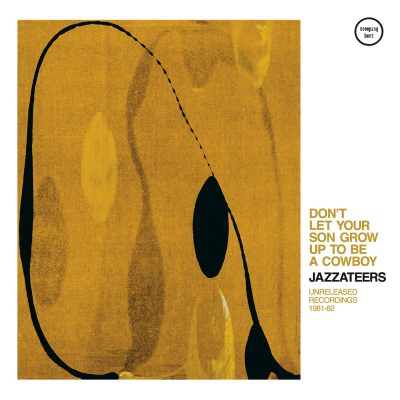 With the second side produced by Edwyn Collins, musical arrangements are fleshed out by subtle percussive flourishes and little piano runs that lend a wryness to Moon Over Hawaii. It's the quietly audacious version of the Giorgio Moroder/Pete Bellotte-penned disco nugget, Wasted, a number originally released by Donna summer, that stands out. Scheduled to be the fourteenth Postcard release, but which remained unaired following the label's closure (only eleven singles and an album saw the light of day), the frantic guitars and Gourlay's dreamy vocal on the song resemble a blueprint for Bite-era Altered Images. If history had worked out differently, Wasted could have been a crossover smash hit, but instead remains the one that got away. Such was the fate of Jazzateers themselves, who, on Stop Me From Being Alone, the disco funk of Love Is Around and the jaunty stroll of the closing Run Away are now revealed as a crucial missing link in indiepop history.
A CD version of Don't Let Your Son Grow Up To Be A Cowboy was released by Cherry Red Records in 2014, and featured six extra tracks from the post-Gourlay, pre-Skinner era, with future Sunset Gun singers and This Mortal Coil collaborators Deirdre and Louise Rutkowski on vocals. This vinyl version, however, captures the Gourlay years in all their gossamer glory, and comes with a free download of a 1981 live show at Deville's club in Manchester, where Jazzateers formed a double bill with Aztec Camera as part of an event styled as The Postcard Factory Sit-in.
Bootlegged by an audience member on cassette, the band's six-track set lasts barely twenty minutes. Opening with a jazz-lite instrumental, the recording is punctuated throughout with lo-fi audience chatter. This lends a pseudo-authentic atmosphere to an after-hours vibe of faux intrigues played out by dressing up box rebels living out their own arthouse movies in dimly lit rooms.
Captured in the raw, Jazzateers soundtracked all this with a modest sense of aspiration on what's become an essential hand-me-down objet d'art. It remains a timeless blast from a monochrome past captured just before the light they came blinking into turned technicolour.
Comments
Comments