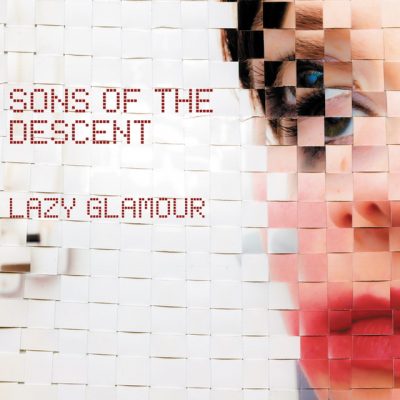 Sons of the Descent – Lazy Glamour (Brawsome Productions)
Somewhere in the midst of the 1980s/'90s indie-pop goldrush, amongst the Baggy casualties and shoegaze superstars, there were a million others of equal merit who fell by the wayside, plagued by bad luck, bad timing or both. Come on down Hugh Duggie and Ian White, who, as Sons of the Descent, are the waggish brains behind this low-key smorgasbord of quietly crafted off-kilter pop gems. Given their respective backgrounds, it seemed inevitable that Duggie and White would eventually find each other. Duggie served time in late period Lowlife, the band formed by ex Cocteau Twins bassist Will Heggie, before going on to front Mute Records-connected noiseniks, Foil. White, meanwhile, played guitar with Edinburgh band The Wendys, who signed to Factory not long before the late Tony Wilson's musical plaything/utopian folly crashed and burned in financial ignominy, a glorious victim of its own largesse. The result of the pair's collective pedigree is a suitably wacked-out collection of eleven world-weary postcards from the edge. The opening Look at the Sky burbles into life with a repetitive bass riff and waggish guitar twang. This underscores a spoken-word paean to a mid-life sense of wonder possibly brought on by a summer afternoon on the sick. You Don't Have to Know My Name is a shuffling piece of libertarian scallydelic whimsy peppered with little fanfares. While the first song resembles a less louche Blue Aeroplanes, the second is laid-back enough to conjure up the ghosts of early Beta Band.
The mood continues on Dolphin and Elm, which combines electronic beats with mournful guitar to soundtrack a bar-room shaggy dog story that picks up on the catchphrases of disgraced showbiz entertainers. The song proceeds to serenade them with snatches from Dvorak's New World Symphony, aka the Hovis advert. Situation in Your Head charts the perils of everyday paranoia, as our heroes stumble into the same musikal district occupied by Scouse pop fantasists, Space. Keyboards wheeze in at the opening of Reports from the Colonies like a faux-Edwardian psychedelic hangover voiced by a hang-dog stowaway looking for a safe place to land.
Golden Misfits serves up a piece of panoramic high drama that swaggers broodingly into view in the face of what sounds like an entire Sioux tribe warbling in the background. Similar in tone, Flighty rumbles with underlying sci-fi menace and a hissing megaphone-muffled vocal that snakes its way through much of the record. Things get even darker on Charisma Sans Charlie, a mumbled stumblebum confessional that props up the bar while a wild west guitar kicks up dustbowl fantasies before a redemptive chorus promises the world.
The effect of such pick-and-mix diversity is akin to turning the pages of a collection of fictional miniatures culled from a twilight zone occupied by Hogarthian pub bores and other animals. A textured subtlety peppers every song, some laced with a sly, dry-as-bone wit to offset the darkness. Harm is No Answer is a foreboding gallop delivered with cold intent, before the slow rain that opens My Mind Will Shine gives way to downbeat mutterings vying with vintage cut glass vocal samples. Finally, Deep Sea Buffalo (Theme from This is the Winter) bursts into the light with a cut and paste concoction of retro-styled samples and instrumental jauntiness. As it fades out, the buoyant wave of handclaps and chants that go with it suggests Sons of the Descent may be in the gutter, but they remain a musically dynamic duo still looking at the stars.
Comments
Comments