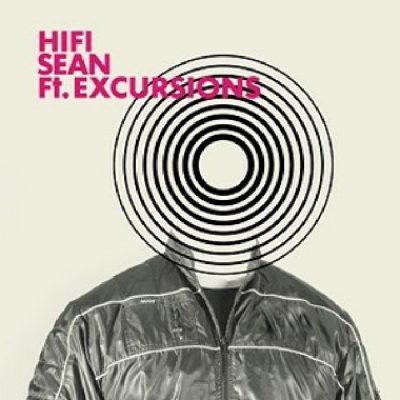 Hifi Sean – FT. Excursions (Plastique Recordings)
Over thirty-odd years, Sean Dickson's musical journey has been a wonder to behold. From fronting Buzzcocks inspired Glasgow shamblers turned Baggy love-gods the Soup Dragons, Dickson's sideways move to psych-pop troupe The High Fidelity was nothing compared to the full-blown damascene conversion to the dancefloor that eventually followed. Since then, Dickson's euphoric adventures as a DJ and producer under the Hifi Sean moniker have sounded as far away from the Bellshill scene he came from as can be. 2016's Ft. album capitalised on Dickson's eclectic connections with a hands-in-the-air grab-bag of beat-heavy confections featuring an all-star cast of guest vocalists and artistes. These ranged from Yoko Ono and Bootsy Collins to B52 Fred Schneider singing about trucks and Suicide's Alan Vega's last recording. As if such an array of synthesised soul, poppers-friendly floor-fillers and banging techno-abstractions wasn't out there enough, there was even an appearance from Maggie K De Monde, one time chanteuse with '80s one-hit wonders Swans Way. Best of all was the opening rush of Crystal Waters' piano-led soul-gospel anthem, Testify.
As joyous as this package remains, listening to such a whirl of high-energy musical gymnastics on a drizzly Tuesday afternoon can be pretty exhausting if there's no dance-floor in sight. Perhaps Ft. Excursions was invented with this in mind that. Styled as Ft.'s 'little sister' and released on white vinyl in a limited edition of 300 for this year's Record Store Day, its contents are designed for the sort of after parties where the sun is cracking the flags both inside and out. Where the original album is a jaunty hands-in-the-air extravaganza, this new set of constructions sees a welter of producers throw off-kilter googlies into a mix designed to keep the come-down at bay.
The opening Sunset Dub mix of Monday Morning Sunshine, finds Western Isles based chanteuse Jean Honeymoon coming to woozy blissed-out life after a long weekend siesta before the party kicks off once more. Dickson has just co-produced Honeymoon's first solo record, Beginnings, and here adds a bass-heavy pulse that courses throughout the album, as choir, strings and harps conspire to suggest Honeymoon is nestling into some celestial dreamland where angels play.
The original squelch of Atomium finds dub specialist Ray Mang and Horse Meat Disco's Severino ramping up the synthesised handclaps with some busy bongos and old-school House melodies on their Dub Revision of the Bootsy Collins fronted track. Collins himself free-associates his lascivious intentions over the top of this by way of a set of hyper-delic chat-up lines. Dressed up with science-fiction bump and grind trappings, the song zooms this way and that before vocoder starbursts nip in on the blind side. 'You can put your butt out in my ash-tray, baby'. Indeed.
There are even more rockets ahoy on the Omnichord Dub version of Like Josephine Baker. Here, David McAlmont's soaring vocal is wrapped up in skittery beats laced with other-worldly sprinkles that accelerate upwards from an instrument previously embraced by Dickson on the High Fidelity's second LP, hinted at by its title of The Omnichord Album. This featured a track co-written with John Peel after Dickson gave an omnichord to the legendary DJ for his sixtieth birthday. Here, the instrument's addition makes for a trip-happy extended version on which McAlmont's voice drops in and out of a bass-heavy stew.
Dickson's original take on 18th featured Teenage Fanclub mainstay Norman Blake. If the song's shuffly beats already betrayed Dickson's indie-dance roots, French remixer Azaxx' Late Night Reprise heightens it even more. Blake's multi-tracked vocal is a melancholy downer wrapped up in a swirly-whirly groove that carries on dancing like its 1992 regardless.
Ft.'s breakout crossover moment belonged to Testify, on which Crystal Waters proved herself a major vocal force over a mix of chapel house gospel piano and party time beats. The In Flagranti Replay is moulded into shape here by Swiss-based beat-meisters Alex Gloor and Sasha Crnobrnja. It burbles and bounces with after-hours promise punctuated by deconstructed echoes of gossamer melodies, before taking a back seat and letting Waters' largely unadorned voice have its glorious day.
Yoko Ono's spoken paean to joy that forms the basis of In Love with Life does away with the string-heavy melancholy of its original form, and in its reworking by Midnight Records' Yam Who? is transformed into a funkier Little Fluffy Clouds for self-help conceptualists.
Alan Vega's appearance on A Kiss Before Dying had already been lent a poignant weight by the death of the iconic Suicide vocalist shortly after Ft was released. The original song's organ and wicka-wacka percussion suggested a downbeat crime caper set in a post-punk NY dystopia, its stentorian chorales lending it an elegiac classicist edge. The Jackie House Bullets Workout built here by San Francisco disco deviants Honey Soundsystem strip things back to an even greater sense of foreboding. Vega's incantations are left to echo over each other, punching out urgent little epistles like some street corner sooth-sayer in this starkest intimation of mortality.
Jungle drums usher in the Le Mongrel Midnight Trip take on You're Just Another Song, before Little Annie slinks in. To a backdrop of red velvet strings, the club-land legend peels back the drapes to purr with the nonchalance of an off-duty diva over an arrangement that fleshes out the brooding minimalist techno of the original.
As sublime a bank-holiday ball as there is to be had here, five of Ft.'s original tracks by Ms De Monde, Schneider, Soft Cell and The Grid electronicist Dave Ball, Paris Grey of Detroit techno legends Inner City and German diva Billie Ray Martin remain untouched by Dickson and co's sonic alchemy. The scope for a second volume of Ft. Excursions, then, is plentiful. Same time next year, perhaps?
Comments
Comments