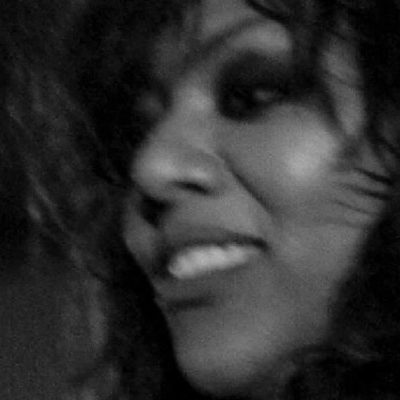 When Denise Johnson decided she wanted to record an album, she thought she might do a set of covers of songs by female singers from her home town of Manchester. It would have been a tribute to where she came from, both in terms of geography and as a woman, Except –"I couldn't find any," says Johnson, as she prepares to headline Edinburgh-based music multiple artform mash-up, Neu! Reekie!'s February Fling tomorrow night. "The only one I came up with was Elkie Brooks, and she's not even really Manchester." Veteran blues diva turned MOR crooner Brooks was born in Salford, and raised in Prestwich. Both places may only be a stone's throw from their big city neighbour, but these things count in the north. Johnson is from Hulme, the inner-city one-time brutalist rough-house turned bohemian playground. She also spent time in Whalley Range, the nearby suburb notable for a nineteenth century heritage that includes a strata of Victorian women living there being empowered to vote. All of that counts too, even if there aren't any female singers on Johnson's doorstep whose work she could cover.
"I've ended up doing an album of songs by Manchester bands who are mostly made up of men," she says. "Songs by The Smiths, New Order, 10cc, all of that stuff, but done acoustically, which changes them. The fact that I'm a woman singing them as well immediately makes them different. It gives things a new angle."
Thus far, Johnson has released a stripped-down version of 10cc's I'm Not in Love, with a cover of New Order's machine-age epic, True Faith, set to follow imminently. 10cc's original was recorded at Strawberry Studios in Stockport, co-owned by members of the band, with the finished version notable for pushing the boundaries of studio largesse to construct a lush transcendent epic.
"That song means so much to me," says Johnson, "I remember the first time I was in Strawberry was with a band called Biting Tongues, which was Graham Massey's band, and I remember walking in and thinking this was the place where 10cc recorded that. The mixing desk was like a space-ship."
True Faith was "a no-brainer, although I never really liked Blue Monday. In fact, I hated it when I first heard it. I was dancing to some funky shit in Spain and it came on, and I thought what is this? It was only later when I saw Bernard Sumner on TV and they were doing True Faith that something clicked with me. I was a funk and soul girl, and I liked punk and new wave, but I didn't really get indie apart from the stuff I heard on the radio. Back then in Manchester there was a whole soul scene going on with bands like 52nd Street, but no-one was interested in it."
Which makes it all the more fascinating that Johnson became the go-to voice for an entire generation of white-boy indie acts who were starting to discover funk, soul and club culture euphoria that would eventually lead to what became known as Madchester. From early days with A Certain Ratio, Johnson has played and recorded with New Order, Ian Brown, Electronic and Bernard Butler. She appeared on Primal Scream's seminal albums, Screamadelica and Give Out but Don't Give Up, and toured with the band for what were almost certainly five very lively years. Whichever set of skinny post-punk indie-boy bands she sang with, Johnson helped fleshed out their sound to become into an infinitely classier proposition than they might have otherwise turned out.
Johnson had always sung, ever since she was a kid in school.
"I remember loving The Sound of Music," she says. "The Lonely Goat Herd tickled me, and I just used to sing all the time, disrupting the class. That was all I wanted to do. It wasn't about being famous. I just wanted to sing."
Johnson signed up with an agency, and found herself doing a fashion show at legendary Manchester nightclub, The Ritz. "There was me and this other girl just taking the piss, and the choreographer would end up making us sit things out, so we ended up going over to talk to the live band who were playing onstage who said they were auditioning for people."
The manager of the band said to Johnson that if she sang as good as she looked, she was in. "There was this other woman auditioning who looked like the love-child of Tina Turner, and here was me, looking like a tramp, trying to sing Lost in Music and We Are Family."
Johnson talks in a motor-mouthed Manc burr that's constantly bursting into unabashed laughter that hints at the sassy soulfulness of her singing voice. "I started out in a covers band," she says. "I did it for about a year. It was me and three other girls. We'd go up and down the country with a cassette tape, singing songs that were in the charts, then afterwards the DJ would play the record by the real artists afterwards, and I used to wonder why anyone would want to listen to us doing it."
"I learnt so much in that year and a half," she says. "I was just this awkward singer who didn't really know what I was doing, and sometimes I'd just wonder what I was doing here, but gradually I started getting more confident at it."
One of the other girls in the band got a phone call from a soul band called Fifth of Heaven asking her to audition. "When she turned up, they said, oh, I think there's been a mistake. It was the black girl we wanted to see."
Johnson did the audition, and got the gig."We rehearsed every day for thirteen days," she says, "then on the fourteenth day we played Wembley Arena supporting Maze and Frankie Beverley."
Word spread about the new voice on the block, and suddenly Johnson was in demand. "Bernard Sumner from New Order was mixing for Technotronic and he asked me to do some extra backing vocals." The recording was in Johnny Marr's studio. The next thing, Johnson was drafted in to sing on Get the Message, the 1990 single forged from the collaboration between Marr and Sumner as Electronic.
The Primal Scream connection came through Tony Martin, aka Hypnotone, who recorded a couple of Acid-era albums for Creation Records, and did some work on Screamadelica, the former indie janglers full-on dive into dance and remix culture.
"There was a song Bobby Gillespie couldn't sing, which turned out to be Don't Fight it, Feel it, and Tony suggested I do it."
Gillespie and co checked out Johnson doing a live PA with Hypnotone at DJ Danny Rampling's still underground acid club, Shoom, and that was that.
"I said no six times to them asking me to go out on tour with them," says Johnson. "Then I thought I might be missing out on something here, so the next time they asked me I said yes."
This eventually led Johnson to Memphis to record sessions for Screamadelica's follow-up, Give Out but Don't Give Up, with legendary producer Tom Dowd. "Memphis was like a dream," says Johnson, "but I was shit scared. Here's someone who's recorded Aretha Franklin's voice, and he's going to think I'm shit."Except it didn't quite work out like that. "I remember getting out there, and he looked at me, seeming a bit nonplussed, and he said why don't we get the microphones set up."
Johnson came back with a set of very specific requirements in terms of what microphone she wanted to use. Then he looked at me and said, 'I wish you'd been earlier. This album would've been finished a lot earlier if you'd been here.'"
Beyond her crucial tenure with Primal Scream, Johnson continued to work with rock royalty from Mike Scott to Michael Hutchence, dipping her toe into solo waters when the mood took her. "I'm one of those people who aren't in a rush," she says. "I never feel any pressure to do something."
It was only when Mancunian radio and TV presenter Terry Christian asked her to take part in a night that doesn't sound too dissimilar to Neu! Reekie! that things started to move. Johnson hooked up with guitarist Tom Twemlow, who will be accompanying her on Friday.
She won't be the first woman to grace Neu! Reekie! with a set of covers, and follows on from Charlotte Church reinventing herself by way of her revue-like Late Night Pop Dungeon experience.
If diaries hadn't clashed, rather than singing in a church hall in Leith, Johnson would be back in Manchester for the launch of a new exhibition called Suffragette City – Portraits of Women in Manchester Music. Curated by Alison Surtees, co-founder of Manchester Digital Music Archive (MDMA), and opening at the start of a year that marks a century of women's suffrage, Suffragette City is a celebration of some of the city music scene's key movers and shakers who also happen to be women. These range from DJs, venue owners and sound engineers, to record label managers and even singers like Johnson.
"It's about recognising women in Manchester who don't normally get recognised," she says. "They had a poll, and I was recognised in the singers' category, which was really nice. I've got to do a piece to camera about it, which is nice as well, because I know loads of singers in Manchester who get no recognition whatsoever."
This raises the vexatious issue of how singers – usually female ones – are often dismissed as backing singers, no matter how much they might be carrying the main act. "I don't like how people sometimes treat other people just because they sing backing vocals," Johnson says. "I've been lucky. People I've sung with have never treated me like that, but I've seen people who have. It's funny how people look at you sometimes. I just put them straight."
She recalls an incident in America, where the female lead singer of the headline act ignored her for the entire tour. "I got the impression she looked down at me because I was doing backing vocals. It was only on the last night when the manager who I knew turned up, that she started talking to me, because she realised then some of the things I'd done, because her manager told her. Then she turned round and said, oh, I wish we could've been friends earlier rather than leaving it till the last night. It's a shame as well that it was a woman treating another woman like that. Some people prefer to just do backing vocals and not get involved, but I'm not like that. I'm a singer who sometimes sings backing vocals, but who also sings lead."
Beyond Neu! Reekie!'s February Fling and plans for her album, Johnson visits Glasgow next month with A Certain Ratio, Manchester's original punk-funksters, currently riding high on a slew of re-released albums now regarded as classics of their kind. As for her own work, her Neu! Reekie! show looks like a taster of things to come.
"Once the album's out, I want to do more touring," she says. "As well as the covers, I've got loads of songs I've written that have never seen the light of day. I'd like to expand things and bring more people in, but I would also be happy to just go out and do it a capella. A lot of people are scared of that, but I'm not. I just want to do what I want to do and keep singing. That's what I do. I'm not a backing vocalist. I'm a singer."
Denise Johnson appears at Neu! Reekie!'s February Fling, Leith St Andrew's Church, 410-412 Easter Road, Edinburgh, Friday February 23rd from 7.30pm. She also plays with A Certain Ratio, Stereo, Glasgow, March 17th.
Comments
Comments