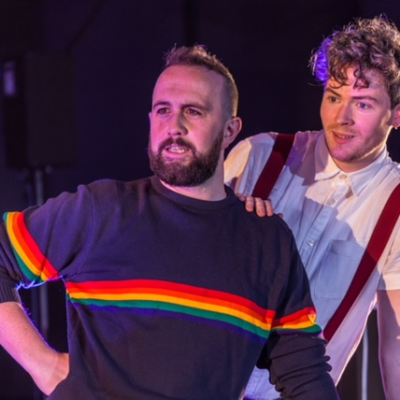 Everything happens after dark in James Ley's dramatic tribute to Edinburgh's radical gay scene of the 1980s. This is the case for Lewis and Glen, who rehearse their homage to the owners of Lavender Menace, the pioneering basement bookshop that sold gay literature long before chain-stores took it mainstream. It's also the painful truth for the married man in a suit who loiters outside at various points in the play, yearning to go inside. We're in 1987, and Lavender Menace is moving from its basement premises to a swankier place uptown. With a new name and a new identity, the move is a kind of symbolic coming out from the underground. Legendary Princes Street club Fire Island is about to be sold off to Waterstones, and, only seven years after homosexuality was legalised in Scotland, it feels like the end of an era. Over one final night after hours, Lewis and Glen take drama queenery to the limit as they role-play how their relationship began in Fire Island's cloakroom. What followed when Lavender Menace moved into its first premises in a Forth Street basement arguably changed the lives of everybody who walked through its doors.
Ley's play was originally commissioned by LGTB History Month and has previously been seen in various rehearsed readings and scratch performances. What emerges in Ros Philips' production is a playful collage of social history, which, like Glen, dances with abandon while wearing too tight short-shorts. In this way, as Lewis and Glen, Pierce Reid and Matthew McVarish tear through the shop's back pages with a joyful irreverence that transcends nostalgia.
As the march of developer-led gentrification continues to rip the heart out of Edinburgh, London, New York and elsewhere, this is a vital reminder of where culture and community come from. It also highlights why the grassroots that sired Lavender Menace and other places like it need to not only be celebrated, but reclaimed and reimagined loud and proud for future generations to come.
Love Song to Lavender Menace tours to The Lemon Tree, Aberdeen, October 25th; Macrobert Arts Centre, Stirling, October 26th; Byre Theatre, St Andrews, October 27th; Paisley Arts Centre, October 28th; Platform, Glasgow, October 29th
Comments
Comments