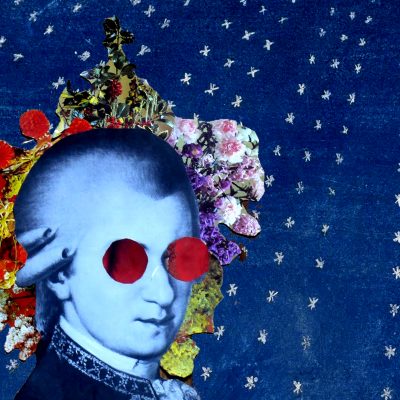 Wolfgang Amadeus Mozart stands in peri-wigged triumph. Towards the end of what's billed as 'an electronic essay collage opera', the shades-sporting eighteenth century composer looks every inch the glam-tastic pop star he was, living fast, dying young and leaving a beautiful body of work. For the last hour or so, Mozart has been squaring up to Raymond Scott, one of the great-grand-daddies of twentieth century electronic music, whose experiments with gadgets and gizmos saw him invent what he called the Electronium, arguably the world's first self-composing synthesiser. The future would have sounded a lot different without Scott's pioneering work, and Bob Moog,who worked with him prior to inventing the epoch-changing Moog synthesiser, cited his former employer as a major influence. Here, Scott's inventions open up a wormhole in time that sees Mozart take a leap into a future that allows him to rip off not only Scott, but – as cited during his prosecution – poach from the likes of Prince and Stock, Aitken and Waterman.
It's an audacious premise for this wild new piece of music theatre by Dominic Robertson, who, as the artist formerly known as Ergo Phizmiz (now Ergo Phizmiz PLC) has pursued a relentless cut and paste aesthetic in sound and vision. Over the last seventeen years, Robertson has released a mammoth 91 albums for free online. Perhaps oddly, or perhaps not, Robertson has also composed work for comedian and social commentator Frankie Boyle.
All of Robertson / Phizmiz' obsessive tropes are intact in this production by London-based new opera iconoclasts, the Mahogany Opera Group, which played a one-night stand as part of this year's Aberdeen-based Sound festival of new music. Ownership of art and what constitutes plagiarism are serious lines of inquiry, but are made flesh in a melee of noise and colour.
References to Lewis Carroll and radical theatre-maker Antonin Artaud's fantastical take on Jabberwocky conspire to deconstruct, re-make and re-model the history of music as we know it. Perhaps the only surprise in Robertson's irreverent pop-cultural pot pourri is that the machine-age art discussed by Walter Benjamin and championed by Constructivist auteur Vladimir Tatlin aren't thrown into the mix
The show is introduced by Robertson himself, hamming it up onscreen as a pastiche of seventeenth century mathematician, astronomer and astrologer, Johannes Kepler. The straight-to-camera shtick is like something straight out of the Rocky Horror Show. On a silver-curtained set tatty enough to resemble a low-rent cabaret club, Julien Van Mellaerts's Referee becomes our host for the evening, while increasingly frenetic looped strings usher Rebecca Bottone's Mozart and Bryan Benner's Raymond Scott out of their respective labs.
What follows in Frederic Wake-Walker's production is a madcap mix of game show showbiz shmaltz and courtroom comedy cabaret. As it races through its bite-size low-attention-span imaginings with abandon, Robertson's construction becomes a mash-up of high art classicism and the sort of counter-cultural science-fiction trash beloved of the late Ken Campbell. As with Campbell's notions of synchronicity purloined from Robert Shea and Robert Wilson's Illuminatus! trilogy of novels, everything is umbilically-linked across time.
The electronic wail of a fire alarm blends seamlessly with Robertson's robotic show-tunes. As the audience is evacuated to the bar, hard-boiled music publisher copyright detectives Boosey and Hawkes catch Mozart posing for selfies with a tin of hot dog sausages in tow.
There is a wonderful extended John Cage gag, which sees Van Mellaerts come on as the trial's 'silent witness' sporting a pink t-shirt emblazoned with the legend, 'Shut Up! I'm John Cage'. Those well-versed with Cage's composition, 4'33" will be able to spot the in-joke that happens next coming a mile off, but if this witness took the Fifth Amendment, he's staying schtumm about what he knows.
Such disruptions are as much fun to watch as the impromptu dance routines by the show's onstage quartet, completed by musical director Katherine Tinker. Towards the end, Tinker conducts a local female choir who have trooped on, and who double up as jurors. All of which makes for a pop art performance riot which – like its subjects – plunders everything in sight.
Comments
Comments