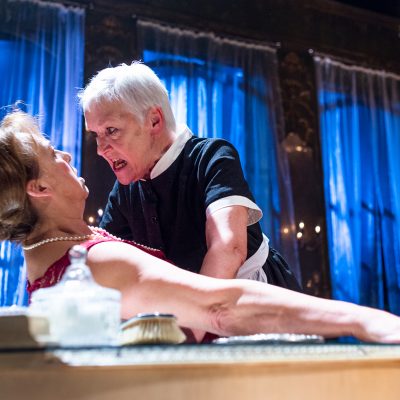 Two sisters sit in glass cases either side of the stage at the start of Eve Jamieson's production of Jean Genet's nasty little study of warped aspiration and abuse of power. Bathed in red light, the women look like artefacts in some cheap thrill waxworks horror-show, or exhibits in a human zoo. Either way, they're both trapped, immortalised in a freak-show possibly of their own making. Once the sisters come to life and drape themselves in the sumptuous bedroom of their absent mistress, they raid her bulging wardrobe to try on otherwise untouchable glad-rags and jewellery. As they do, the grotesque parody of the high-life they aspire to turns uglier by the second. When the Mistress returns, as played with daring abandon by Emily Winter as a glamour-chasing narcissist who gets her kicks from drooling over the criminal classes, you can't really blame the sisters for fantasising about killing her.
Slabs of sound slice the air to punctuate each scene of Martin Crimp's stark and stabbing translation of Genet's 1947 masterpiece in Jamieson's production. David Paul Jones' score adds an air of menace to the sado-masochistic role-play it helps illustrate. Tim Mascall's glaring shocks of light do likewise on Kenneth Macleod's rose petal strewn set.
As the sisters, Irene Macdougall and Ann Louise Ross embody a pathetic sense of frustrated ambition curdled into layer on layer of bitterness, envy and resentment. Sentenced to servitude when they should be wearing fur, they're self-loathing co-dependents egging each other on to go all the way. As the play's final moments take a leap into the meta, all the sisters' shored-up sense of disappointment tips them over the edge of comprehension in an electrifying piece of class war-based grand guignol.
The Maids runs until November 4th.
Comments
Comments