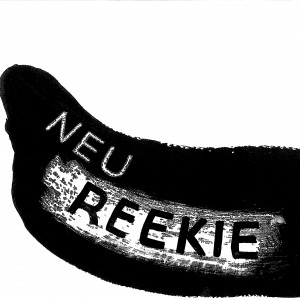 When spoken-word mash-up maestros Neu! Reekie! open up the doors of Edinburgh's Central Hall this Thursday tea-time for their latest extravaganza, the melee of poets, novelists, pop stars, film-makers, artists and other ne'er do wells taking part will not only signal the full-on arrival of the festive season. They will also mark a five-year rollercoaster ride for Neu! Reekie! and its ring-masters, Michael Pedersen and Kevin Williamson. Together with an army of collaborators and contributors, this double-act has helped change the landscape in terms of a now burgeoning appetite for what used to be called alternative cabaret, even if the night has its roots in pop poetry scenes of yore. With a bill headlined by Irvine Welsh and Liz Lochhead, and featuring musical sets from hip-hop troupe Hector Bizerk and New Pop fabulists WHITE, the singularly-named #NeuReekiesXmasKracker looks set to be a variety show to savour. The night will also see one-off collaborations between Emma Pollock and RM Hubbert, Withered Hand and Hailey Beavis, plus Honeyblood vocalist Stina Tweedale with a yet to be announced musical partner. There will be a performance by actor Tam Dean Burn, films by Rachel Maclean and BAFTA Award-winning animators Will Anderson and Ainslie Henderson, DJ sets from kindred spirits the She-Bang Rave Unit and Moonhop.
With close to a hundred shows racked up during Neu! Reekie!'s half-decade, Thursday night will also see the launch of Neu! Reekie!'s Christmas Art Heist. Run in conjunction with The Big Issue and Edinburgh Art Festival, the Heist sees ten artists donating new work which will be contained inside random copies of The Big Issue. The ten include Liz Lochhead, Frightened Rabbit frontman Scott Hutchison, Kevin Harman and Rachel Maclean. Other artists featured are Marvin Gaye Chetwynd, Ross Sinclair, Alex Allan, Hanna Tuulikki and Sarah Muirhead. Jim Lambie's contribution to the project is a limited edition run of 150 signed and numbered posters.
Already this year, Neu! Reekie! has hosted the sixteen-date Anywhere But The Cities tour of non-central belt venues the length and breadth of Scotland. In May and June there was the launch of the first Neu! publication, #UntitledOne. Published in association with Polygon, this took in two major events, first at the city's La Belle Angele venue, followed a month later by a visit to the Central Hall.
While the former featured ten artists, including Lochhead, novelist Jenni Fagan and Falkirk romantic Aidan Moffat, the latter show was headlined by Mercury Prize winning trio Young Fathers, with support from poet Hollie McNish, clubland veteran Andrew Weatherall and the latest incarnation of dance pioneers, Finitribe.
In the last week, the Neu! Reekie! crew warmed up for their seasonal blow-out with an intimate screening of the short film that recorded Anywhere But The Cities' Merry Prankster-like cross-country adventure. Taking place at Summerhall and run in conjunction with Neu! Reekie! favourites, FOUND and tour sponsors Dewar's, the event not only featured a live turn from Vaselines singer Eugene Kelly, but an excess of whisky that gave a hint of after-hours life on the road.
Neu! Reekie!'s ongoing bid for world domination began quietly in January 2011, when Pedersen and Williamson hosted their first event at the cosy head-quarters of Scottish Book Trust, just off the Royal Mile. As well as performances from the hosts, the first gathering also featured work from singer-song-writer Craig Finnie, multi-media queer performance poetry duo, Zorras, radical film-maker Sacha Kahir and Neu! Reekie! house band, Emelle.
With Pedersen a fresh-faced poet with hustling skills worthy of Arthur Daley, Williamson was the elder-statesman-like founder of 1990s lit-zine turned publishing house, Rebel Inc.
As well as giving early exposure to the likes of Irvine Welsh, Alan Warner, Laura Hird and others whose work would in part define the era, Rebel Inc's own live events in community halls, pub back rooms and the old Unemployed Workers Centre on Broughton Street tapped into a lively literary underground. This had its roots in the original punk and post-punk scene of the late 1970s and early 1980s that begat John Cooper-Clarke, Joolz Denby and John Hegley as much as it did with the Beat Generation of the 1950s and beyond.
In Children of Albion Rovers, Rebel Inc's seminal prose compendium published during its short-lived liaison with Canongate Books, there was a knowing nod to Children of Albion, the equally key 1969 poetry collection of UK-based underground writers drawn together by Michael Horovitz. That the latter volume included work by Ian Hamilton Finlay, both John and Tom McGrath (no relation), Edwin Morgan and Alexander Trocchi is telling of the effect such a wave of counter-culture inspired activity had on those that followed in their wake.
Horovitz's founding of New Departures magazine a decade earlier in 1959 was also significant. In its pages, Horovitz published first generation Beats such as Allen Ginsberg and Gregory Corso, Liverpool scene stalwarts Roger McGough, Adrian Henri and Brian Patten and1960s icons R.D. Laing and Ivor Cutler. Rubbing shoulders alongside them in later editions were the likes of Kathy Acker, Linton Kwesi Johnson and Attila The Stockbroker.
As well as the magazine, Horovitz ran poetry and jazz events under the Live New Departures banner that saw pianist Stan Tracey perform alongside Bomb Culture author Jeff Nuttall, saxophonist Lol Coxhill and others. Horovitz also produced the larger-scale Poetry Olympics, in which a pan-generational array of performers, including McGough, Cooper-Clarke, Benjamin Zephaniah and many more attempted annually to source the spirit of the 1965 International Poetry Incarnation, when Ginsberg, Trocchi, Mitchell, Horovitz and a host of others performed to 7,000 people at the Royal Albert Hall in London.
This, then, is where Williamson and Pedersen came in, their ideas sired from an underbelly of Beat, punk and club-based grassroots activity that went beyond the institutions, festivals and so-called centres of excellence that continue to dominate Edinburgh's cultural life.
From such low-key beginnings at the Scottish Book Trust, Pedersen and Williamson called on their respective peers and underground icons, so the likes of Momus, Vic Godard or The Sexual Objects could appear at Neu! Reekie! alongside Teen Canteen or Bill Ryder-Jones. Similarly, Alasdair Gray, Jackie Kay or Tom Leonard could sit alongside Luke Wright, Patience Agbabi or Hollie McNish.
Accompanying all events were programmes of short animations which, whether absurd, avant-garde or downright bizarre, opened the evening.
Neu! Reekie! eventually outgrew the Scottish Book Trust building, and moved into Summerhall, ping-ponging between there and Pilrig Church hall in Leith. Ever ambitious programmes saw Pedersen and Williamson programme shows in Glasgow, then, later, America, Japan and Dundee.
A collaboration with artist Jim Lambie's Poetry Club in Glasgow saw Williamson perform the whole of Robert Burns' poem, Tam O'Shanter on a bill that also featured a visit from John Giorno. Giorno's Poetry Systems record label had released material by Burroughs, Ginsberg and co, as well as early work by Laurie Anderson, Philip Glass and Diamanda Galas. The night was headlined by a unique performance by Primal Scream, who played to an audience of just one hundred.
Other nights such as Jenny Lindsay and Rachel McCrum's Rally & Broad co-exist in parallel with Neu! Reekie. This Friday night at the Bongo Club, Rally & Broad hosts a ten poet anti-slam night, with a follow-up in Glasgow on Sunday.
Just as Rodney Relax's Yellow Cafe nights similarly ran alongside Rebel Inc, today's spoken-word scene in general has flourished. Kate Tempest was even short-listed for the Mercury Prize the same year Young Fathers won it.
This formed part of a bigger wave, whereby a festivalisation of culture opened up writers to other markets previously presumed niche. Suddenly they could appear alongside music and theatre events, be they at Latitude, Hay or Edinburgh, where arguably the current flurry of activity began.
Back in 1993, Rebel Inc booked out a much rougher looking La Belle Angele, the same now refurbished venue #UntitledOne was launched in twenty-two years later, for an event called Invisible Insurrection. The night was named after Alexander Trocchi's 1962 essay, Invisible Insurrection of a Million Minds, which formed the manifesto for the writer's proposed international cultural think tank, Project Sigma.
Rebel Inc's take on Invisible Insurrection featured four short spoken-word performances, including ones by Irvine Welsh and the late Paul Reekie, who Neu! Reekie! was in part named after. Reekie played in post-punk band Thursdays, and his work appeared in Children of Albion Rovers. Possessed with a maverick mix of classicist intellect and Beat/punk cool, Reekie's spirit was possibly the biggest influence on Neu! Reekie! following his untimely passing in 2010. The night's name itself is a play on words that mixes the aesthetic of German kosmische band, Neu, with Edinburgh's nickname as auld reekie.
If #NeuReekiesXmasKracker marks the end of a hectic year for Neu! Reekie!, plans are already ongoing for 2016. Things kick off at the end of January with an event dubbed The First and Last. This will see Pedersen and Williamson lead a posse that includes Eugene Kelly, FOUND frontman Lomond Campbell and Holly McNish to Liverpool, where they will appear on a bill headlined by Scouse musical legend, Pete Wylie of The Mighty Wah! This will also see the launch of Triassic Tusk, a new record label from the FOUND Collective, who aim to compile and reissue rare vinyl from their ever-expanding collection.
In a Jekyll and Hyde city like Edinburgh, where an officially sanctioned culture can overshadow the thriving underground that feeds it, Neu! Reekie! breaking cover with such all-embracing largesse is a refreshing move. Whatever happens in the next five years, it already feels like the beginning of a great adventure.
#NeuReekiesXmasKracker, Central Hall, Edinburgh, December 17th, 6pm-11pm. Tickets, www.summerhall.co.uk, www.brownpapertickets.com, Elvis Shakespeare, Edinburgh and Ripping Records, Edinburgh. The First and Last, Leaf, Liverpool, January 28th, 8pm. www.brownpapertickets.com
Comments
Comments