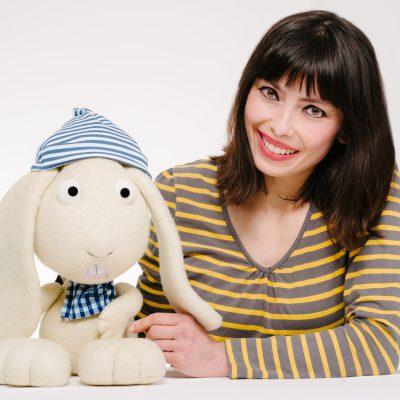 I usually let the writing brew in my mind for a few days before grabbing pen and paper and then make myself comfy in my living room couch, with a cup of tea. This is likely to be in the morning when it is all quiet and bright. I am lucky to live in an old fashioned top floor flat in Edinburgh's Old Town, with gorgeous views of the rooftops and Arthur's Seat: perfect for writing. Lapin came to me one day when I decided to introduce children to my French language and culture. At the time, I was working in a nursery and caring for lots of three and four year old little ones. Lapin quickly became the French embodiment of those children. I find him a great companion. He's playful, funny and although stubborn and at times selfish, he's also caring and generous. He has helped many children understand the idea that not everyone speaks English. When I first started writing Lapin stories for my puppet theatre shows, he simply scampered onto the page, as only rabbits can. It became a real pleasure, so I kept on making up new stories for him.
I often work alone, so it's lovely to creatively collaborate with my brother, who co-created Lapin with me and is a very talented illustrator. We chat on Skype for hours at times, to make sure our common vision ends up in the pictures we're working on. Like all siblings, sometimes we have to negotiate our differences. But mostly we have a great time and usually end up agreeing with each other.
I have lived in Scotland since 1991. After a really adventurous holiday throughout Scotland, I fell in love with the Scots (and one Highlander in particular!) so I came back and studied librarianship. It feels like a long time ago, and I have worked in many places since then. Lapin is important to me because he has anchored me back to my native language. He is also my 'bubble' of innocence and silliness, which I always make a point of nurturing.
Of course sometimes it is hard to write, to capture the moment of creativity, especially when using two languages. But mostly it feels like a game. A game of words and sounds… Through the pages of his book, Lapin is forming before our eyes, scampering towards us, bright eyed and bushy tailed, just as a rabbit should be.
Tania Czajka recently ran a successful crowdfunding campaign to publish "LAPIN IS HUNGRY – the Bilingual Picture Book for ALL" about the adventures of Lapin.
Comments
Comments