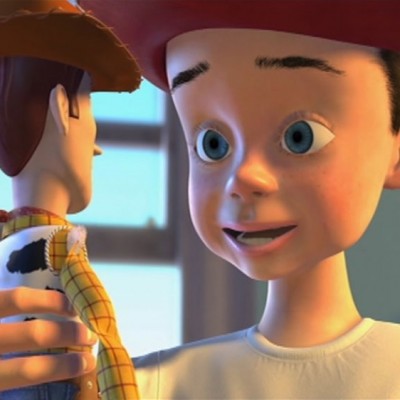 As a studio, Pixar is defined by sharp ideas. From its first, when it gave children's toys the anxieties of adults, to its latest, Inside Out  – which just played at Edinburgh Filmfest and returns as part of Best of the Fest – a film that's chock full of inventiveness. You can't turn a corner in its brain maze without running into a new idea. So in anticipation of Inside Out's UK-wide release, here are Pixar's cleverest moments and greatest decisions.
5. Believing in the Medium
John Lasseter, Pixar's head honcho, originally worked for Disney, but his insistence on exploring computer animation while they still worked in hand drawn led to him being fired. In the late '80s and early '90s, CG didn't seem like such a great idea, but Lasseter saw its potential. Eventually, after teaming up with Ed Catmull and getting involved in Lucasfilm's computing and graphics department, which was called Pixar, Lasseter was able to start making shorts with entirely computer generated imagery. If you look at them now, they aren't very attractive – against the lush detail of traditional styles it must have taken a lot of effort to persuade people of the medium's future. Some listened, however, and Toy Story was made as the first feature film animated in this way; the look of animation changed forever. Without it, we wouldn't have flown with dragons through pearlescent skies or let it go on glistening, snow-capped mountains. It's a constantly evolving medium, with technology always improving, so even more impressive films are sure to come: they all have Toy Story to thank.
4. Telling A Girl's Story
Until Brave, every Pixar film was about at least one male lead, more often two. Women were strictly supporting characters and this became one of the few criticisms regularly levelled at the studio. With good reason – some of their work was starting to feel a bit samey. Brave is an unfairly maligned film, seen by many as at the weaker end of the studio's output; that's missing the ingenuity behind stripping away any gimmicky ideas to tell a pure fairy tale. In doing so, they made their mark on the genre, leaving Disney catching up with them: Brave shifts the central relationship from romantic to familial, and gives the film significant emotional heft because of this decision. Frozen did the same to way more fanfare – but it was Brave that first made this crucial shift. Inside Out is their second film to have a female as the main character, and makes you realise how much more the studio should be doing it.
3. Making Wall-E Silent
In Product's interview with the directors of Shaun the Sheep, Mark Burton said of Wall-E that "the first act of that is fantastic, then everyone kind of forgets about the rest of it," and he's right. The first section of that film, before the talking humans arrive, is probably the best thing Pixar has made, and keeping the character dialogue-free was a brave and crucial decision. It then relies wholly on the skill of the character animators to create his personality. The result is a marvel of design, animation and appeal, and the studio's best creation. He would have been ruined with words.
2. Going Inside the Brain
Inside Out was based on director Pete Docter trying to understand his pre-teen daughter. He figured that the best way to do that would be to make a film about the inside of a child's head. The result is a perfect combination of a clever idea with real emotion. The premise is simple: each person has five principle 'voices' in their 'headquarters', who control their ongoing emotions. At first you might wonder if the set-up will stretch to the whole film – the world is set up swiftly and effectively, but with no indication of what the story will be. It really takes off when two of those emotions are taken out of HQ and into the rest of the brain, which, fittingly, is brimming with ideas. As such, the story plays out while they explore different aspects of a child's mind. There's a section dedicated to imagination, a tunnel of abstract thought and, particularly brilliantly, a Hollywood style back-lot where dreams are filmed.
Inside Out is a narrative of escalating brilliance, piling joke upon joke while never losing sight of the emotions (both literally and figuratively). It's such a clever concept because there is nothing on earth more complex than the brain, so the writers and animators had limitless scope to explore, all while tackling one of life's biggest questions: what makes us who we are?
1. Letting Andy Grow Up
Andy is not a main character in the Toy Story films, yet he hangs over the trilogy, his presence constantly felt and often kicking off the plot, whether getting a new toy or almost forgetting an old one. By the time the third film was released, the audience had grown up with the character – a viewer who was five years old when Toy Story was released would have been nine for Toy Story 2 and 20 when Toy Story 3 hit cinemas. We were hitting the same life moments as he does and thus, strangely, relating to our toys in the same way. When he leaves for college at the end of part three it is the perfect farewell to the toys and to Andy himself, given gigantic emotional resonance for those who had only recently been through the same thing. It was like an animated Boyhood, only with more jokes. Plus, I still have three of my stuffed toys.
Comments
Comments