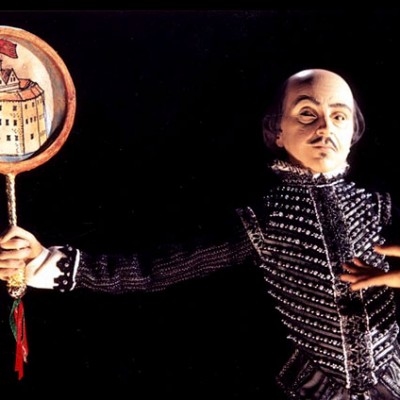 Before Shaun the Sheep, before even Wallace and Gromit, Aardman were making short films for TV that showed off the technical prowess and visual wit that would go on to be distinguishing features of all their work. Amongst them was a series called Lip Synch which featured animation by different artists including Next, an animation by Barry Purves. With the director visiting Edinburgh for the film festival on June 25,  it's the perfect time to look again at this smart, renowned short to see what makes stop motion so great, and why Purves is a master of it.
The premise is delightfully simple: an actor who looks suspiciously like William Shakespeare auditions for a bored director by running through a 5 minute summation of the Bard's hits, all without speaking a word. So there is a hilarious and speedy demise of Ophelia to represent Hamlet, a pair of yellow stockings to let you know when Twelfth Night is on, and a whole load of more oblique references that demand repeat viewing to help you guess what you're watching. Purves says of it: "I was in danger of cramming absolutely everything in, probably even the Elizabethan kitchen sink if Shakespeare had mentioned it," and this manic melée of literary masterpieces really does go all in and leave the audience breathless by the end.
Cinema is a visual medium, and animation doubly so. When films are largely dialogue free, therefore, the reliance is wholly on what is shown in the frame to tell the story, to create the atmosphere or to make the audience laugh. What's so impressive about Next, and, indeed, Purves' other shorts, is that it condenses dozens of stories into just one or two memorable images. It reduces the wordiest of wordsmiths into a silent stage show, thus making the audience engage with each second of film. In doing so, it reveals how iconic Shakespeare really is by creating purely visual association with his verbal or written work – we all know what's happening when the actor exits, pursued by a bear.
The animation is astonishing, the fluid movement belying the meticulous nature of the stop frame format. The player moves from one scene to another seamlessly, often defying physics. Mirrors appear in hollow crowns and people are turned into pies with impressive production design. Often, instead of cutting, the actor will just appear somewhere else on stage, making it a fluid and fast film that only slows down to hit home with a particular joke or play. The background is black, which means that attention is drawn to the image of that particular moment instead of filling up the frame with irrelevant information. The result is a remarkable short film, showcasing the power of imagery in animated films. Not a single second is wasted, every frame telling a story in the way that only cinema can.
There's more about Barry Purves and Next on his website, barrypurves.com, where you can get up to speed on the master before going to see him speak at EIFF 2015.
Comments
Comments