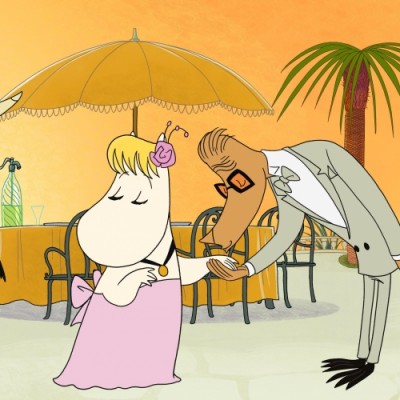 When Hanna Hemilä, the writer-producer-co-director of Moomins on the Riviera, asked me if I enjoyed the film and I told her I did, especially the 'old school' animation, her first response was relief. "I'm happy to hear that because it wasn't easy to get the funding when that was the first reaction of everyone; 'it's old school… we only do 3D.' When we approached animators saying we had this hand drawn, 2D animation, it's not like they were saying YES!" Based on the beloved books of Tove Jansson about a group of strange troll creatures that live in an idyllic valley, Moomins on the Riviera, must have been a bit of a hard sell. It's a gently paced and pastel-coloured film for young children, with a rambling plot and occasional philosophical musings; hardly Kung Fu Panda 3. While the creatures are huge in their native Finland (think Mickey Mouse big) and have travelled well in their 70 years of existence, each new iteration has to appeal to a new generation and the obvious answer for a producer might have been CG.
Producer Sophia Jansson (niece of Tove and moomin empire mogul ) says that she wasn't short of offers: "over the years we have actually had several pitches from different production companies and I would say that they were largely 3D, and some of them CG, they just didn't look right or feel right." Along came Hemilä and talented French animator Xavier Picard, who wanted to honour the tone of the original work, by making a film "as much as possible in Tove's own style," something which the younger Jansson eagerly embraced. She had secretly wanted someone to pitch a film in that medium "because, for me, it somehow suits Tove's style of illustration better. So though we had seen a few, in fact, a couple of pitches that were nearly there, I was very hesitant to go with a 3D style."
Director Xavier Picard – the main creative force according to Hemilä, who calls this film "his masterpiece" – embraces these differences. "In terms of direction, my approach is very different. It was in 2D, not 3, then the pacing and editing are very slow. We don't have a lot of big scenes. I didn't want to do something with a lot of camera movement or a lot of stuff in the frame." As such, the pace – of the shooting and editing, and even the movement of the main characters – makes My Neighbour Totoro look like Mad Max: Fury Road. "It was never going to be an action movie," Hemilä states, "although we have a couple of storms."
What's particularly appealing about the old fashioned techniques used in Moomins is that it conveys big themes and ideas with stripped back efficiency. When asked about the choice of which details to leave in the frame and which to forget, Picard says: "It's purely emotional. You can think and think again about it, but finally you come back to your first emotional choice." The Moomins themselves convey their inner lives through the smallest movements of their eyes and bodies, and yet there is a wealth of feeling and emotion behind them. Jansson suggests that it's because "the themes in Moomins stories are timeless, so they are always current for readers or fans because the Moomin stories are essentially about feelings that each one of us has. From the importance of family to the feelings of being alone, to adventure, to catastrophe with possible happy endings. There are lots of things that happen in the Moomin books that any reader can relate to."
For instance, the latest adventure is about the Moomin family travelling to the south of France, where they try (and almost succeed) in fitting in. It deals with themes of fame, money, family and trying to be someone you are not. There's nothing especially radical or new about these musings, but they were close to the heart of the original author, who wove them into all her stories. Hemilä is almost reverent of the original writer, and says that she and Picard let Jansson's work speak for itself. "The messages that we have are her messages, and we didn't want to add to that because she already has so many layers in the original texts. So we thought that there is already such a wealth of material that we don't need to change that, or put our own levels on it." The themes, like the aesthetic, are engaging and quietly incorporated in to the narrative.
However relatable Moomins on the Riviera might be, however, its eccentric humour, charming hand drawn animation and episodic, langurous pace mean that it's not particularly like any other animation out there. As Sophia Jansson told me, though, "the point was never to be like everybody else!"
Comments
Comments