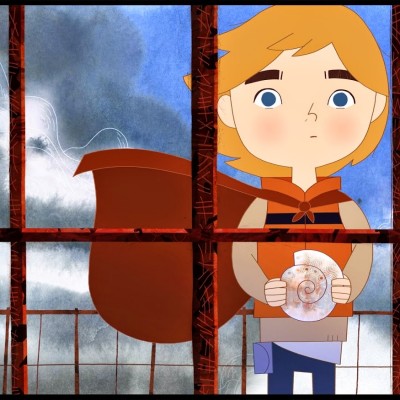 Tomm Moore has only directed one feature released in the UK so far, but it might just be one of the greatest animations ever made. The Secret of Kells is a 2D, hand drawn film about a young boy living in a monastery who plays a key part in the illustration of the Book of Kells, an ancient tome of scriptures with drawings so beautiful they arguably started animation itself. With imagery lifted straight from the bible, mixing traditional Irish folklore with Christian storytelling, it's a gorgeously animated masterpiece.  Packing it with adventure and humour, Moore tells the story in a way that any age can enjoy, yet never sacrifices craftsmanship and themes for the sake of accessibility. He fully understands his medium, playing with shapes and colours within the frame in a way that no one else does. His second film, Song of the Sea (pictured, above right)  is released in July but has already been received rapturously in the US, winning Moore his second Oscar nomination. He's also animated one of the sequences for Kahlil Gibran's The Prophet, a portmanteau film headed up by one of the directors of The Lion King. If either of these films match the brilliance of his first feature, then he's undoubtedly one of cinema's biggest new talents.
Mamoru Hosoda: Just when you thought that there were no good werewolf tales left to tell, when you worried that the hot-pants and abs of the Twilight franchise had ruined the subgenre forever, along comes Japanese director Mamoru Hosoda with Wolf Children: Ame and Yuki. The third in a string of critically-acclaimed features, this fantasy was concerned less with romance and more with what follows: bringing up children who can turn into wolves. It's a potentially hokey concept made relatable and real thanks to the massive heart behind it, a film more about motherhood than lycanthropy. His two preceding films, Summer Wars and The Girl Who Leapt Through Time, similarly take fantastical concepts and bring them down to earth through nuanced, emotive storytelling. In Hosoda's world, space-time catastrophes are only as important as the people they may affect. His next film, The Boy and The Beast looks like it's cut from similar cloth, placing a relationship as the key motor of the imaginative plot. Hosoda is one of the two Japanese directors that will help fill the gaping void left by Studio Ghibli, the other being
Makoto Shinkai. Like Hosoda, Shinkai deftly blends the mundane and the magical. In his incredibly sincere films, teenage relationships are given cosmic significance, framed against space launches or intergalactic wars. He's a singular director, making films of whatever length he feels is necessary (Garden of Words is 45 minutes, an awkward running time for distributors) and telling stories that don't lend themselves to single-sentence summaries. For a good introduction to his work, watch 5 Centimeters Per Second, a collection of three vignettes about two besotted high schoolers separated by distance. He's one of the most talented animators out there, placing fairly standard anime characters within subtly-lit landscapes and meticulously-detailed rooms. Content to linger on seemingly insignificant scenes, like flickering lamps or the sun poking through leafy canopies, yet sometimes placing them in a massive science fiction setting, Shinkai has become a unique, impressive voice in Japanese animation and is on the cusp of making that elusive transition to being a worldwide name.
Stéphane Aubier and Vincent Patar. There aren't many films that involve entire houses being stolen, snowball-flinging robot penguins and a music school run by a horse. But then, there aren't many films like A Town Called Panic. The anarchic stop motion feature, based on the TV series of the same name, is an insane, hilarious film with a screenplay that feels a little like two kids playing with their toys. Directing duo Aubier and Patar are not far off that, and they marked themselves out as distinctive, witty directors (who surely influenced The LEGO Movie) with their feature debut. Where do you go, however, after something so off-the-wall? How do you approach that tricky second album? The answer, surprisingly, was Ernest et Celestine, a gentle, hand-drawn tale of a friendship between a mouse and a bear. It's an old fashioned, calm film, in stark contrast to how manically-paced their first was. It was such an unpredictable move that although there's no news on their next film, you can be sure it'll be something different and, most likely, brilliant.
Mark Osborne gets a place on this list almost on the strength of a trailer alone. The director has two major credits to his name: Kung Fu Panda and The Spongebob Squarepants Movie, neither of which may occur to you as reasons to get excited. That's unfair, however. The former is one of Dreamworks' best films, featuring rich CG landscapes and kinetic action sequences, the latter is one of the silliest, funniest kids' films you're likely to find. Both display real visual wit. Yet it's his next film, The Little Prince,  which makes him a name to watch out for. Osborne uses several different media to tell its story, semi-adapting the classic French children's novel and adding a framing device to make it feature length. Combining hand-drawn, stop motion and CG animation to tell the story, it looks set to be a distinctive, moving film produced in France (so not made within the American studio system). If he carries the qualities he displayed in Panda and Spongebob over to something less comedic, and makes the most of different formats, this could be very special indeed.
Did I get it right? Which animation directors' work are you most looking forward to seeing this year? Post your suggestion on www.facebook.com/productmagazine or tweet to @scottishproduct
Comments
Comments