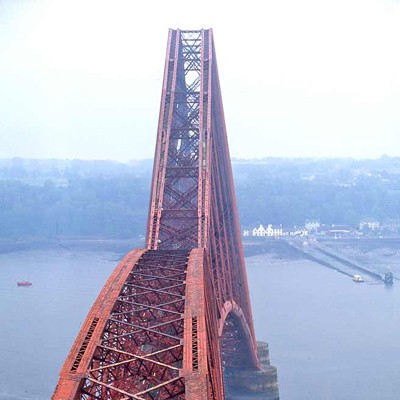 Strapping girders,
lusty arches:
the span of my ambition,
shore to shore
you link me with the old bones,
the new ways,
the true trains that take me
down the path of all my loves.
You lift up your wide arms
to take in the tide,
roll with the shaking wind
that whistles in the rushes
of the wild banks.
You thrill me with your size,
your strong embrace;
you roar with achievement,
you make me proud:
I could hug you.
Let me take the Queensferry train,
slide through you to freedom.
The pipes play
and the kilts sway
to greet us.
You are the opening,
the gap we streak through
to the woolly wilds
of Auld Reekie
and Bonnie Old Dundee;
to the sea of workers' blood,
the red rust of the past that clings
and hugs the bones of dead engineers.
In the Albert Hotel,
tucked up, I hear you moan in the darkness.
Naked,
I pull back the curtains
and see you floodlit
in all your entrancing glory.
Shine on, shine
you crazy bridge.
You have my devotion,
you have my deepest darkest love.
I would climb you stripped;
I would feel you breathe in the Firth wind.
I give you my heart and soul,
I am frail against your depth.
You will outlive me,
do not mock me,
you are superb.
You are my outstretched lovely;
I will breathe through you,
long for you,
die for you.
Rock me,
go Forth
and inspire me.
Comments
Comments