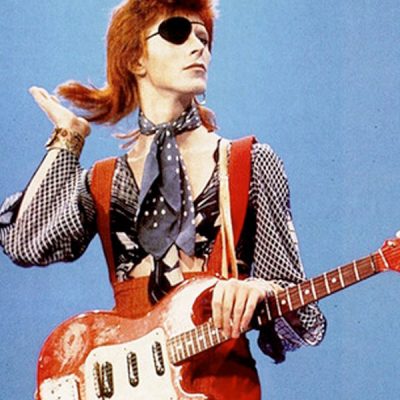 When I was fifteen I caught wind of a community music group that met every week in the local sports hall. One night I plucked up the courage and scampered along with my Les Paul Junior copy wrapped in a bin liner. As I approached the sports hall, I heard what sounded like a dentist's drill. Hugging my awkwardly shaped parcel, I entered. Inside, five men with guitars sat on plastic orange chairs in a circle. In the centre was a drum kit. Behind it sat a sixth man with an eye patch. His chair was black. There was no PA or mics, just one tall Hiwatt amp with a little mixing desk on top of it. All five guitars were patched into the Hiwatt. This was the source of the dentist's drill.
A rasped voice emanated from the circle, 'Lookin fir yer maw?'
I shifted uneasily.
'Um… is this the Community Music Group?'
Another, but no less grizzled voice answered, 'Ignore that bawsack. Aye, it is. I'm Joe. Take a pew'.
A man pointed to a stack of orange chairs in the corner. Eleven eyes tracked me as I fetched a seat.
'Ma maw doesnae even know I'm here,' I huffed with affected nonchalance.
'Park yersel here,' said Joe, nodding to a gap in the circle beside him.
Joe was lean and ruddy-faced with mottled ash hair scraped back in a ponytail. I would have put him in his mid-fifties but he was probably a lot younger. This was Pollok in the eighties where men withered quicker than a crisp packet on a two-bar fire.
'Get yer plank oot then,' said Joe.
'Ma wha..?'
The cyclopic drummer stretched a drumstick at the plastic bag on my lap, 'He means yer guitar, pubeless'.
'Leave im alane, Frank,' growled Joe.
I began to peel away black petals of polythene to reveal my little guitar. Eleven eyes and silence.
Finally, a heavyset man filling a Pink Floyd t-shirt wheezed his approval, 'Nice paddle'.
'Dae ye like Bowie?' asked Frank.
'Um… aye'.
'Good, cause we're daen Jean Genie'.
'Dae you know it?' asked Joe.
'Um… naw'.
Joe grabbed my hand.
'It's pish easy. Finger there, finger there, finger there'.
My hand was wreathed around the neck of my guitar like a grotesquely knotted vine.
'That's A', said Joe. 'And this is E. Just copy what I'm daen, awright?'
I nodded.
'Right Frank. Wan-two-three…'
DUMMM…
'Fur chrisake Shug! You're too early AGAIN!'
'You said oan four?'
'EFTER FOUR! EFTER FOUR!'
'How'd ye no say that then?'
'Jesus wept. Awright Frank, again. Wan-two-three-FOUR…'
DUM DUM DUM DA DA DA DUM DUM DUM DA DA DA DUM DUM DUM…
Six guitars screeching and grumbling in unison.
DUM DUM DUM DA DA DA DUM DUM DUM…
Drums cracking and thumping all around the sports hall.
DUM DUM DUM DA DA DA DUM DUM DUM…
I was part of this cacophony. In that moment I decided this was the single greatest thing a human being could do. Could ever do. All at once, everything stopped.
'Ow, wee bawz'.
I looked up to find Frank's one eye on me wide and white. He cocked his head towards the door. My mum had arrived early to pick me up.
Comments
Comments