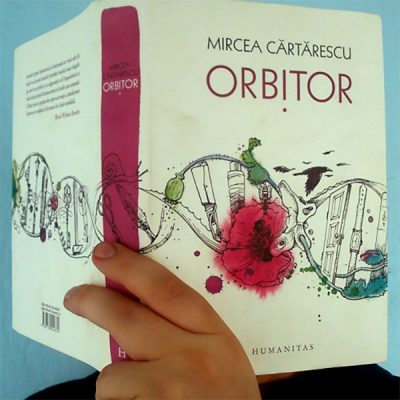 I'm in love again, there's a rainbow
over the news stand, the taxi station, the drug store and
the public toilet in Galati Square
memorized by heart by undercover pupils
soaked in bluish, golden and olive tram rails
and in the dress of the woman you used to be
it's because even the pizza places are starting to be interested in you!
because you work better than a gordini engine!
because you pass by in tram 16 through a maddening horny world
with your shiny bag and your knitted glove!
because your runaway hair seems to be a golden mortuary carriage
with window panes made from wings of flies!
because your skirt meows,
because your knee bites!
– Duetul, by Mircea Cartarescu. Translated by Ana Iliescu.
Mircea Cartarescu is an 1980s writer, which basically makes him a postmodernist, or an anthropocentric – as the national critics have sometimes labeled him. His first pieces of writing were published before 1989, in the "dark ages" of the freedom of speech, back when poetry and fiction could barely escape untamed from the glistening eye of political censorship. Ever since, his work has been published in Romania, Ireland, Italy, Bulgaria, the Netherlands, Norway, Sweden, Germany, the US, France, Hungary and Germany, and translated in many European languages. Prose and poetry, novels, journals and literary criticism have all been tackled and conquered by this ambitious and prolific writer.
This man textually lives to write himself. His voice comes out on an entirely different pitch compared to the ones of his fellow generation of writers.  Unlike any other postmodernists, Mircea Cartarescu turns literature into authentic flesh and blood, and paradoxically enough, that is why his work has become a landmark of the insolate sensibility of our day and age. Staying true to yourself, to your vision and beliefs, while overlooking any restraints or literary conventions is a tough task, that Cartarescu has achieved by assuming every single piece of voluntary fiction ever written on Romanian land since the first attested piece of writing in 1521. Levantul, his greatest piece of poetry, is an exhaustive history of Romanian literature, style and genre altogether.
Mircea Cartarescu is the Romanian writer who came closest to winning the Nobel Prize for Literature in 2015. His books have been nominated for the Medicis, Le meilleur livre etranger, Prix Union Latine. His novel, Nostalgia, was awarded the Literary Prize "Giuseppe Acerbi", Castel Goffredo, Italy in 2005. Even though, the one book you should try to melt in, is his novel Orbitor – a masterpiece trilogy published over the course of ten years (Orbitor, The Left Wing, 1996; Orbitor, The Body, 2002, Orbitor, The Right Wing, 2006).
If you treasure reading and you are the type of person who sees reading as an enriching, altering experience, you should read Orbitor, or at least, start with it. The novel can be interpreted as an historical saga of a Balkan family. It can also be seen as a Bildungsroman, a quest for identity, an everlasting battle between good and evil, or as an archetypal novel (the androgynous myth), a fragile blend of past and future themes, plots, myths, cultural references and strategic intertextuality, patterns and colourful characters, pinned together in the author's monumental mind and made comprehensible by its unique ecriture, or literary style. His constructs, like embroideries, are so vivid, that post-reading, you might have no choice but to use his words to describe your own reality.
Orbitor is a fragile blend of past and future themes, plots, myths, cultural references, intertextuality, patterns and colourful characters, pinned together in the author's unique ecriture
My relationship to literature has always been as intimate as any relationship worthwhile. I could not settle for less than an author and an ecriture I am in love with. I am a philologist, but I like my readings to "be alive". An author's work is made representative for its generation (and beyond) as long as it has the universal impact of a one-of-a-kind voice. Words go together in a necessary imperative manner. You would not have it any other way. They somehow re-create the lost logos on an intimate scale. It is what makes literature vital and feeds the dry souls of an over-technical generation. Orbitor is nostalgia for the past, but also for the future. It is ultimately nostalgia for the self. It appeals to teenagers as well as to trained fully-grown readers. It has the same effect as resounding music, thus created to be unique and instantly recognizable in order to achieve transcendent literary value.
In a nutshell, it is this strong, sheer individuality that gives a writer's work its universal value.
Like any great novel, Orbitor provides you with a personalized imago mundi, that is guaranteed to reveal your own image within the centre of the complicated design of its letters. It will take you on a journey up to the light, or deep down into the darkness of your soul. One thing is for certain: you will come out with the promise of a new "you".
I am proud of Mircea Cartarescu in a most intimate manner. I first "met" his fiction as a young high school student, almost twenty years ago. Although my taste in literature was to naturally change and improve along the years to follow, it was un coup de foudre and even now, after all these years I find myself still in love with it. Why not give yourself the chance to have an enduring love? That is my challenge that goes out into the world, to you.
We are caterpillars and bound to become butterflies, here is our entire story, our meaning in the world, in a single providential image, that anyone can understand, with their own mind, their own heart or with their own visceral labyrinth. We are beings with metamorphosis already inbuilt for Redemption. We know the sun will rise tomorrow and this means that we've already been blossoming shy organs to perceive the future, 'cause otherwise, how should we dare believe it? When the almond leaf becomes tender, we understand spring is close. When we see a cloud in the sunset, we say to ourselves, "Tomorrow it is going to rain". These are the first signs of our visionary nature. We will only be whole when we can see the future as clearly as we can see the past and when we understand that they are one, when, each and every moment, we rise above the reality majestically flapping our two wings, filled with nervures and burning images: past and future. Then we will be who we have always been, Heralds, Clairvoyants and Witnesses of the wonder that does not reveal itself into the world, of the miracle, only, that the world exists… Then we behold between our fingers our inflationary universe like a golden little bell whose sweet sound we will sometimes be sipping with unfinished nostalgia: clink!
– From Orbitor, The Right Wing, Mircea Cartarescu. Passage translated by Ana Iliescu.
Comments
Comments