What is a "sea bean" and what sparked your quest for one?
Sea beans are the seeds of a tropical vine. Imagine a conker but larger and more disc like and just as pleasing to hold in the hand. They are dispersed by ocean currents and can drift for thousands of miles. It's considered lucky to find them in Shetland, where I live. I always thought that this luck was a factor of their rarity but it is a legacy of their use as protective charms. They kept women safe in childbirth and men safe at sea. There are still some sea beans stowed away in Faroese boats.
In your book you talk about your journey through Shetland, Faroes and the Netherlands. What led you to these places?
When I moved to Shetland, it took me a while to feel at ease being so surrounded by the sea. Winter storms can be so violent here and I used to fear them. Beachcombing, searching for the strange and curious things that wash ashore after storms, transformed my relationship with the ocean and with these islands. I long for storms now, for the chance of finding messages in bottles, a length of tree marked by the teeth of a beaver, birch bark from North America, and there is always the hope of a sea bean from the Caribbean. Beachcombing in Shetland is a little like having the world at your feet, the good and the bad of it. I wade through plastic litter in the hope of finding lobster trap tags from Maine or Nova Scotia.
The book starts in Yell and Unst and travels to Fair Isle, Foula and the Out Skerries. I travelled to Nólsoy in the Faroe Islands, a place with strong ties to my home community in Shetland. Beachcombing culture is still alive in Texel, in the Netherlands, but the island is very low lying and vulnerable to sea level rise and storm surges. In Orkney, I gathered mermaids' purses from a beach where whale graves and a Neolithic hearth are being exhumed by rising seas and learnt to dissect fulmars, a seabird that ingests the plastic that floats on the surface of the ocean. Beachcombing brings me so much joy but it also forces me to confront marine pollution, extinction and climate breakdown. Searching for a sea bean is the way in which I hold on to hope, create hope if you like.
What is the most surprising thing you learnt while exploring these shores?
I wish that I had been the person who found the skeleton of a turtle on an uninhabited island in Shetland. It must have been a moment of incredulity but the longer you beachcomb, the more you become open to the incredible. Shetland is such a place of folklore and storytelling and I retell some of these fables in Sea Bean but I never imagined that my beachcombing search would lead to such a grim story of a woman's murder. I won't spoil the end of the book here, but I still think of this woman all the time, even though she was killed four hundred years ago.
You connected with nature and beachcombing during a period of illness. How important is the impact of nature and writing for healing?
I have rheumatoid arthritis, pregnancy triggered an autoimmune system malfunction, and I went from being a madly keen road cyclist and hillwalker to someone who could barely walk across a room at times. Beachcombing helped me to adapt to my changed circumstances, as did writing. I get very absorbed in both tasks and they bring a distraction from pain.
Beachcombing and writing are both really important for my wellbeing but nature will never heal or cure me. Polly Atkin's brilliant new book, Some of Us Just Fall, dismantles the notion of 'nature cure'. She writes so very beautifully about lake swimming and I guess that I also enjoy snorkelling for similar reasons, for being weightless and the sensation of being held by water as well as for all the things that I see under the surface.
Sea Bean is very much an embodied book and I'm interested in the deepened connection to place, weather and other creatures that illness can bring. Creativity is inherent in illness. I'm just reading through a proof of Moving Mountains, an anthology of nature writing by chronically ill/disabled writers including Polly and myself and edited by Louise Kenward. It is worth getting a hold of Moving Mountains for Louise's introduction alone! Like Some of Us Just Fall, it's an inventive and genre subverting book and is rich in both form and content.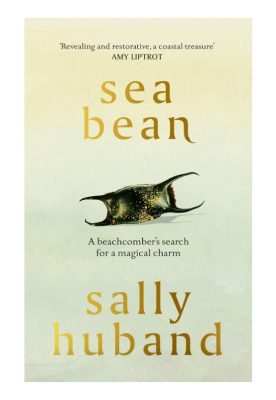 What was your first publication and how did it feel to have achieved that?
My first publication in a book is an unapologetically feminist essay called Northern Raven in the Antlers of Water anthology, edited by Kathleen Jamie. I felt sick with nerves more than anything else. Writing about gender-based violence comes with a huge responsibility. It was well received, and I like to think that it helped bring about change. It did encourage me to keep going and to write Sea Bean as a feminist text too. Gender-based violence and environmental harm both have the same root cause, patriarchy – and all that this means (white supremacy, misogyny, homophobia and ableism) but it is still unusual to see white nature writers making this link, cocooned as we are in our privilege.
Is there a book or author, who inspired you to become a writer?
I read Kathleen Jamie's essay on peregrine falcons in Findings a year or two before I became a mother, and it lodged in my mind, it demonstrated that writing doesn't need to be so compartmentalised, we can write about nature and mothering in the same essay.
Can you tell us one of the most surprising things you learned in creating your book?
Breast milk in the UK has some of the highest levels of flame retardants of any breast milk in the world. I was writing about the toxic burdens in seal and porpoise milk, it closed the distance between our bodies.
Should we have a system of grant funding for writers, as in Ireland, where writers are given living salaries?
Universal Basic Income for everyone, with additional support for those of us who are disabled and/or caring for others. Allied to this, we need affordable childcare, and an education and childcare system that fully accommodates and welcomes children with additional support needs and a healthcare system that functions and isn't misogynistic.
In terms of writing, Moniack Mhor has been leading the way with retreats with childcare for professional writers. This approach needs to be mainstreamed and expanded to include children with additional support needs. And those of us who live in places like Shetland would really benefit from travel and subsistence funding, I turn down opportunities because I can't afford to say yes.
Does writing affect how you think about the future?
It does but I'm going to turn this question on its head and answer by saying that the future is affecting how I think about writing. Writing a book takes a few years, for me at least. Is this a good use of time and effort, given how fast the climate emergency is escalating, I'm not so sure anymore. It is such a time of compression. We are still so far from achieving equality but I'm writing this on the day that Rosebank has been given the go ahead. Some days it's just a struggle to contend with the side effects of medication, let alone write, or do more than write.
You were born in Bristol, studied in London and Edinburgh and travelled to many different places over the years. Where is "home" and can you have more than one?
I would be a little heartbroken if I had to leave Shetland and all its complexities now.
When you approach your desk in the morning, do you ever find yourself wanting to run screaming in the opposite direction? If so, how do you get yourself to sit down and start writing?
Only if there is a tax return or some other dreaded admin waiting for me. Otherwise, my desk is a place of great happiness, even when a deadline is looming. This is largely thanks to reading Handiwork by Sara Baume, a book that made me reorganise my writing space. Drawing and print making tools are now always close to hand, my binoculars too. I made the linocuts that precede each chapter in Sea Bean, I value the way that working with my hands lets me think.
What is your work schedule like when you're writing?
I work during school hours, Monday to Friday, sometimes in the early evening and weekends if my partner is home and energy allows. Just now, medical appointments are getting in the way of writing.
If you could tell your younger writing self anything, what would it be?
Put the baby in the same bedroom as the toddler and claim the other room for writing.
If you could spend a month writing your next novel anywhere in the world, where would it be?
A ship crossing the Atlantic via the Sargasso Sea please. I stayed in Sumburgh Head Lighthouse for a week, when a Russian artist in residence was delayed in taking up their residency. I wrote and sat by the foghorn and watched ships, tracked them on the Marine Traffic App. The lighthouse sits precariously on a very high headland and I found this sense of exposure strangely conducive to writing.
What book/s are you reading now?
I've just finished Island by Siri Ranva Hjelm Jacobsen, translated by Caroline Waight (Pushkin Press) which is set in both the Faroe Islands and Denmark. It is contemporary but very much in the Nordic literary tradition, gratifyingly grim in places with whip sharp observations of the islands and islanders. I very much admire Salt Crystals by Cristina Bendek (Charco Press) which is set in San Andrés in the Caribbean and spans generations and complex histories in vivid prose. The protagonist's diabetes is as present in the story as it would be in life, and this realism, even though it is just one element of the story, is so refreshing to read. There is a passage on swimming in the sea and meeting an eagle ray which becomes a contemplation of the risks of solo sea swimming versus the risks of diabetes. I snorkel in the sea below my house, at a place where orcas regularly hunt seals. My nerve regularly fails me. Perhaps writing about the wildness of my bodymind is a way of living with fear.
Headshot photo © Andrea Thomson
Comments
Comments