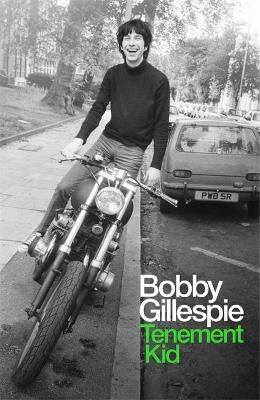 When I heard Bobby Gillespie had written an autobiography I thought that it would be one for fans only, of which I am admittedly one – Primal Scream being the band I've seen play live more often than any other. So, although I was always going to read Bobby Gillespie: Tenement Kid, I didn't think it would differ overly from other music biographies I have read. There can be almost be a template to such books where you tick off the tropes as they appear, but that is not the case with Tenement Kid – a memoir that is surprising in a number of ways. The first thing that sets this apart from the pack is the narrative voice. No whiff of the ghostwriter here. It reminds me of the autobiography from another Scottish cult hero published this year, Pat Nevin: The Accidental Footballer – also better than 99% of footballers' biogs. In both books there are turns of phrase and use of language that is unmistakably the subject's voice. In Tenement Kid you recognise the musician, and the music-obsessive, but there's so much more. It certainly revealed aspects to Bobby Gillespie I had little or no idea about, and he manages to tell his story in a manner matching the man.
Perhaps the most surprising thing about Tenement Kid is Gillespie's incredible powers of recall. Of all the rock stars who came to prominence in the late '80s, early '90s, few lived the rock 'n' roll life as Gillespie and Primal Scream did, but that seems not to have dulled his memory – good news for many of us who were also having a good time back then. The strongest part of the book is about his early years growing up in Glasgow. There have been many memoirs on the subject, but few capture what it was like as evocatively as in Tenement Kid. From a childhood on the tough streets of Springburn, through his schools days and early working life, Gillespie writes beautifully about who, what, when, where, and why, and there are plenty of memorable moments captured in great detail. Who would have thought his time in The Boys Brigade would influence Primal Scream in terms of how they viewed themselves, or at least how Gillespie views them?
His early musical adventures are also recalled with a photographic memory and fine attention to detail. His first meetings with Alan McGee, his time as a roadie with Altered Images, playing bass with the Wake, putting together the formative Primal Scream, in a manner not dissimilar to Yul Brynner's 'Chris' in The Magnificent Seven, bonding with the Brothers Reid before joining the fledgling Jesus & Mary Chain on drums – if you were in or around Gillespie's orbit there's a strong chance you appear in Tenement Kid, as the list of secondary characters is extensive.
What runs through the whole book is Gillespie's obsession with music and everything that surrounds it. Some of the most memorable scenes have the young Bobby listing his early 7" single vinyl purchases, where he bought them, the sleeves, lyrics, and just what they meant to him, or what was playing on the radio, and when. I always had Gillespie down as a bit of a musical snob, but that's another error on my part. He listens to, and considers, everything – largely without prejudice. You could use the book to fill in any gaps in your own musical education of the '60, '70s, and '80s in particular.
This obsession in no small part explains why Primal Scream became the musical magpies they did. Few, if any, bands have managed to jump genres and styles as successfully. From the early psychedelia of Sonic Flower Groove (1987), the MC5 influenced and leather-trewed Primal Scream (1989), the dance, trance and soul-searching of the ground-breaking Screamadelica (1991), the Stones and stoned influenced Give Out, But Don't Give Up (1994) the sturm und drang Krautrock of Vanishing Point (1997), the dark electronica of Xtrmntr (2000) and Evil Heat (2002), the Southern rock of Riot City Blues (2006), and so on, they seemed to change musical direction almost on an album to album basis, and it seems clear that Gillespie's immersion in many genres is at the heart of this. The power of music to change lives has rarely been as personal or powerful.
There are some bitter moments when Gillespie can't hide or heal old wounds, such as a dig at the late John Peel and his unnecessarily dismissive references to Primal Scream's original Tambourine Man, Martin St John, but even these fit in with the picture painted as a whole, which is often one of absolutes. If you are on Bobby's side or in his gang he will fight your corner furiously, but if you are perceived to have wronged him he can clearly hold a grudge. The fact these passages were kept speak well of Gillespie's editor and publisher who have allowed an all-round picture to appear rather than deciding to sugar-coat the subject and the subject matter, as many would have.
As the book moves on from Gillespie's early years the clarity of those memories make way for a less linear, at times disjointed read. Some events are flagged-up before they actually happen, and you can't help feel there is a rush to include tales of Screamadelica before the end to help reach as wide a readership as possible, which is understandable, but you feel that time in Gillespie's life merits a book all of its own. In fact Tenement Kid feels like this is only part one of what is a fascinating story, and I hope this is the case. Primal Scream continue to tour, and release new music  – Bobby Gillespie's recent collaboration with Jehnny Beth on the album Utopian Ashes is among his strongest work – so there are surely many more tales to tell.
Bobby Gillespie: Tenement Kid is published by White Rabbit Books
Comments
Comments