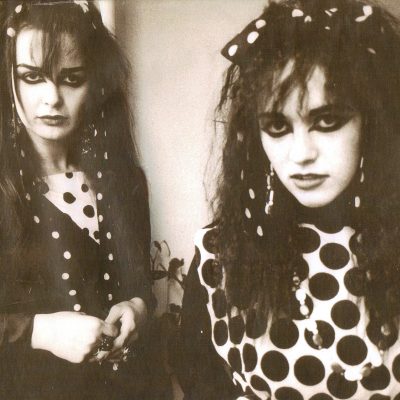 Sam Knee was thinking about his two young daughters when he decided to put together the book that became Untypical Girls. Subtitled Styles and Sounds of the Transatlantic Indie Revolution, Knee's compendium of images combines coffee-table gloss with a DIY sensibility to create a vital document charting the irresistible rise of female-centred bands from punk to riot grrrl. Inbetween, umpteen shades of post-punk, indie, no wave, hardcore, shoegaze and grunge show off an emancipated underground of women seizing the means of production. As they do so, they remain charity-shop groovy enough to set a street-smart example for future generations. "My daughters are too young yet to be into music," says Knee. "One's nine, and the other's still a toddler, but I wanted something for them to have when they're a little bit older that says they don't have to be synthetic, but that they can dress like this if they want to. They're not ready for that yet, but I thought it would be nice to have a book for them when they're ready that says: hey, you don't have to be a square."
Charting the years from 1977 to 1993, Untypical Girls dovetails between the UK and America in a vivid series of photographs of female singers and bands on stage and off, sharing the same rough and ready nightclubs as their similarly dressed-up fans. The book opens with some raw shots of Gaye Advert, bass player of first-generation punk band The Adverts, and Pauline Murray captured singing live with Penetration on the opposite page. This sets the tone for a roll-call of musical heroines, from Siouxsie Sioux to The Raincoats, Dolly Mixture, The Marine Girls, Talulah Gosh and of course The Slits. Stateside, there are sightings of Courtney Love, Sonic Youth-era Kim Gordon and even The Bangles, en route to Babes in Toyland, Bratmobile and Bikini Kill.
Crucial to Knee's oeuvre is that none of the hundreds of images contained in Untypical Girls were taken professionally. Instead, they were sourced from friends, fans and bands who had captured the off-the-cuff energy of blink-and-you'll-miss-it moment that would go on to define their era. By relentless badgering his ever-widening network of survivors of that era, the result is a perfect counterpoint to the more Sunday supplement-friendly youth cults who swished through the night.
It's an aesthetic Knee has applied to three previous volumes, ever since his 2013 collection, A Scene In Between: Tripping Through the Fashions of UK Indie Music 1980-1988, set the tone. The Bag I'm In: Underground Music and Fashion in Britain 1960-1990 followed in 2015. Last year, Memory of a Free Festival: The Golden Age of the British Underground Festival Scene appeared.
While all of these chart a very British form of counter-culture, the focus of Untypical Girls moves things on from the sort of patriarchal boys' clubs which tend to get all the press. By criss-crossing between the UK and America in a very specific time-frame, Untypical Girls also captures an unconscious cultural exchange in constant flux. This in turn becomes a telling social snapshot of underground musical activity on both sides of the Atlantic.
"After doing A Scene In Between, I subsequently felt that it as maybe a bit male-heavy," says Knee, "when in fact, and particularly in the UK, there were quite a lot of women on the scene. I then thought it would be good to do a book that moved between the UK and America in that whole build up to riot grrrl. I wanted to have a fashion focus as well, and for it to have quite a militant edge, so I ended up cropping men out of a lot of the pictures I used."
While many of the bands in Knee's book were originally dismissed by a sneering music press interested in more macho pursuits, with hindsight, seeing women onstage as equals with men now looks like a liberatingly political act.
"Having the book go from '77 to '93 was quite deliberate," says Knee. "Obviously you got that first wave of punk and post-punk, which gradually moves towards grunge and shoegaze, and then with riot grrrl, that period between '91 and '93 was really important. After that, everything seemed to lose its edge, things got quite boring, and there didn't seem to be any genuine scene coming up. It was all becoming about major record label manipulation, and was really the last gasp of punk, so that seemed like a good place for the book to finish."
Knee himself is a veteran of the sorts of scenes he now documents, flitting in and out of view as scenes either faded or else morphed into something else.
"In the '80s I was really into the whole indie scene," he says, "then as that era trailed off, I found myself listening to more music from the '60s. I quite liked digging up obscure compilations, and that's carried on, although these days I listen mainly to 'both '80s and '60s music."
While assorted histories of the 1960s underground have become a mini industry, documenting the 1980s is a relatively new pursuit. "With The Scene In Between, I wanted to map everything out," Knee says. "That era had been pretty much airbrushed out of history, and I really wanted to break everything down in terms of how it happened and why. A lot of people think '80s indie is all depressive stuff like Morrissey or Goth, but it's a lot more complex than that. I wanted to try and map out how riot grrrl arrived, and the influence what became known as C 86 had on the American underground."
Clothes are vital signifiers here. "With Untypical Girls, I really wanted to focus on the growth of vintage clothing," says Knee. "Those clothes were worthless at the time, but the vintage industry grew in parallel with everything else. There was a real mod look in the UK, but in America it was more preppy. A lot of the fashions were based on what was available cheaply, and you have to remember as well that the 1960s were only 15 or 20 years previous, so it was all available."
Some key images in both A Scene In Between and Untypical Girls are drawn from Scotland's various punk and DIY scenes. A Scene In Between documents the umbilical links from Orange Juice, Fire Engines and Josef K through to The Pastels, Primal Scream and The Jesus and Mary Chain by way of The Vaselines, The Shop Assistants and Jesse Garon and The Desperadoes.
Untypical Girls goes even further. More images of The Shop Assistants can be found here, alongside pictures of Frances McKee of The Vaselines, while photos of Aggi Wright and Katrina Mitchell span several generations of The Pastels. Strawberry Switchblade are in the mix too, as well as a solo Rose McDowell. Slightly lesser known names include Julie Hepburn, front-woman of Edinburgh band The Delmontes, plus Glasgow band Melody Dog, while the capital's original post-punk siblings The Twinsets are captured at home. Knee's collection wouldn't be complete without Clare Grogan, photographed playing live with Altered Images.
"I loved that whole era of Postcard and Fast Product records," Knee says, "and that inevitably trickled down into the Scottish scenes that came out of all that. As a consequence, when I was pulling both A Scene In Between and Untypical Girls together, those Edinburgh and Glasgow scenes really stood out."
With all images coming from a pre-digital age, there's a suitably lo-fi quality to the book. There's an emphasis too on the fans that captures the fashions which played such a vital part in the scenes depicted. In this sense, such snapshots retain a zine-like sensibility that recalls the early days of ID magazine, when it would publish polaroids of the increasingly daring habitués of 1980s night-life. Untypical Girls has a similar sense of verite roughness.
"Most of the pictures are amateur snaps," says Knee. "They're genuine. They're not taken by some journalist going out with their fancy camera. They're just taken with whatever people had at the time. A lot of the pictures are quite low quality, but I think that gives them more energy."
The publication of Untypical Girls at the end of last year chimes with a wave of archival tomes of the punk and post-punk times. This in part follows in the footsteps of The Lost Women of Rock, Helen Reddington's academic but eminently readable study of female musicians of the punk era, first published in 2007. Reddington may be better known to some as Helen McCookerybook, singer with Brighton-based combo, The Chefs. Along with Gina Birch of The Raincoats, Reddington's currently working on She-Punks: Women in Punk, a documentary-in-progress with much the same cast list of interviewees as Reddington's book. There are cross-overs to with Untypical Girls, with Dolly Mixture, The Slits, The Au Pairs and of course The Raincoats all featured.
Also ongoing is a similar exploration of Scottish female bands for another film-in-progress, this time being made by Carla Easton, singer and driving force behind Teen Canteen and Ette, who more recently has been performing under her own name.
Untypical Girls also arrives as the latest of an ever-expanding series of lavishly illustrated documents that look like time capsules of a radical past when youth culture was about making statements. As both Untypical Girls and Paul Gorman's beautifully illustrated archive of The Face magazine prove, whether musical or sartorial, those statements were inherently political in intent in a way that in part has seen things come full circle.
"It's not too different now to the Reagan/Thatcher/Cold War era," says Knee. "People are really starting to realise what's going on, and they're pissed off. I really hope that will translate into music. If you think how people felt in the '80s, there were huge levels of unemployment, and a lot of people were really vulnerable, but out of that came these huge underground music and art scenes, and I don't think that would've happened without everything that was going on. State oppression can cause that sort of dissatisfaction, so you get things like the protests at Greenham Common happening, and a real community thing crossing over into the anarcho-punk scene."
"That really affected things, but it didn't really happen in America till later. Punk was really inclusive, but then when things moved into hardcore, it was very male-dominated. Bands like Black Flag were quite macho, and that alienated a lot of women. Then when the whole riot grrrl thing blew up, I think that came from a decade of being quashed. Up until that point, other than Kim Gordon, hardly any women were in bands in America. People can tend to think there were lots of them, but there weren't."
All of this should feed into Knee's plans for his next book, which will focus exclusively on America. "I want The Scene Between USA to look at the Paisley Underground, Olympia, DC and the post-hardcore thing. It feels like there were a few wilderness years. There was lots of interesting stuff going on, but it wasn't as visually defined as it was in the UK. In the UK, a lot of the scenes were quite provincial, but in the U.S. things mainly happened in cities."
As he talks, it's clear Knee is as much social historian as pop cultural obsessive, with both combining to excavate and put flesh on the bones of a largely hidden musical past.
"For me, on the one hand it's a good way of getting things out of my system," he says of his motivation behind Untypical Girls, "to build something up that's in a tangible form that I can benefit from, but which other people can as well. There are whole eras of history that need to be recorded accurately, and to be held up socially and politically as something sacred, and which had deep meaning. Down the line, as these things are documented, I believe they will still stand up. I think it's an honest account of what went on. It's not re-writing history. It's warts and all."
"I lived through all these eras, so obviously there's a bit of a personal angle, but when The Scene In Between came out, and sold out of its first run, I was amazed at the thirst there was for this stuff. People talk about punk, grunge and acid house, all of which were really important, but there was so much more going on besides."
Untypical Girls is published by Cicada Books, £19.95.
Comments
Comments