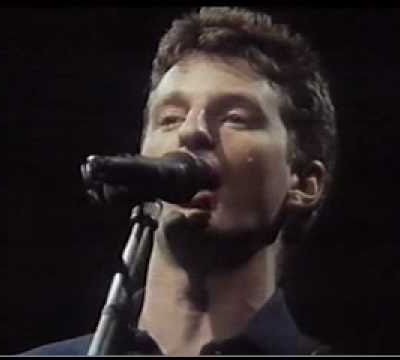 When I first heard Billy Bragg on the John Peel show, I think in 1983 – I used to record his shows and then log the dates and artists in a notebook – I have to admit he didn't particularly make a lasting impression. The first time I saw Billy Bragg was on The Old Grey Whistle Test in 1984 and this time I sat up and took note. Back then the charts were wall to wall fretless basses and snoods, but here was a guy who bore more than a passing resemblance to my mate Colin, had a guitar which looked like it was a school woodwork project, and who sang as he spoke, with a broad London accent. Yet the song he sang, 'The Milkman Of Human Kindness' was more tender and true than anything else around. Especially Spandau Ballet's ghastly 'True'. The accompanying album (which is framed on my wall as I write) was Life's A Riot With Spy Versus Spy, an intriguing title, but not the most important thing about it to my 14-year-old self. Running down the side of the sleeve was the command: "For This 7 Track Album Pay No More Than £2.99". It may not seem like it, but this was revolutionary to me. This was someone on my side.
The Milkman Of Human Kindness – (https://www.youtube.com/watch?v=yio01LV2OMg)
The album remains one of my Desert Island Discs. Songs such as 'The Man in the Iron Mask' and 'Richard' resonate with longing and loss, marking Bragg as a man who knew heartbreak and how to write about it. The title of his book of collected lyrics, 'A Lover Sings', is perfectly apt. The harsh buzz of his guitar and his Barking bark belied his romantic streak which made it all the more moving. The honesty and pain of lines like the one in 'Richard' – "Do you think I only love you cos you sleep with other boys?" nearly knocked me off my feet. This was pop music as if written by Philip Larkin or Ted Hughes, tough yet vulnerable. Perhaps the greatest example of this would come on his 1986 single 'Levi Stubb's Tears' which is simply one of the great hymns to shattered dreams and the power of music.
This was pop music as if written by Philip Larkin or Ted Hughes, tough yet vulnerable.
Levi Stubbs Tears – (https://www.youtube.com/watch?v=I4v8VJ0LRgA)
To go back to my cherished copy of 'Life's a Riot', aside from the love songs, there was the introduction to Bragg's politics, and if I was beginning to recognise that all is not fair in love, it was also clear that life was hardly equitable, and that the title was deeply ironic. The second track, 'To Have And To Have Not' was a call to arms and one of the clearest depictions of the realities of what awaits some when they leave the school gates for the last time. "Up in the morning and out to school, mother say's there'll be no work next year" was a terrifying opening line to a 14-year-old, but it didn't provoke fear, it provoked anger, and perhaps the defining feature of Billy Bragg's lyrics is hope. They don't state, "this is life, accept it", more "this is life, now what are you going to do about it?" It was clear there was work to be done, but look at what we could win.
Waiting For The Great Leap Forwards – (https://www.youtube.com/watch?v=kjLXyqD3lvI)
Bragg went on to record some of the great albums of the last 30 odd years. These include collaborations with Kirsty McColl, Norman Cook, Wilco and Rosetta Life, but all he ever needed, to quote Harlan Howard, were 'three chords and the truth'. His music and politics continue to inform my life, with his recent thoughts on Scottish independence, and the possibilities that may open up to England and Wales, particularly interesting. There are certain artists who help to make you who you are, and Bragg is one of those. If he wants to know if his music made a difference, well it did to me.
Those who don't get Billy Bragg, (often the same people who don't get The Smiths), complain that it's depressing music; 'just a bloke moaning'. I would love to sit them down with this book of lyrics and change their mind. For those who feel like I do, you'll devour it. Only the very finest lyricists make it onto my book shelves (Dylan, Cave, Cohen,) but Billy Bragg more than earns his place. In his introduction to 'A Lover Sings' he says that he started writing poetry as a 12-year-old and never stopped. This book is testament to that. All life is here; tragedy, comedy, birth, death, love, loss, politics and, of course, taxes – if you don't get that the real loss if most definitely yours.
I Keep Faith – (https://www.youtube.com/watch?v=Q46jagf7BmE)
Alistair Braidwood
*If you want to learn more about Billy Bragg I highly recommend Andrew Collins' biography Still Suitable For Miners.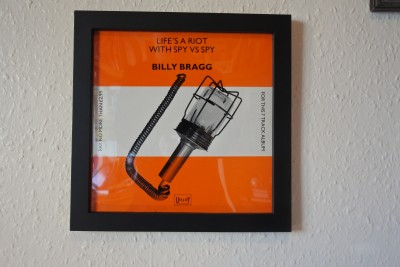 Win tickets to see Billy Bragg live in Glasgow: https://www.productmagazine.co.uk/music/win-billy-bragg-tickets/
Comments
Comments